A salad bowl makes a good conversation starter or a great gift. Especially if you choose a beautiful salad bowl, or a salad bowl set. Here, we located 5 Stylish Salad Bowls with Servers what we think are some of the best salad bowls available online. Browse the page to find your favorite and enjoy your salad with these enticing salad bowls.
1. Row Boat Salad Bowl with Wood Serving Utensils [amazon]
This extraordinary dish is sure to create a splash at your next dinner. The polished aluminum bowl takes the familiar form of a rowboat, complete with "wooden" planks cast along its hull. The boats oars are a pair of serving tools, carved from sheesham, a variety of rosewood which is renowned for its intricate, marbled grain. Whether you're serving salad, holding fruit, or simply putting it on display, this bowl is sure to make waves. Made in India.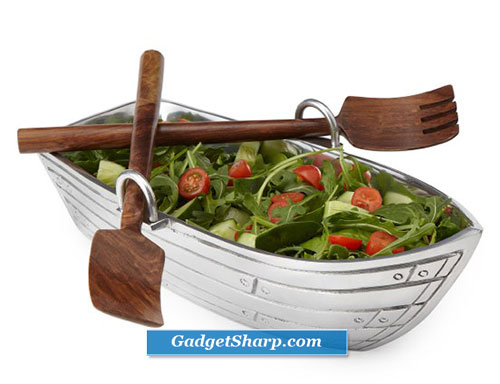 2. Salad Bowl and Servers, Salad Bowl and 2-Piece Server Set [amazon]
Large salad bowl and server set
Perfect for family dinners and outdoor use; great for pasta or fruit salad; ideal fruit bowl
Distinctive form and vibrant color
Made of durable, easy to clean polypropylene
Includes bowl and 2 serving pieces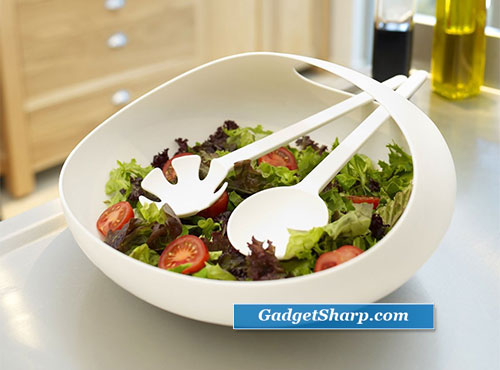 3. Koziol Leaf Solid White/Mustard/Olive Salad Bowl with Servers [amazon]
Maybe it's time to turn over a new leaf or two - in a salad bowl that's plenty big, bold and beautiful. Created by the celebrated London designer Cairn Young, it comes with its very own pair of elegantly integrated servers. Vitamins have never looked so tempting.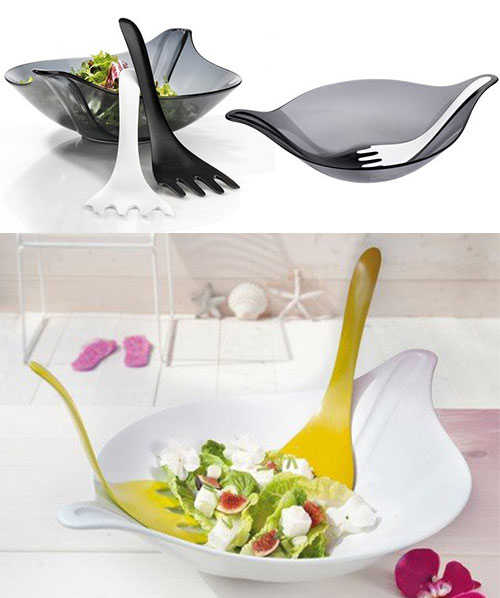 4. 12- by 4-Inch Acacia Wood Round Flared Serving / Salad Bowl [amazon]
Round serving bowl with scalloped rim; 12-inch diameter; 4 inches high
Durable, resinous acacia hardwood with rich color and prominent grain
Harvested using careful practices to protect and sustain the environment
Handcrafted for subtly unique details on each piece; water- and stain-resistant
Wash by hand and air dry; can be treated with non-toxic mineral oil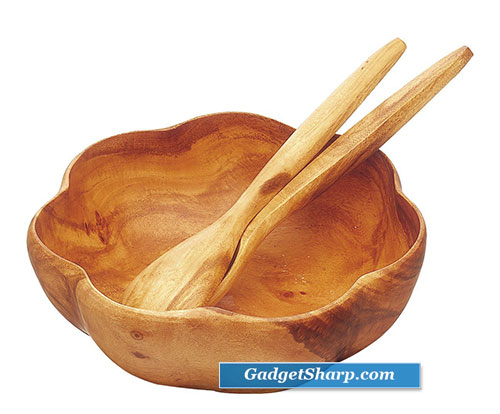 5. Hands On Salad Set [amazon]
Salad bowl and salad serving set by Joseph Joseph
Made from 100-percent melamine; product makes a fun and practical solution for indoor and outdoor entertaining
Includes pair of hand-like salad servers integrated into bowl; blends smoothly into the contours of the design
Servers sit securely in place until required
Dishwasher safe