This is our last topic of folding inspired product designs in this week and we will talk about folding furniture. In these days, folding furniture is not only designed for save-spacing and portability, but also are given some extra bonus - transformer. Yes, transforming from one thing to another after folding, such as mirror to table, painting to shelf…
1. Folding Loxolop lamp - beautifully complex [link]
Loxolop by Dutch visual artist Eb?re Groenouwe is the cool new folding lamp that I?m sure at the very first glimpse will make you feel like it?s one of the most complicated flatpack shades ever. Two complex shapes folding together thereby resulting in fairly complex, original, biomimetic shape appearing to be like flower petals, insect wings, and rabbit ears hanging up from the ceiling of your room. The shades are handmade and the material used to create such beautifully complex lamp is the waste paper generated by the juice packaging industry.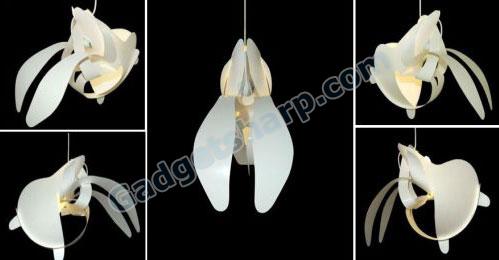 2. Hanger Chair [link]
The Hanger Chair is a folding chair based on one of the ultimate storage systems: the modest hanger. It allows us to store clothes in an orderly fashion. Most houses or flats are equipped with a wardrobe to receive the object.
By morphing the function of the hanger with that of the folding chair, a new hybrid is born: a Hanger Chair that has a function, even when not in use, to store our clothes in an orderly fashion.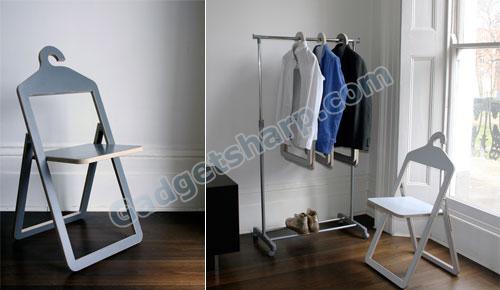 3. Simic's folding table [link]
Designer Srdjan Simic's Paket table for Offi goes from cube to table for four, with integrated seating.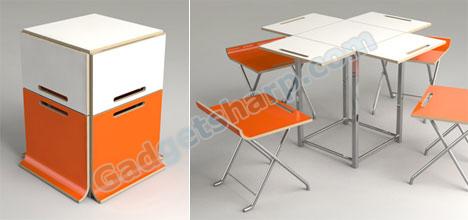 4. Folding Chair Ladder [link]
Folding Chair Ladder said to have been designed originally by Benjamin Franklin. It flips over to instantly make a handy stepladder perfect for the kitchen, library, and garage or storage areas.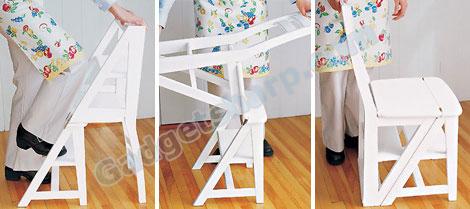 5. Notebook Portable Flat-Folding BBQ [link]
It's a compact, folding barbecue that's designed to be taken anywhere. It weights 4.0Kg. Now you just take it to where you choose and 1. Fold it out. 2. Fill it up. 3. Light it up.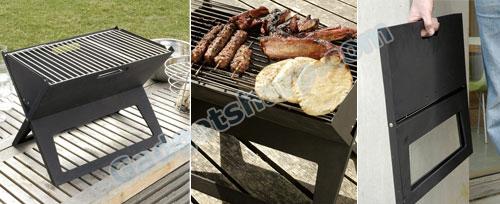 6. Alma Urban Cot [link]
You want to be looking at a cot that?s easy to assemble, safe for use, easy to store when junior outgrows it (or when not in use), convenient height of the bed so that you don?t have to bend too much. Finer details like these and more will lead you to the Alma Urban Cot, which is as dynamic as a cot can get. It?s got a minimalist approach with the unique and simple patented fold and the two mattress heights. This gives it the benefit of being a bassinet or cradle with a cot/crib. It can be used by the baby for two years, after which he can graduate to the big bed.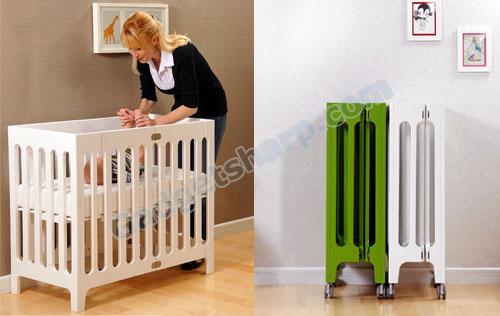 7. Brabantia?s Wallfix fold-away drying rack [link]
Brabantia?s Wallfix fold-away drying rack is with serious design envy, setting the thing up and putting it away is an inelegant experience. This design innovation doesn't come cheap; while Ikea's Frost rack is 20something bucks, the Wallfix will run you upwards of $140. But if you calculate the cost of energy your dryers use, you?ll find buying this rack a fair deal.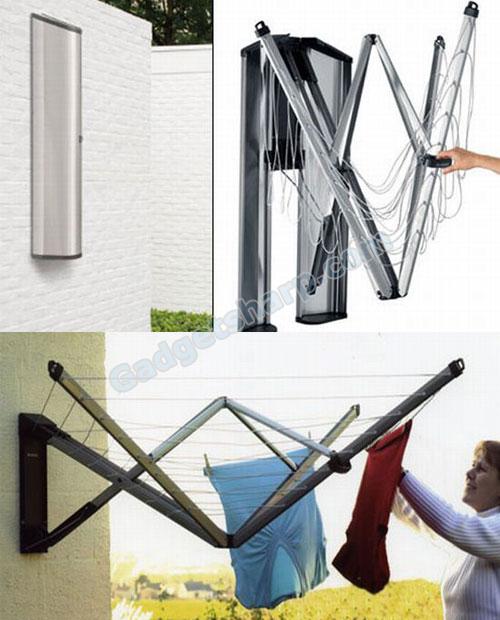 8. Folding Dining Table Folds into a Mirror [link]
The Folding Dining Table from Italian company Porada is a really interesting piece of furniture. This piece of furniture can be used as a mirror and ganged on the wall when folded, and it can also be used as a neat folding table especially when your dining space is limited. Don?t know how many of you would have the time to fold and unfold this ?mirror table? but I thought that is a really cool idea.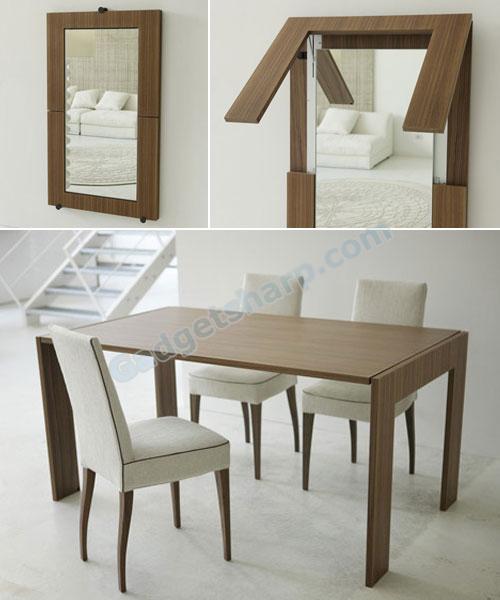 9. A Chair now, and A Stool later! [link]
?Fold? by Fredrik Farg is an innovative set of chair that could be easily transformed into a stool through simple folding. So what are you waiting for? Fold your chair and share the stool!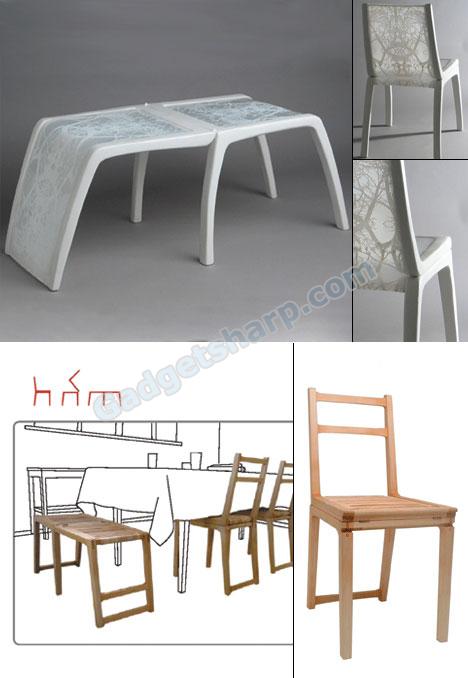 10. Art folding shelf [link]
This interior accessory may be used both as a decoration and as furniture. The shelf consists of folding boards and attached to a wall with leaders.
11. Card Lamp: Lighting beauty that folds mystically [link]
The ?Card? by architect Ryo Matsui (Takram Design) is a portable desk lamp that is not just minimal in design but also presents elegant looks, infusing a new life to your work or study place.
Designed for the Toshiba lighting systems, the Card Lamp folds into a smooth card, illustrating the Japanese idea of simplicity. The Card Lamp offering different lighting positions to the users can be used either as an ambient or as a task oriented lighting. The stylish LED lamp, when not in use, flattens to become a card for easy storage (or transportation for that matter), creating extra space on your table.