Everyone knows that babies can tire you out, but it's not the kind of workout that keeps you sane or in tiptop shape, especially when you have to bring them out or even travel with your babies. If there are several things can help to reduce the trouble and a functional baby stroller must be one of them. In this post, we will show you 9 Innovative and Functional Baby Strollers, which encourages you to get out and makes maneuvering anywhere easy and fun. It's time to bring your time bay to see the different world and have fun.
1. Orbit Infant System [amazon]
The Orbit Base makes your life easier and your child more secure by using the most advanced technology ever incorporated into car seat design. No base or car seat has ever been simpler or quicker to install safely. Patent-pending StrongArm technology makes a safe installation as easy and quick as the turn of a knob. The Base forms both the foundation for car seat safety in the Orbit Infant System, and is compatible with the Toddler Car Seat. The Base meets or exceeds all Federal Motor Vehicle Safety Standards (FMVSS213).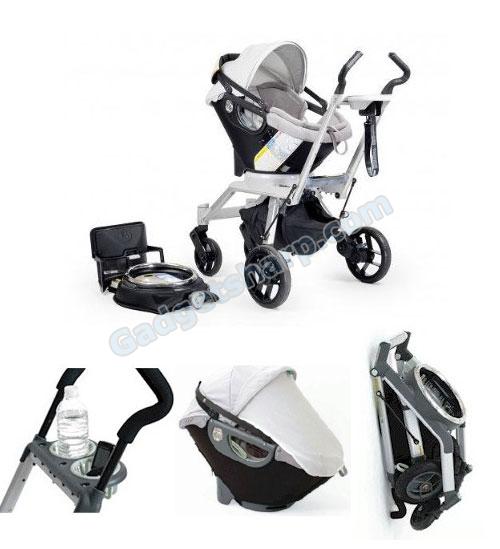 2. The First Years Wave Stroller [amazon]
The First Years' Via Infant Car Seat snaps easily into the Wave frame. And our universal attachment (included) means you can use many other brands of infant seats as well. As your infant begins their toddler years, simply twist, release and spin again to the forward-facing mode and your little one has their own view of the world!
Durable modular Euro-styled frame rated for use to 50lbs
Unique swivel seat, with a 5-point harness, quickly turns from rear- to forward-facing use
Taller, adjustable handle height, large lower storage basket
Universal attachment for use with most infant car seats
Easy one-hand fold with seat removed, weighs 24 lbs.
Dimensions: 28.5" L x 24.5" W x 42" H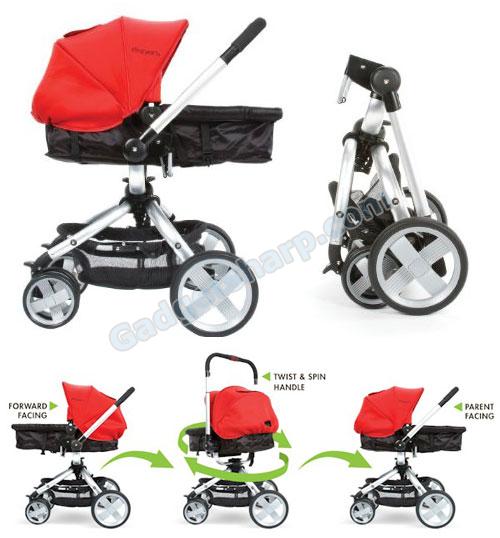 3. Jeep Liberty Limited 3 Wheel All Terrain Stroller [amazon]
Jeep Liberty Stroller Get ready to conquer all types of terrain with the Jeep Liberty Stroller. With front swivel wheels, this stroller from Jeep Baby makes maneuvering anywhere easy and fun. Whether you're on a urban street, a suburban sidewalk or in the mall, this Jeep stroller is going to conquer all. The Music on The Move function allows parents and children to listen to all types of music from The Wiggles to Bon Jovi. Entertainment will certainly not be at a premium with this stroller.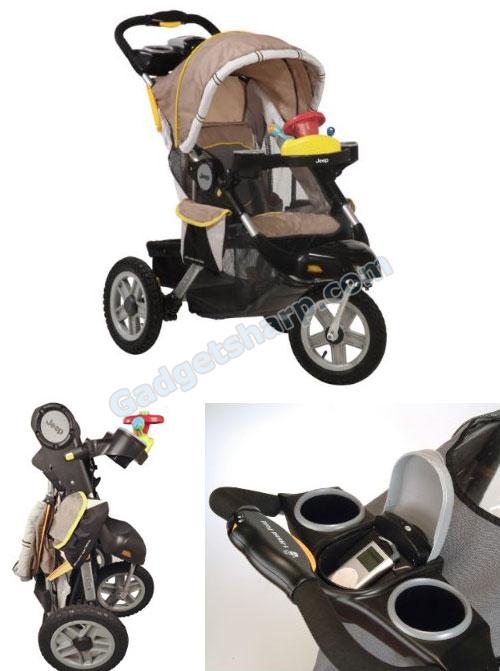 4. Schwinn Free Wheeler Jogging Stroller [amazon]
The stroller is also comfortable for your child thanks to the large protective sun canopy–which includes a visor and weather shield–and the padded seat. And you can carry a whole lot more than your child in the Free Wheeler thanks to the variety of compartments, which include a parent tray, a child tray, a bottom basket for groceries or accessories, and multiple pockets for drinks and snacks. Other features include a five-point child harness, a rear suspension system for comfort, an adjustable-height handle, and a folding frame for easy storage.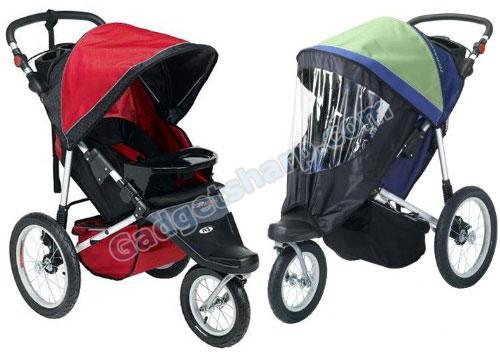 5. Graco Quattro Tour Duo Stroller [amazon]
Toddlers up to 50 pounds get a front row seat with two cup/snack holders and toddler's own storage cubby under seat to stash favorite playthings. Infants in their graco snugride , snugride32 and snugride35 infant car seats can either be easily clicked and locked into the rear seat to face your loving smile, or, once they're older, enjoy a view of the road from their elevated, flat reclining seat with its own cup/snack holder. A 20% smaller fold makes it easier to lift and fit in your car, and uniquely designed handles makes it simple to maneuver. A large drop down basket lets you easily grab your gear while the rear seat is reclined. It even has one of moms' favorite Quattro tour features ? the one-hand gravity fold. Just push the button, and it effortlessly folds itself down to the ground. When your neighbors say they don't know how you do it, just smile and squeeze your Quattro tour duo.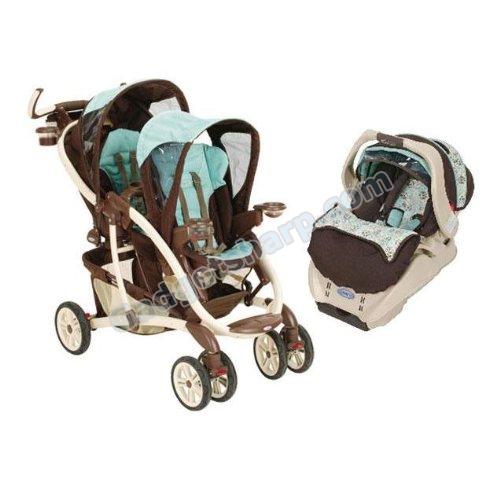 6. Kolcraft Contours Options Tandem Stroller [amazon]
The updated Contours Options Tandem ZT001-RBY is the perfect stroller to give you the flexibility needed as a parent with 1 or 2 kids in tow. Seats easily reverse to create 6 different stroller options. Children can both face parent, face each other, face forward or back to back. Accomodates from infants to toddlers with the numerous built-in features. Both seats fully recline and accomodate most infant seats on the market. Optional 2nd car seat attachment sold separately for twins. Uniflex design turns this tandem into a single stroller with tons of storage. Each seat accomodates 40 pounds.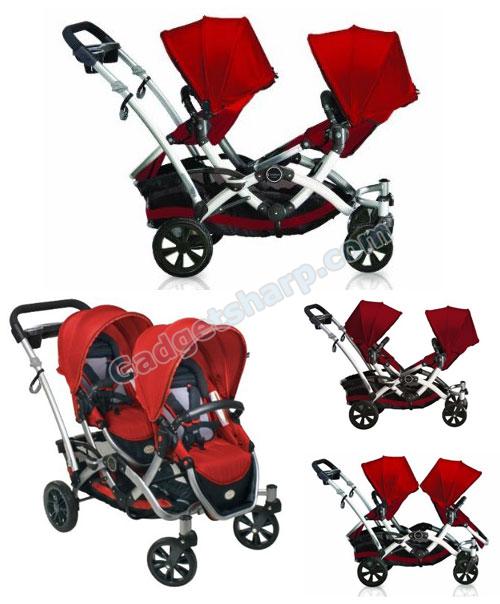 7. BumbleRide Indie Twin Stroller [amazon]
Indie Twin's independent seating system allows you to accommodate each individual child. The backrests, canopies and footrests can all be adjusted independently from one another, giving your children a ride as custom as their personalities. At 29 inches wide, Indie Twin glides through doorways and its dual front swiveling wheels make maneuvering a breeze.
Suitable for infancy and up
Five point adjustable safety harness
Infant headrest & shoulder pads
Dual swivel front wheels with front wheel locks
Carrying handle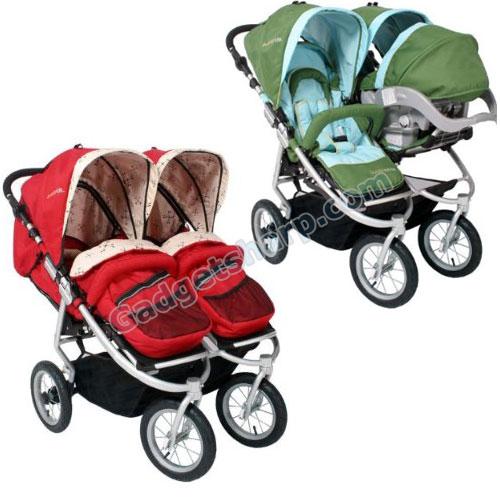 8. Traveling Toddler Car Seat Travel Accessory [amazon]
Traveling with a young child, their seat, and your carry-on can be tricky.The Traveling Toddler strap allows you to attach your LATCH and top tether equipped toddler's car seat to a rolling carry-on suitcase. Once adjusted, the car seat can be detached and reattached to the suitcase in seconds. Lift the handle of your carry-on bag and you have a fun new stroller. Now there's an easy and inexpensive way to take your toddler's car seat and other gear on your trip.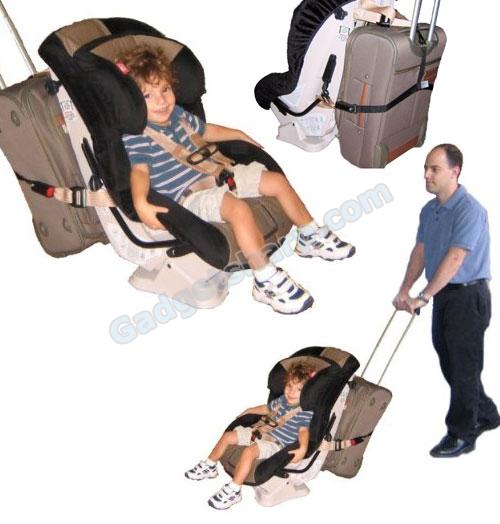 9. 2in1 Double Baby Bike Trailer/stroller [amazon]
AOSOM bike trailer offers a comfortable and safe ride for children. It can be used for up to 2 children, and can be quickly converted to a stroller without using tools. Besides it comes with improved hand brake system with lock, so when you use it as a jogging stroller, you can lock the brake when the stroller is not in motion.