My fascination with houseboats and yachts started way back to my childhood. I always dreamed I can sail on the sea and enjoy the peace and leisure, while in my dream, boats were typically rustic with intricate woodwork. Cut to the present times, look at those incredible designs with high-tech - luxury and efficiency; that is our today's topic 8 Futuristic and Innovative Yacht Designs
1. Kite Sailing Yacht [link]
The Kite Sailing Kitano Yacht designed by Stefani Krucke introduces kite sailing technology to the leisure sailing yacht class and benefits from the many advantages that technology has to offer. One of them being the constant and stronger wind speeds found at higher altitudes.
Compared to a normal sail the kite has less surface area but still generates enough force so that even a gentle breeze lifts the hull to a planing speed. The Yacht itself can house and home up to 8 passengers with the latest in luxury any client would love. On top of that, it?s totally green so even treehuggers can step off land once in awhile.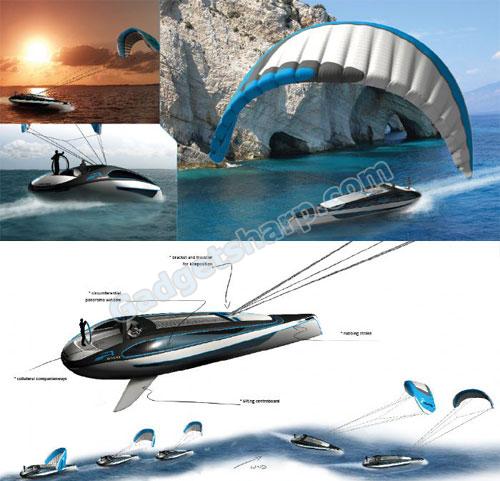 2. Yacht-Villa [link]
The yacht?s shape resembles a horseshoe, it has 900 m2 thermophotovoltaic panels and 2,000 kWh stored energy. Apart from stairs there?s also an elevator that connects three decks. There?s a 25 meter pool, spa, helipad, sauna, gym and massage room, a music room, a dining room, a cinema, suites, terraces, a lounge. The price of the yacht is estimated at $ 150 million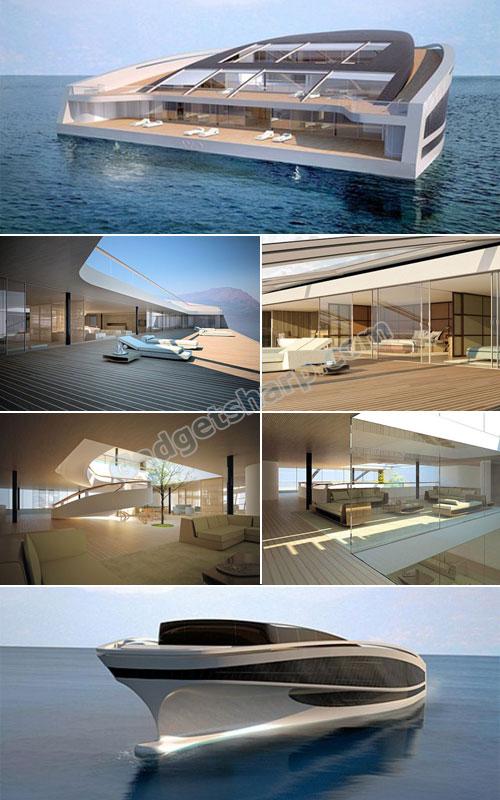 3. The Raven Yacht by Ma?l Oberkampf [link]
?Raven Yacht? inspired by Wally, is a damn stylish and spacious ocean yacht. If you do not wish to go along with the crowd during yourvacations , you can plan an independent yacht vacation by making more choices about your trip. The each and every curve and shape makes it uniquely designed yacht. Raven Yacht will be a comfortable charter for more than 4 people with ample storage facility. It carries full chart inventory and navigation equipments for planning a perfect sight seeing.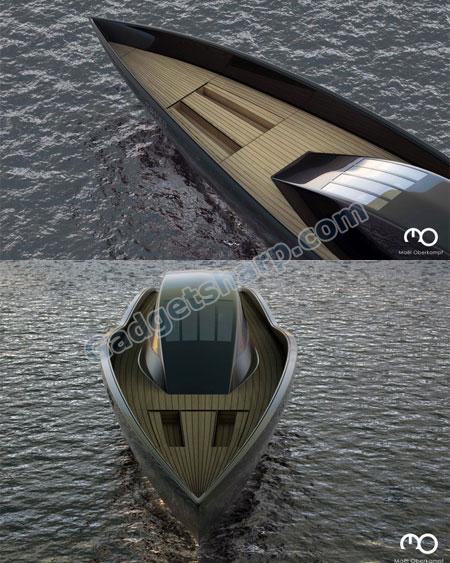 4. Vif Argent Yacht - Riding The Deep Blue Seas Smoothly [link]
The Vif Argent Yacht combines the principles of foiler and glider so that you can have smooth sailings at high speeds with maximum efficiency. Killer combo, right! The boat floats on its hull while at rest and then deploys its gliders during acceleration, to help attain high speeds (over 50 knots). To ensure the smooth ride, the cabin is actually cruising above the waves at a height. The suspension system, which is integrated into glider folding arms, absorbs the shocks and vibrations of the wave impact.
Propulsion is made of two high performance diesel engines, to provide power and fuel efficiency.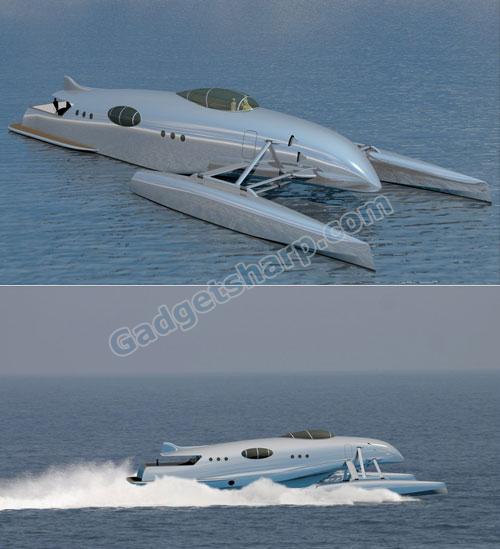 5. Alfra Vico Luxury Motor Yacht Marino 52 [link]
Step into the Alfra Vico Luxury Motor Yacht Marino 52, and you?re sure to be floored by its stunningly simple design and interiors. Boasting of modern gadgetry to make sure you kiss high-speeds effortlessly, the yacht is envisioned as ?motion art? of the highest echelon. From the cleats to the projectile anchor, to the convertible exterior lounge-sofas/daybeds, to the fully computer-controlled helm station, the Marino 52 screams extravagance! We also discovered that Alfra Vico opted to invent and purpose-build new patent-pending electronic control systems, mechanizations, cleats, and other essential functional elements.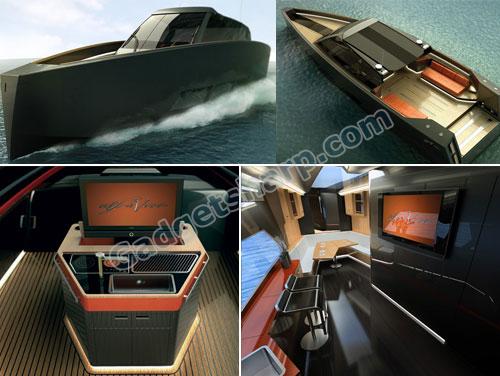 6. Oculus - God?s Skull of the Ocean [link]
This yacht?s unique shape ?is representative of the jaw and eye socket bone structure of large oceanic fish and mammals.?
Designed to accommodate 12 guests in extraordinary comfort and style, Oculus is a long distance cruising yacht capable of speeds upwards of 25 knots. The exterior styling is representative of the jaw and eye socket bone structure of large oceanic fish and mammals. Featuring a dramatic reverse bow configuration, the yacht?s armature balances an elegant expression of symmetry and structure. In addition to the bow, Oculus also features a ?low rider profile?. This slightly lowered surface allows for new side recreational areas, alternate dockage access and light cruising openness.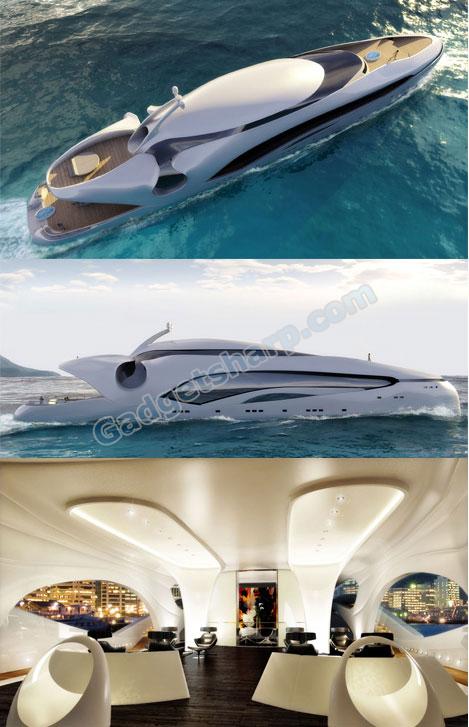 7. SENTORI 50 R from Motion Code Blue [link]
Gigantic windows in the greenhouse to actualize a melding of interior and exterior spaces. Large owners window in the hull for an excellent und unique view slightly above the water, shark fin level. Bar in back acts as skylight for salon underneath. Sunbed and multifunctional dining area up in the back. Dining table ready for 8 can be raised for use or lowered for sun bathing area. Wet-bar, hot-plate, refrigerator with super awesome semi-transparent glass surface.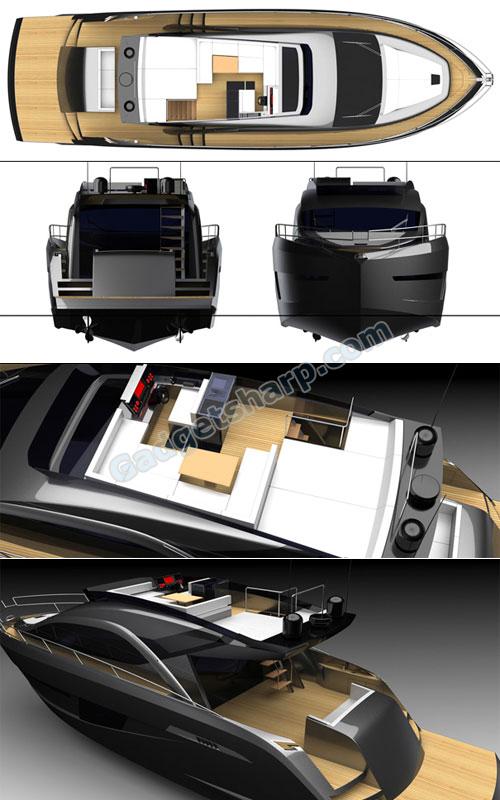 8. Infanitas by E. Kevin Schopfer [link]
Inspired by Infinity, the symbol is abstractly expressed within the yacht?s elevation. It can accommodate 16 guests and crew and has all the requisites to appease Mr. Moneybags; helipad and swimming pool included!