With the summer coming, it might be the time to get your Canoes and Kayaks, and enjoy some fun time on water. In this post, we rounded up 10 Cool Canoes and Kayaks, from 1-person to 2-person, from inflatable to solid material, from recreational one to professional one … There are so many options and get yourself one and have some fun paddling time.
1. Clear Blue Hawaii? Molokini 2 - Person Kayak [amazon]
Transparent two-passenger kayak made out of durable polycarbonate material.
Features a removable lightweight anodized aluminum frame system.
Transportation and storage of multiple units easy and convenient.
Witness the harmonic dances of angel fish through the elegantly powerful transparent hull.
Equipped with an anodized aluminum internal frame system, dual flotation bladders and a three-quart water bailer.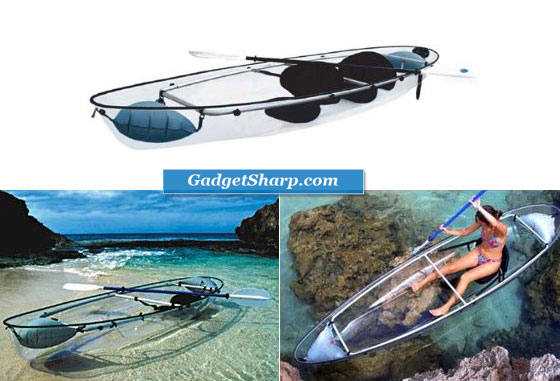 2. Sea Eagle 330 Inflatable Kayak with Deluxe Package [amazon]
Two-person inflatable kayak weighs just 26 pounds, but has 500-pound load capacity
Constructed of puncture-resistant, extra-thick K-80 polykrylar hull material
Nine-inch tubes, I-beam construction, and high-frequency welded seams; rated up to Class III whitewater
Comes with inflatable spray skirts, inflatable front and rear seats, two oars, reliable foot pump, and carrying bag
Includes limited three-year manufacturer's warranty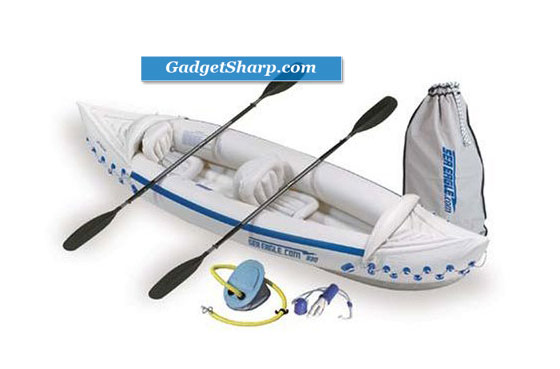 3. Lifetime Sport Fisher Kayak with Paddles and Backrests [amazon]
Designed for single or tandem use
2, Two piece sport paddles included
Fits up to 3 riders
Dry storage compartment
Ditty trays and shock cord for storing loose items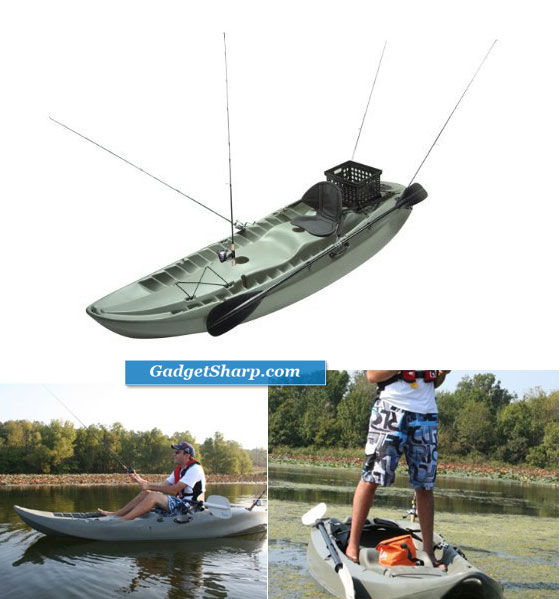 4. KL Industries Water Quest 156 Canoe [amazon]
Ideal family recreational canoe with room for three
Bow and stern tie-down eyelets and built-in transport handles; comfortable molded seats aid in flotation; dry storage compartment and cooler under center seat
Drink holders molded into every seat; protective rub-rail; rugged, UV-stabilized FortiFlex high density polyethylene hull
Measures 40-by-18.5-by-186-inches (W x H x D); 95-pound weight and 800-pound total weight capacity
Includes limited two-year manufacturer's warranty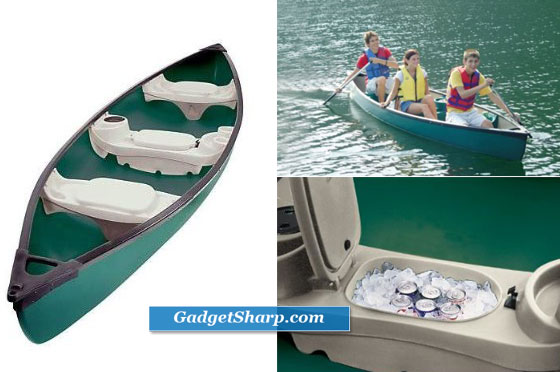 5. Advanced Elements Straight Edge Inflatable Canoe [amazon]
Molded rubber handles, Aluminum rib Bow and Stern bags, Welded seams
Adjustable height seat, Advanced inflation valve, Durable outer cover
Rod holders, Rigid bow and stern, Hard edge bow and stern
Carrying Duffel Bag, 2 Folding Seats with Air Cushions
Repair Kit, Owner's Manual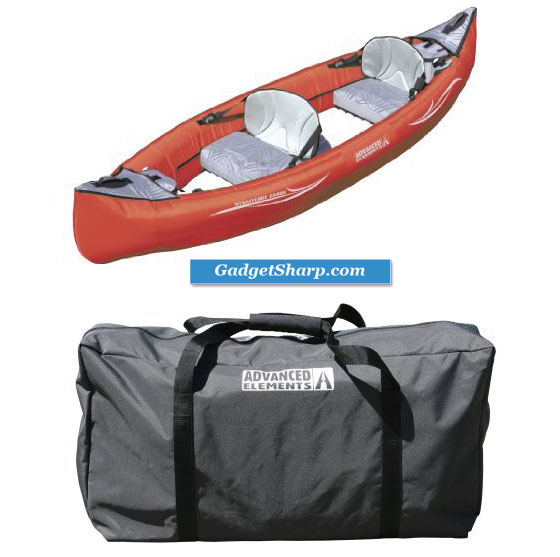 6. Old Town Canoes and Kayaks 10 Vapor Recreational Kayak [amazon]
Sporty kayak designed to provide stable, comfortable ride
Maneuverable body is ideal for lakes, ponds, and slow-moving rivers
Comfort Flex XT seat with padded seat back, adjustable foot braces, and soft thigh pads
Molded-in cockpit tray with cup holder; stern day well
Molded-in paddle rest; measures 10 feet long; weighs 48 pounds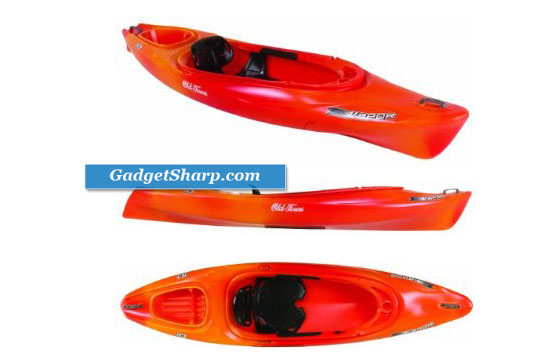 7. Advanced Elements Lagoon 1 Person Inflatable Kayak [amazon]
Single-person inflatable kayak for lakes, mild rivers, bays, and more
Built-in rigid panels on the bow and stern to improve tracking
Quick-inflating Twistlok and high-flow Spring valves for easy setup
Padded high-support seat; molded rubber-grip handles; bungee deck lacing
250-pound weight capacity; measures 8 feet 4 inches long; 1-year warranty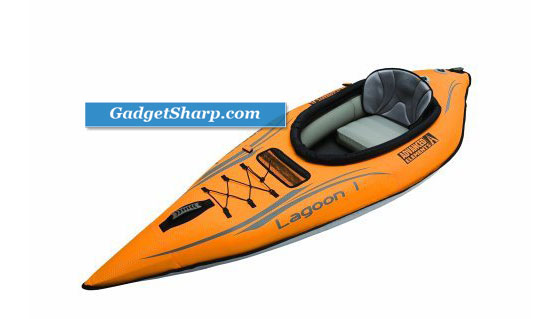 8. Wilderness Systems Tarpon 120 Angler Kayak [amazon]
Wilderness Systems designed the Tarpon 120 Angler Kayak to get you down the tightest creeks and into those small, tricky-to-navigate holes where the big ones are hanging out. The wide yet short style offers you a highly stable platform that's extremely easy to control and that makes for quick direction changes, with plenty of gear storage for an all-day excursion. Stash the paddle in the bungees, drop anchor, kick back in the ultra-comfy seat, set a cold one in the cup holder, and wait for one of your rods to start the nibble dance.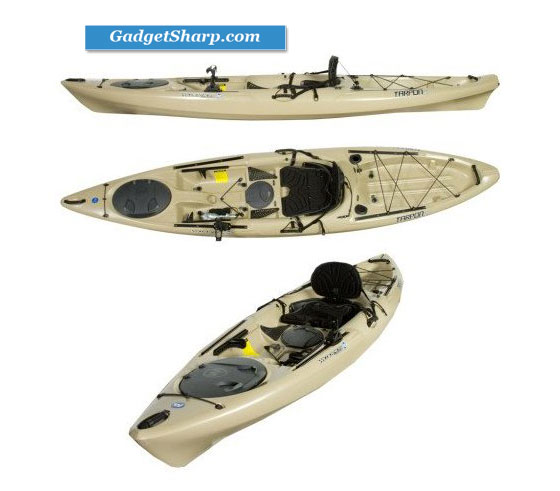 9. Sevylor Inflatable Sit-On-Top Kayak, 2-Person [amazon]
13 Feet 1 Inch x 3 Feet 1 Inch (2-person, 595 lbs.)
Dual-tracking fins for easier steering
Recessed storage compartment with secure cargo net
86 Inch aluminum paddle included
Air Tight Guarantee: guaranteed not to leak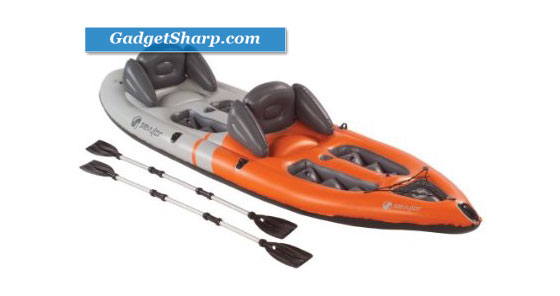 10. Pelican Pursuit? 100 Deluxe Sit - In Kayak [amazon]
Manufactured using innovative TST technology; 
Superior stability and maneuverability; 
Outfitted with a high-quality adjustable backrest; 
Adjustable footpads; 
Molded seat; 
Handy carrying handles; 
10'l. x 13"d.; 28" beam; weight 41 lbs.; 
maximum capacity 275 lbs.