With the development of computer, there are so many gadgets designed to make our life easy or add more fun? Generally, there are three types of gadgets: Mechanical gadgets, Electronic gadgets, and Application gadgets.
Today, I am going to talk something about the application gadgets, more specifically, Microsoft Windows Gadgets. I will list 7 useful / interesting gadgets I used and hope you also like them.
1. All CPU Meter With Temperatures [link]

All CPU Meter With Temperatures gadget keeps track of CPU usage, your used and available memory, and Processor Temperatures. For Processor Temperatures you need to have running the Speedfan application in background for the temperature readings. What makes All CPU Meter With Temperatures stand out from the crowd is its support for as many as eight CPU cores!
The All CPU Meter gadget is available for free from the addgadget.com for your Windows 7 desktop.
2-3. Wired Network Meter & Wireless Network Meter [link1] [link2]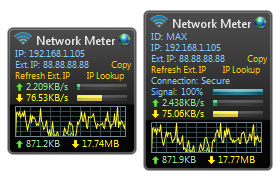 The Wired Network Meter Windows 7/Windows Vista gadget provides all kinds of useful information about your wired network connection like current internal and external IP address, current upload and download speed, and total bandwidth usage.
There are several useful configurations available with Wired Network Meter including background color, bandwidth scaling, network interface card selection, and more.
The Wireless Network Meter Gadget is essentially the same as the Wired Network Meter Gadget - they're obviously from the same developer.
The most obvious differences are the addition of the SSID, signal strength, and whether or not your wireless connection is secure.
Both of them can be downloaded freely from the addgadget.com for your Windows 7 desktop.
4. Traffic by Bing Maps [link]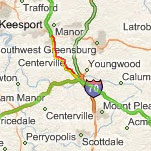 Don?t get stuck in gridlock or be late to your next appointment. Bing Maps is a quick and simple way to see real-time traffic conditions in your area with convenient links to local search and directions. It helps you stay on top of traffic situations so tha you can decide when to go home from work, etc. without having to explicitly go check. Now supports more cities across US and Canada than ever before, with more added automatically each month!
Traffic by Bing Maps gadget is available for free from the Windows Live Gallery.
5. Language Translator [link]

If you have friends all around the world that you chat with on an everyday basis. This gadget will make your life so much easier! Language Translator can auto translate in 43 languages, and easy to use. Also I did not find the similar gadgets on yahoo or google desktop
Language Translator gadget is available for free from the Windows Live Gallery.
6. MiniTV [link]

There are so few tv gadgets available at the moment and I have to say that this is the best as far as I know. By using this small TV gadget, you can choose from a large number of TV stations and there is the ability to add more stations yourself. In the future there will be a release with much more stations. Double-click the gadget for Full Screen.
MiniTV gadget is available for free from the Windows Live Gallery.
7. Tic-Tac-Toe [link]

The classic game of Tic-Tac-Toe is here for your Windows 7! It features two modes of game play and three levels of difficulty. Play a leisurely game with a friend and see how many wins you can rack up. Or if you are feeling adventurous, switch the level of difficulty to hard and see if you can match wits against the computer.
It's really great for breaks between working, or waiting for your ride after work, or waste some time.
Tic-Tac-Toe gadget is available for free from the Windows Live Gallery.