Want add some special function to your daily T-shirt? Here is three interesting designs of tees, which will definitely spice up anyone's wardrobe, and catch others' attention…
Wifi T-Shirt [link]
These nifty little Tee's detect the strength of a Wi-Fi signal when you're on the move with bars that light up depending on how strong the signal is.
I saw one of my colleague wore this tee once. The signal receiver is actually an extra thing stick to the shirt. As he said, it was not that comfortable to wear, but he got 100% second glance that day. lol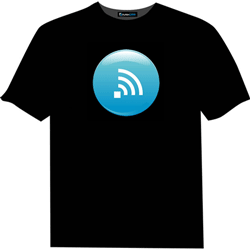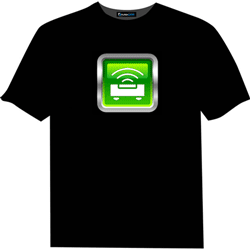 Electronic Drum Kit Shirt [link]
An electronic t-shirt with a picture of an actual playable drum kit on the front? That's right. Hit the drums on this shirt with your finger and they play through the built in speaker… simple but amazing. With 7 different drum sounds you're ready for a personal drum solo on your chest.
Tap the drums on this shirt and they actually play through the embedded speaker
All drums on the shirt are playable. 7 Different drum sounds in all
Battery pack with speaker stores in hidden pocket near hem of shirt
Adjustable volume… the top volume level is really loud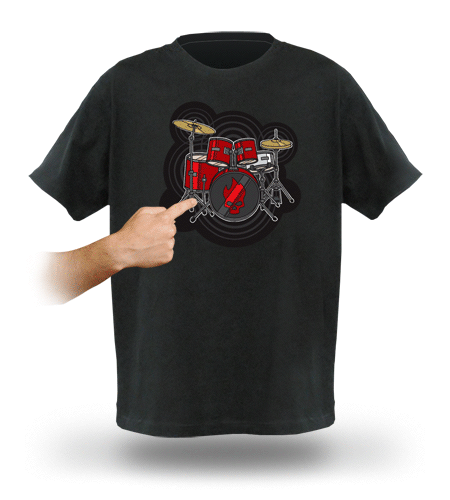 video:
Animated Transformers Tee Shirts [link]
The robot apocalypse is coming… protect yourself with glowing shirts!
As you probably already know the Transformers have come to wage war across our puny planet. We recommend you choose your alliances now and hey it couldn't hurt to demonstrate your good faith by picking up some Transformers related apparel like these cool animated glowing T-Shirts!
Each features the Autobot or Decepticon logo, lights up and animates. We suggest you purchase one of each just in case… you don't want to be on the wrong side when transforming robots from Cybertron battle now do you?