The bathroom is a very private place. To some, it?s a relaxing getaway. But, how about adding some fun to your washroom during those cozy time. Or make your life much easier to clean your after bath stuff? Check our crazy selection of Bathroom Gadgets. Our range of gadgets covers all ages, from little kids to the kids in all of us!
1. SHOWER MIC - sing in the shooOOOOoower [link]
Everyone sounds like Pavarotti in the shower - that?s why the Shower Mic is such a natural. Not only is it a useful sponge for washing up, but it also has the uncanny ability to unleash your inner Sinatra. So, don?t hold back ? stand and deliver. Durable synthetic sponge material with antimicrobial properties, peggable clear packaging.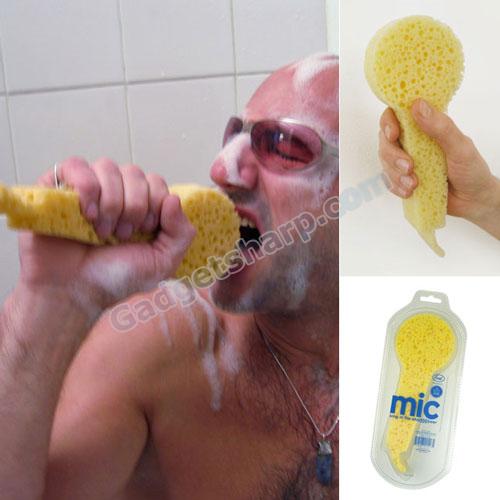 2. Excited man wall hook [link]
The Mr P hanger proves that size really does matter with this Excited Man Hanger. This handy wall hook/hanger can hold your keys, towel, coat, jacket, handbag or cat lead with ease! This silly hilarious coat hanger is simple and a little naughty, so Mr P entertains our office desks and accessorizes our homes in a unique, fun and memorable way!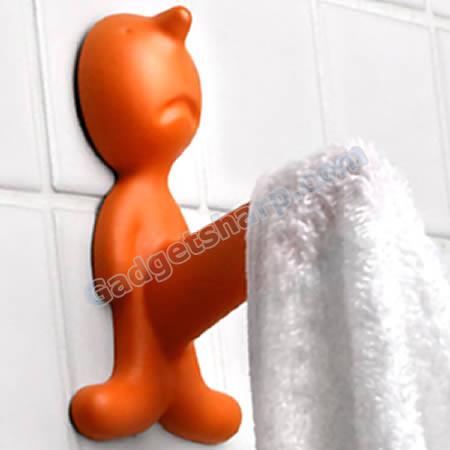 3. WCNotes - Doodle While You Doodie [link]
?WCNotes? by designers Marc Graells, Miquel Monfort & Victor Vi?amata, is a simple mash-up design of pen holder and toilet paper holder. Featuring silhouetted pen-shaped die cuts and made of 2mm thick stainless steel, this brain fart design is perfect for when nature calls and inspiration strikes.
4. SLIP NO MORE? [link]
The bathroom is no place for slapstick slip-and-fall routines. To ensure a sure-footed shower, peel these bananas and apply them to the floor of your bathtub or shower stall. Turns out, bananas ARE good for your health. Three life-size stickers in each peggable package. Designed by our clever friends Ivan Duval and Jean-Sebastien Ides of Atypyk Paris.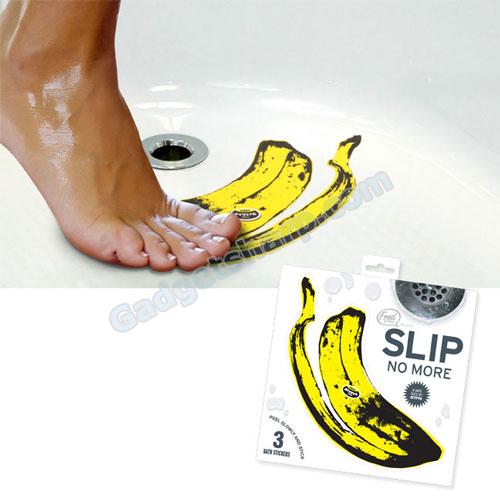 5. Animal Toothpaste Caps [link]
Getting the kids to brush their teeth everyday can be a bit of a chore, but there is a simple and easy solution to it by Spread Heads ? Toothpaste Heads/Caps. These encourage kids to brush their teeth. As the name implies, these caps can be kept on the usual sized toothpaste tubes, replacing the standard cap that it came with. There are two to choose from ? Pete the dog, and Oscar the cat. These work with most of the toothpastes. Once you fix it on your toothpaste, the toothpaste flows easily through their mouths. Once you are done, there is a paw that closes their mouth so that the cap gets closed. With these, getting the kids to brush their teeth becomes a lot easier and is more fun.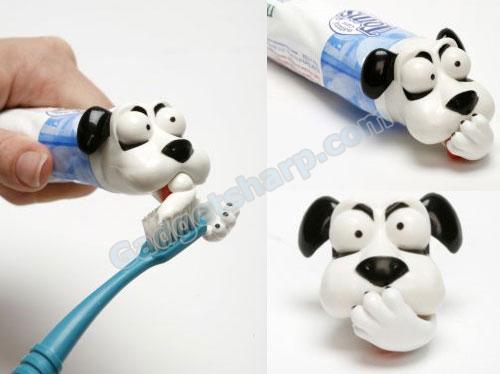 6. After bath, do a mat walk by Paolo Ulian [link]
Slippers are integrated into the mat, allowing you to walk comfortably and without slipping on dirty or wet floors. At the same time, Mat walk can be seen as a new way of wiping the bathroom floor.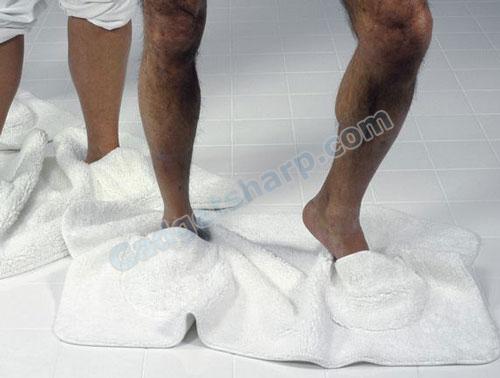 7. Wall-Mountable Toothpaste Squeezer [link]
Are you one of those people who flies into a frothing rage if a guest (gasp!) squeezes the toothpaste in the middle? Do you lay the almost empty tube on the side of the sink and gently push the last of the minty gloop towards the opening, or even slice the tube open and scrub your toothbrush onto the newly-bared interior to mop up the last of the precious fluids? Then you need Toothpaste Squeezer. This wall-mountable guy, a little plastic device that winds and compresses the tube evenly, allowis for maximum usage of each tube. The design comes in four different colors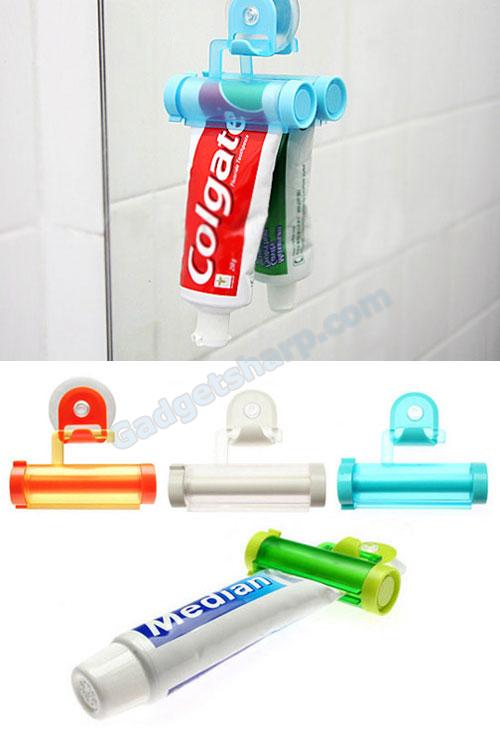 8. Maid Machines - Bathroom Cleaning Robot [link]
This one is more like a alien creator to me than a cleaning robot…
Designer Anna Karmazina has created a maid replacement machine called the Bathroom Cleaning Robot. This handy android from Russia is a convenient assistant that helps you with your daily chores around the house.
Simply, connect the Bathroom Cleaning Robot to a water tap and voil?, the machine will start to clean the tub, sink or floors automatically. With several sucker pads on the bottom of the machine, the robot can even climb walls to ensure complete cleanliness.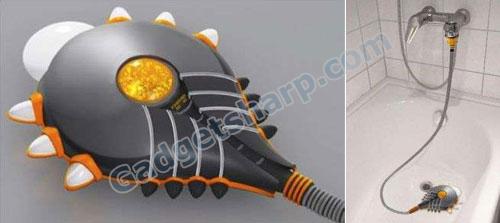 9. LED Shower Light - Get Bathed with Light [amazon]
It installs to a standard shower pipe in mere minutes. When you turn the shower on, the water powers a turbine and the LED Shower Light…well, lights up! Blue let's you know the water is chilly. When the water warms up to 89? F (32? C), the light changes to red. Now you can step in and not freeze your giblets off. And you don't even need to turn on the light now, because your whole shower glows!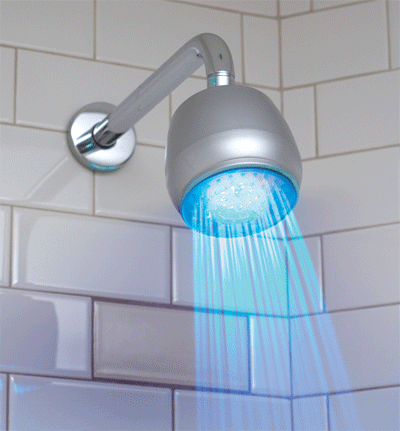 10. Help! - the drain stopper drowning in charm [link]
A classic rubber drain plug with a quirky twist. Assorted playful colors, clear drum packaging, corrugated counter display.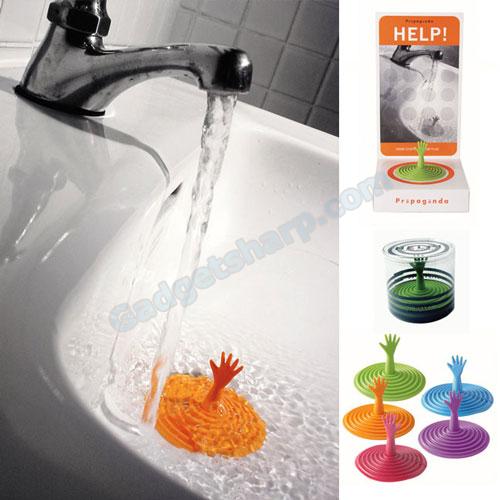 11. Blood bath shower curtain and blood bath mat [amazon]
A truly terrifying accessory for your bathroom and great for all you movie fanatics and slasher horror film freaks who love nothing more than a quiet night in with 10 liters of red corn syrup.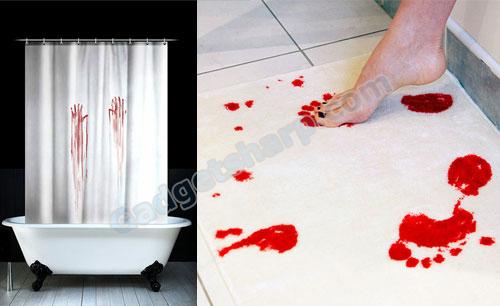 12. Musical Shower by Hae Lim [link]
If you like listening to tunes while showering, then you probably have a shower radio or stereo in your bathroom. But why not kill two birds with one stone. What if your shower head were a stereo also? I mean the little holes already look like a speaker grill. Just imagine a digital MP3 player that detaches from the shower head/speaker. You could load up your favorite tunes and use it like any other MP3 player. What sets it apart is the ability to dock it to your shower head activating the external speaker and when you?re done, just grab it and go.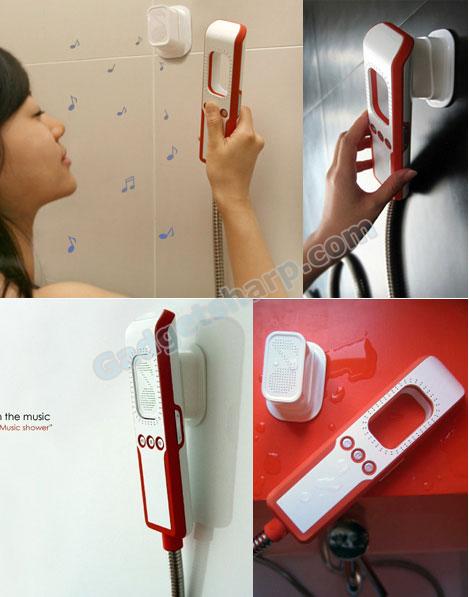 13. Sculpture Showerhead [link]
Wow this showerhead looks like laser guns in the movie. It is a new showerhead from VADO, they named it Sculpture.
?Comprising of six flexible tentacles, Sculpture allows the consumer to bend, twist and shape the form into any position. This fascinating showerhead is distinctive in design and structure providing a fresh slant to bathroom design.?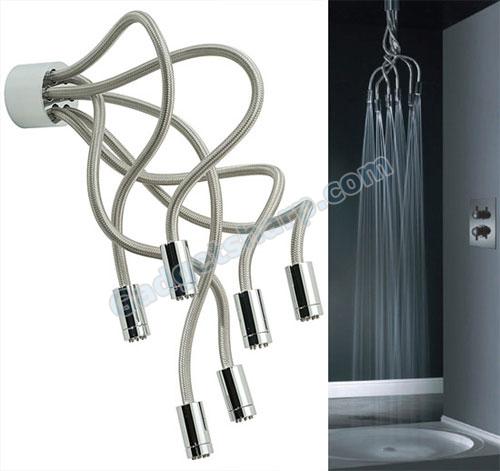 14. Toilet MP3 [link]
Japanese toilets are something very special. Everything is raised automatically, the seat is heated and there?s even a small Karcher at 180bar for the more intimate parts. And now there is an SD slot and an MP3 player!!! Fear not, it?s not integrated into the seat but rather in the control system/computer of the toilet that is situated on the wall! Now it?s up to you to play crap music in the toilet!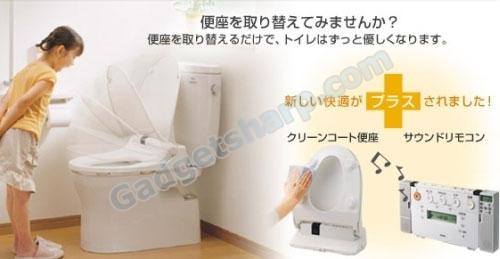 15. Atech's toilet paper dispenser/iPod dock [link]
Suporting both a USB slot for the iPod Shuffle and a dock for iPod models with dock connectors, the speakers are housed within the arms that support the toilet paper holder. Navigation buttons allow you to control your player with ease, freeing your other hand for [insert favorite bathroom reading material].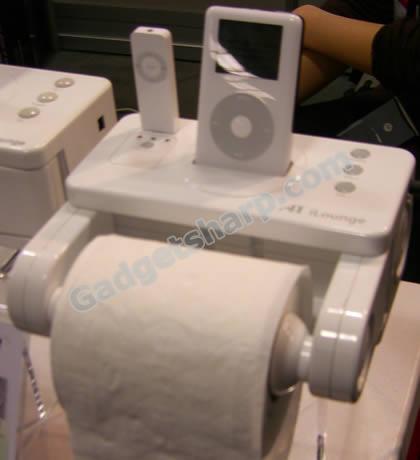 16. Tee Time Toilet Potty Puter [amazon]
Golf While You Go TeeTime the game for the Golf Fanatic. Comes complete with putting green, 2 balls, golf club, cup with flag, and occupied sign.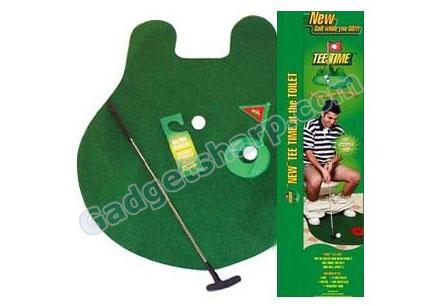 17. Underwater Light Show [amazon]
Do you have a pool or spa you'd like to jazz up for a party? Underwater Light Show is a funky waterproof lightbox that you can pop underwater in your pool, spa or even bath tub, creating a beautiful light display perfect for a relaxing night in or to get the party started. This fabulous underwater disco ball even floats! So don't worry you have to lay on those balls whey your have bath.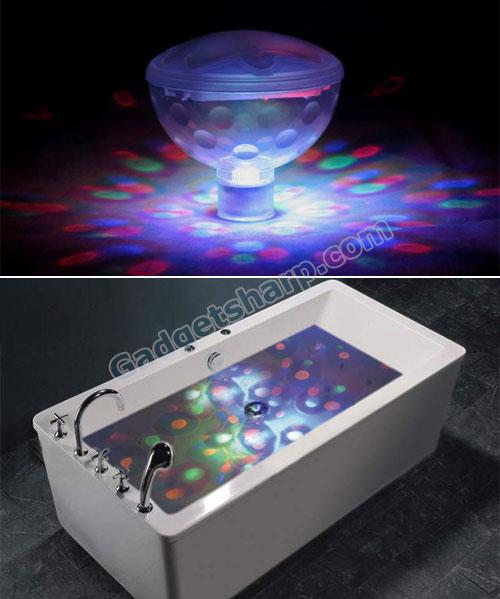 18. The feel-good razor holder [link]
Available in black or white, this must have accessory will look great in any bath or shower room.
It's unique look is not only cute, but also convenient. Using it's suction pad the device can stick to your bath or shower tiles, or bathroom cabinet, and your razor simply sits in the cradle. It ain't rocket science, but it's a rather handy device and we like it very much.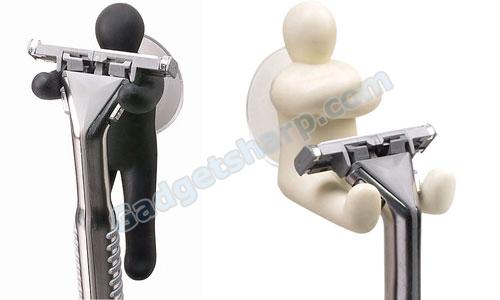 19. Toilet Seat Scale by Haikun Deng [link]
The toilet seat with a built-in digital scale, a good idea? By Haikun Deng. Thanks Haikun?s cute illustrations, I love them! Maybe after a fierce battle, you will feel a bit lighter and you can count what you lose today.