In today's age, everyone has become health conscious and understands the importance of exercise. However, for many people, going to a commercial gym is not always possible. Hence, the perfect solution is a home gym. A home gym can be considered an investment for your health. It is not only convenient and peaceful but relatively inexpensive. In this post, we will present you with 17 Useful Home Gym Products, which can help rock your way to a stronger, healthier body. Get yours, and a better body, now!
1. Cap Barbell Fitness FID Bench [amazon]
* Fitness bench with 4 adjustable positions
* Upright, flat, incline, and decline settings
* Dumbbell holder offers easy access to weights
* Foam-covered handgrips for comfort during leg raises
* Weight capacity of 250 pounds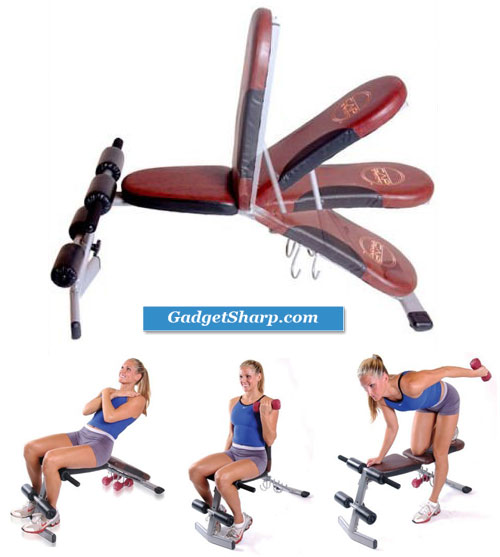 2. Bowflex SelectTech 552 Dumbbells [amazon]
* Each dumbbell adjusts from 5 to 52.5 pounds; adjusts in 2.5-pound increments up to the first 25 pounds
* Lets you rapidly switch from one exercise to the next
* Combines 15 sets of weights into one, using a unique dial system
* Eliminates the need for multiple dumbbells cluttering your workout space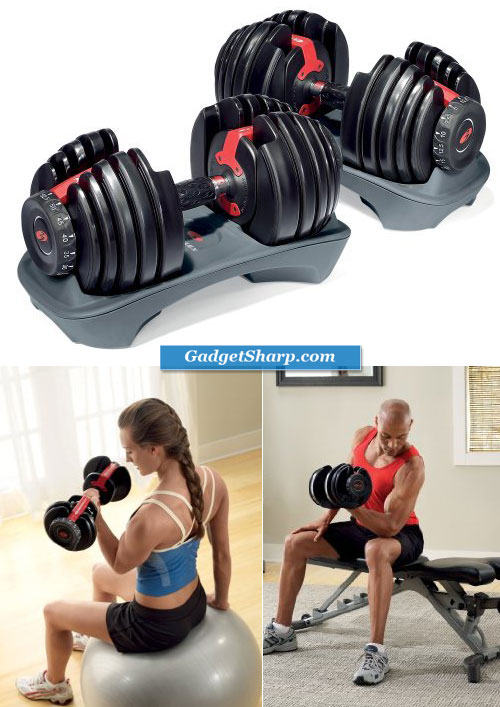 3. Stamina InMotion E1000 Elliptical Trainer [amazon]
* Compact, lightweight elliptical trainer for the home or office
* Foot-pedal-only chassis fits handily under a desk or in a closet
* Low-impact design protects back, knees, hips, and ankles
* Electronic monitor tracks strides, exercise time, and calories
* Sturdy steel construction; non-slip pedals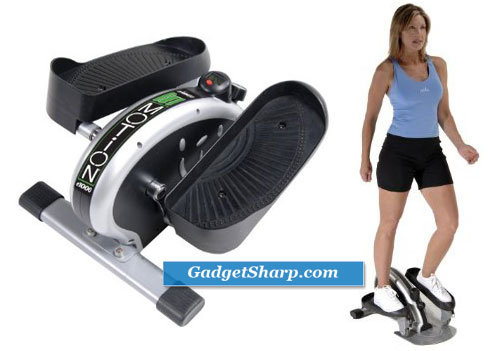 4. Schwinn Recumbent Exercise Bike [amazon]
* Recumbent exercise bike for the home with 16 resistance levels and 13.2-pound flywheel
* 12 workout programs, including 6 course profiles, fitness test, and custom workout
* Integrated grip heart rate system for easy fitness monitoring
* Ergonomic pedal design for efficient and comfortable pedaling; adjustable console and seat
* 300-pound maximum user weight;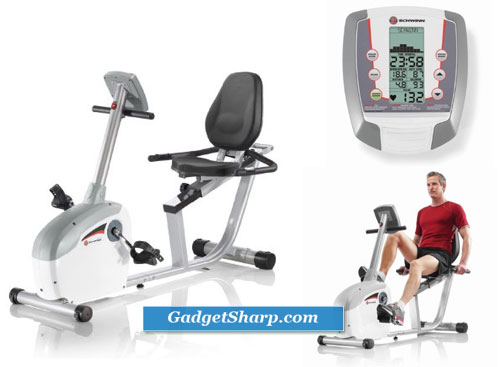 5. TKO Anti Burst Fitness Ball Set 75cm [amazon]
* 75 cm anti-burst fitness ball for home workouts
* Helps increase flexibility and tone muscles
* Soft rubber surface supports and cushions body
* Builds strength in core, upper body, and lower body
* Comes with hand pump and instructional wall chart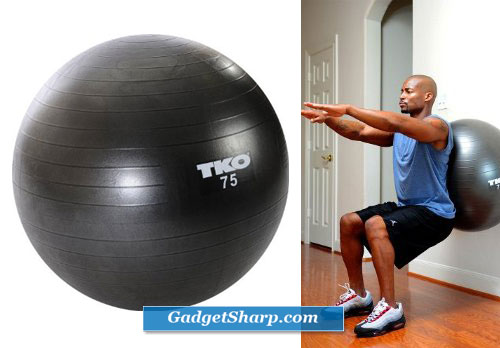 6. Bosu Balance Trainer Home Version [amazon]
* Balance ball trainer for strengthening and coordinating core muscles
* Supports squats, bicep curls, shoulder raises, crunches, and more
* Strengthens, trims, and tones while improving balance and coordination
* Includes workout DVD, foot pump, and exercise manual
* Combines physical and mental focus; measures 55 cm in diameter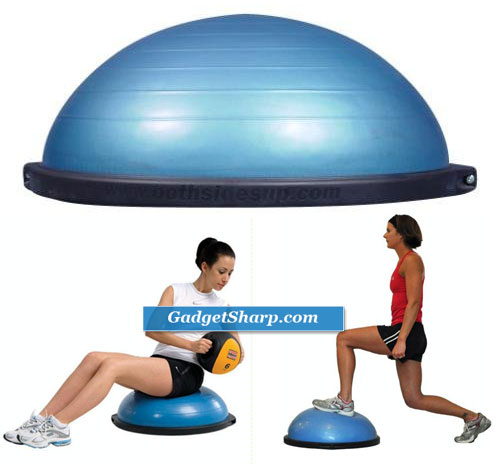 7. J Fit Deluxe Doorway Pull Up Bar [amazon]
Every home gym should have one. Turn your door frame into a powerful workout station. Chin ups and pull ups develop upper body strength and are great for children and adults. Adjustable length from 26" to 40" (55cm to 102cm) to fit most doorframes. Sturdy steel construction provides excellent support. Holds up to 350 lbs.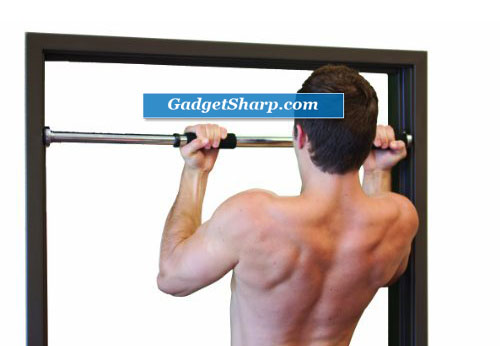 8. GoFit Push-Up Bars [amazon]
* air of push-up stands for building and toning pecs and triceps
* Gripping stands gives you a greater range of motion
* Compact design for easy storage or transport
* Gives your chest muscles a more efficient workout
* Also great for building core strength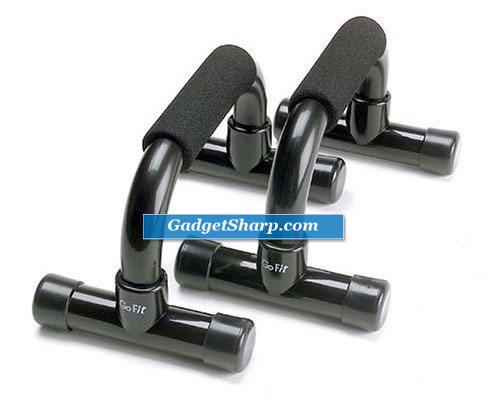 9. Harbinger Durafoam Exercise Mat [amazon]
* 24 inches wide by 72 inches long
* Excluseve 3/8-inch thick DuraFoam pad makes floor workouts more comfortable
* Moisture-resistant skin is easy to clean
* Double-sided, non-slip surface grips the floor to prevent injuries
* Integrated self-strapping system for easy transport and storage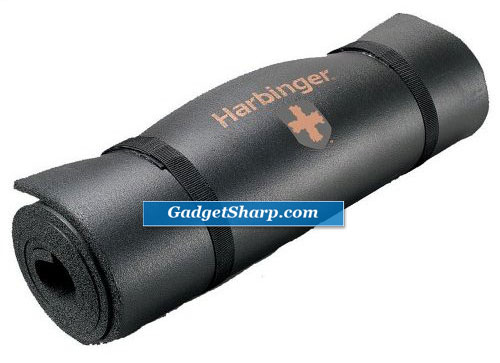 10. SPRI ES502R Xertube Resistance Band with Door Attachment and Exercise Charts [amazon]
* The resistance recommended by SPRI for advanced men and women
* Perfect for home, gym, or on-the-road use
* Includes door attachment for additional training options
* Two illustrated exercise charts
* Measures 5 by 7-3/4 by 2-1/2 inches and weighs .6 pounds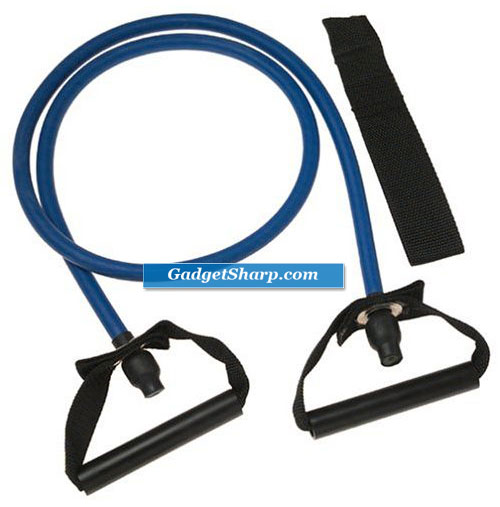 11. Weider Total Body Works 5000 Gym [amazon]
Able to accommodate over 100 body shaping exercises, features body weight resistance and additional bands to add up to 50 lbs of resistance
* Spacesaver Design
* Rolling seat
* Adjustable incline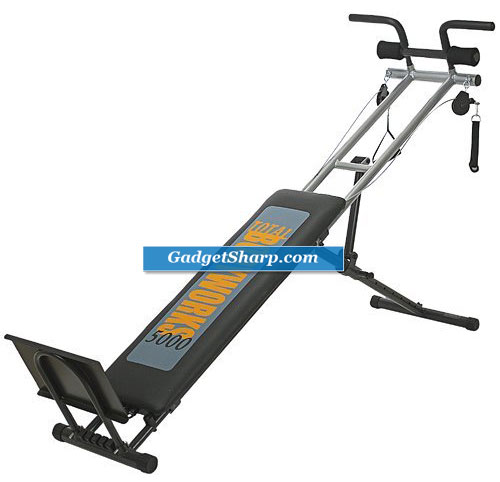 12. Bowflex PR1000 Home Gym [amazon]
* Get a total body strength workout with affordable home gym; includes rowing machine rail
* Provides as little as five or as many as 210 pounds of resistance via Bowflex Power Rods
* Over 30 strength exercises; includes horizontal bench press and lat pull down
* Sliding seat rail adds aerobic rowing training for calorie-burning, cardiovascular warm-up and cool-down
* 300-pound maximum user weight; requires 100 x 78-inch minimum workout area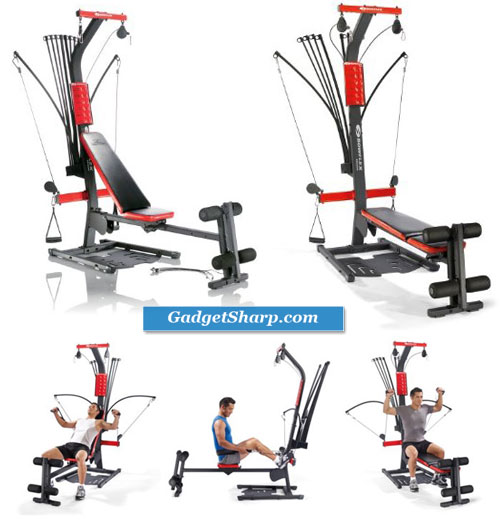 13. FreeForm Hideaway Home Gym [amazon]
* Compact home gym designed to build lean, fat-burning muscle
* Patented quick-change resistance bands make it easy to change weight
* Supports dozens of upper body, lower body, and abdominal exercises
* Folds almost flat for easy storage under a bed or in a closet
* Resistance range of 10 to 200 pounds;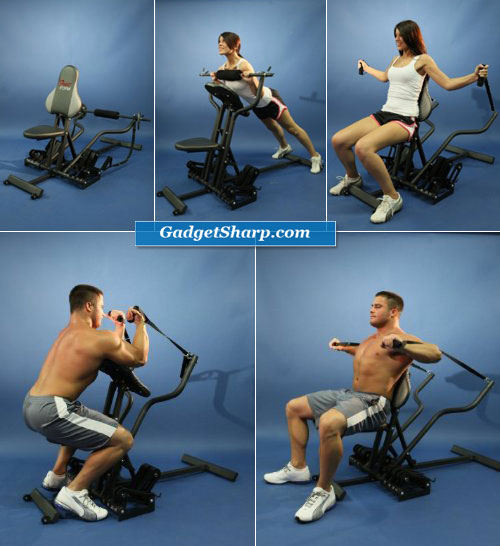 14. Lifeline USA Power Wheel II [amazon]
The Lifeline Power Wheel dynamically improves core strength, power and balance. Designed to fit hands or feet, the Power Wheel forces your core to adapt which won it the prestigious title of Best Core Trainer in the World by the University of California Berkeley.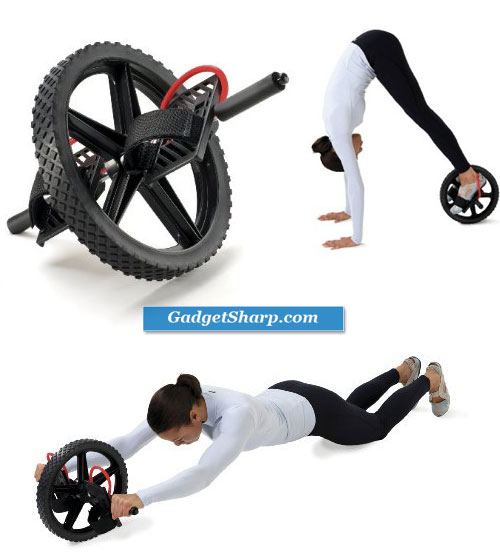 15. TRX Suspension Training Pro Pack [amazon]
* Go-anywhere suspension training workout device with pair of sturdy nylon straps
* Creates resistance from your body weight and gravity; supports all fitness levels
* Modular anchoring interface attaches to any elevated fixture, such as door or tree branch
* Easy to set up and extremely portable; adjustable degree of difficulty (from 5 to 100 percent)
* Comes with 3 DVD workouts; stores in mesh bag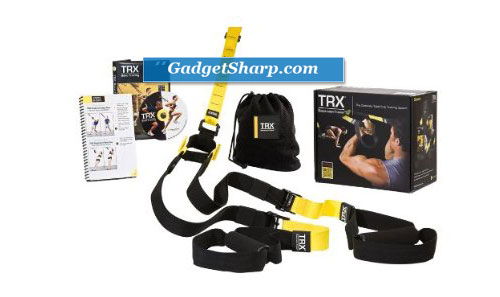 16. Multi - flex Core Home Gym [amazon]
Get a great work out AND a great back massage with the Multi - flex Core Home Gym! The only machine that works out your core muscles completely in only 5 minutes a day. Use with the included Diet Plan to lose weight and have tighter abs, a stronger back, and more sculpted legs within 30 days! And it stretches the upper body and back… even offering a back massage while you work out! Padded headrest cradles neck for support; Comfortable rounded pads let you stretch your entire upper body as well as your back for relaxation;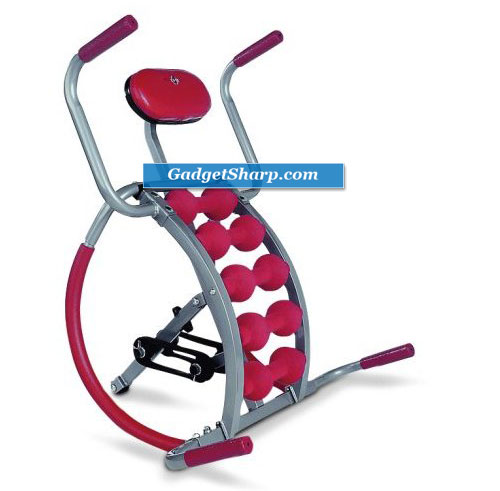 17. Gaiam Balance Ball Chair [amazon]
* Created by leading health and fitness experts to improve your back health
* Employs the same balance ball used in your workout routine
* Helps to build a healthier back, relieve pain, and improve your overall well being
* Includes removable 52cm Balance Ball, an adjustable support bar, easy-glide casters, an air pump
* Designed for users 5' to 5'11" tall; 300-pound weight capacity