No matter you live alone or with family, you need to do laundry, once a week, twice a week or till you run out of your clothing. Almost each family needs a laundry hamper/basket/bag to hold their dirty clothing. when you need to sort your laundry according to color and material, multiple bags come with handy; when you don't have washing machine at home, wheels are convenient for you to move your laundry in the building; but when you have to do your laundry outside, a bag/hamper with Carrying Straps will help. There are so many types laundry hamper, hope you can find something for your home.
1. Rattan Elephant Laundry Hamper [amazon]
This hamper is perfect for a child's room. Lift the lid to reveal a large compartment for dirty laundry.This wicker piece is handwoven. It will add texture and interest to your decor. Order yours today.The Rattan Elephant Hamper was featured in the February/March 2008 issue of Carolina Homes and Interiors magazine.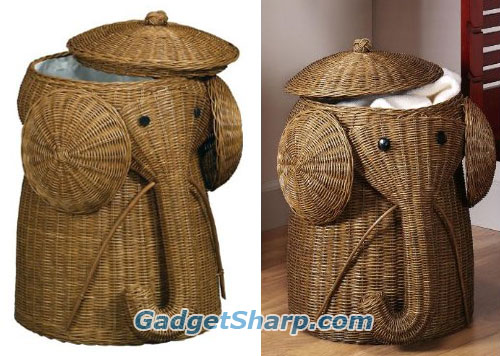 2. Seville Classics SHE16165 3-Bag Laundry Sorter Cart With Hanging Bar [amazon]
Keep your whites, colors and delicates separate in this three-bin laundry sorter. Each washable canvas bag hangs from plastic hooks on the sturdy chrome frame, and can be detached separately for ease-of-use. Rolling wheels make doing laundry a cinch. Chrome-plated wire handle on each bag allow for easy removal 3 Cotton Bags Easy to assemble Large wheels move easily yet lock when necessary. Convenient handle on each end of the cart facilitates movement Chrome-plate wire hrid support bags and prevent sagging Dimensions: 30.75" x 18" 33.25"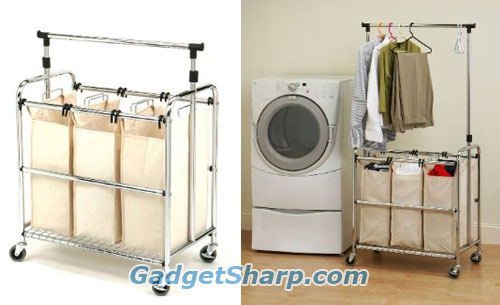 3. Chrome Laundry Cart and Hanger [amazon]
This WHITNEY DESIGN #7028 laundry butler is made of commercial grade heavy duty chromed steel. A person would be hard pressed to find a more solidly built laundry butler. The holding basket is oversized being taller than most for less bending and more holding capacity. The hanging valet bar is sturdy and can handle heavy loads of hanging shirts or pants either wet or dry. The bottom shelf of the butler will easily hold either laundry supplies or folded laundry. The heavy duty industrial wheels are 3" in diameter and feature double wheel locks.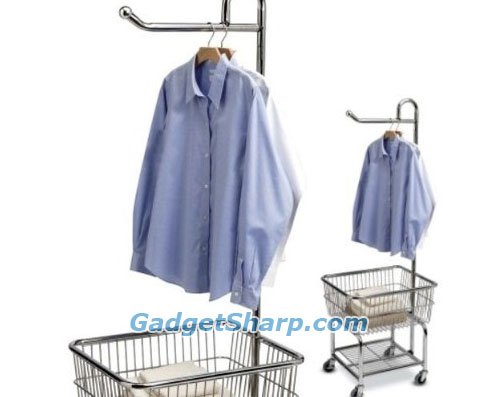 4. Honey-Can-Do Heavy-Duty Triple Laundry Sorter [amazon]
With its streamlined design and commercial-grade construction, Honey-Can-Do?s Heavy-Duty Triple Laundry Sorter doubles as both a sleek and exceptionally hardworking member of the laundry room (although the person in charge of the clothes piles may claim that title as well). The mobile cart features a rust-resistant chrome-plated tube steel frame with integrated end handles perched on high-traction, lockable swiveling rubber casters. Three removable white poly-cotton sorting bins hang from plastic-coated hooks, each with sturdy side handles for efficient, no-spills loading and unloading.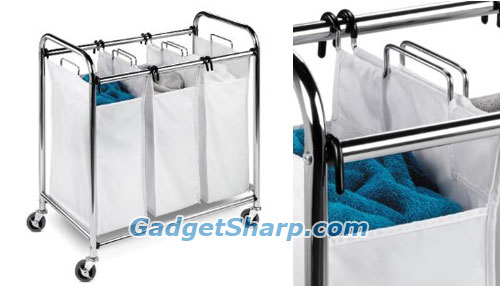 5. JJ Cole Hamper [amazon]
To hold all baby's soiled clothing, blankets and anything else on its way to the washer. The nursery hamper breaks down flat for storage and stands sturdy when in use with its stiff base insert and rigid sides.
http://www.amazon.com/dp/B002G9UTO0?tag=desswa-20&camp=14573&creative=327641&linkCode=as1&creativeASIN=B002G9UTO0&adid=1C4M6GN7KE973KQXQTPT&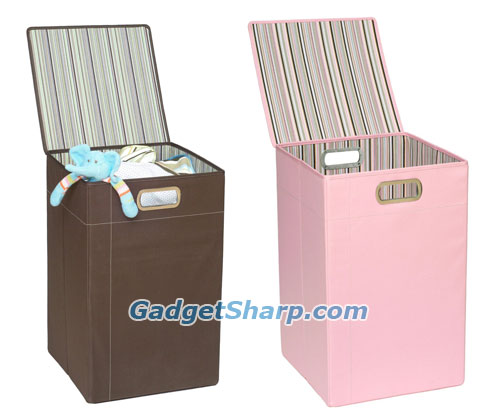 6. Whitmor 3 Section Laundry Sorter [amazon]
Canvas 3 Section Laundry Sorter requires no tools to assemble. The steel frame is painted silver and comes with heavy duty wheels making it easy to move around. The sorting bag is divided into three sections and since it is made of natural canvas, it is washable. When the laundry sorter is not in use it folds for convenient storage.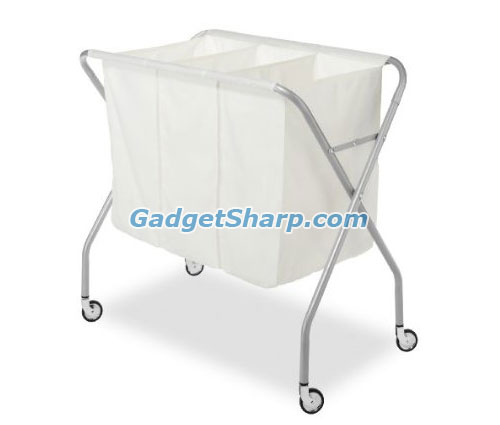 7. 23-Inch Foldable Laundry Hamper [amazon]
Foldable for easy storage after the laundry's done, this handy laundry hamper collapses flat to fit behind doors, between the washer/dryer set, or just about anywhere. Easy to clean, the unit is equipped with a stain-resistant lining so you can chuck your muddy work or sports clothes in there and not worry about it. The hamper's neutral design blends with any home d?cor. And, a sturdy design ensures years of reliable laundry storage and transport.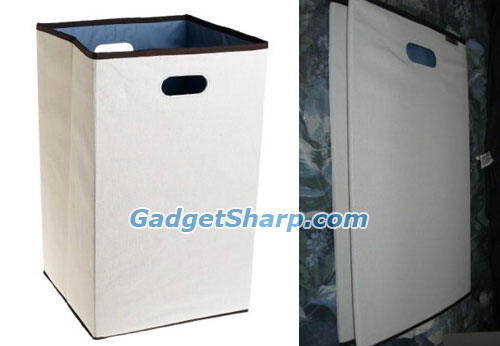 8. Oval-Shaped Laundry Hamper with Carrying Straps [amazon]
This laundry hamper from Whitney Design is a designed for both storing soiled laundry and carrying laundry to the laundry room. It is oval in shape. The hamper is made of a durable polyester. It features carrying straps, has a zippered lid, and a water resistant vinyl lining. No tools are required for assembly. The hamper simply springs into shape. When not in use, it can be compressed flat. It measures 13-inch high by 22-inch wide by 12-inch deep. It is a natural color with black trim with the word -inchlaundry-inch on the side.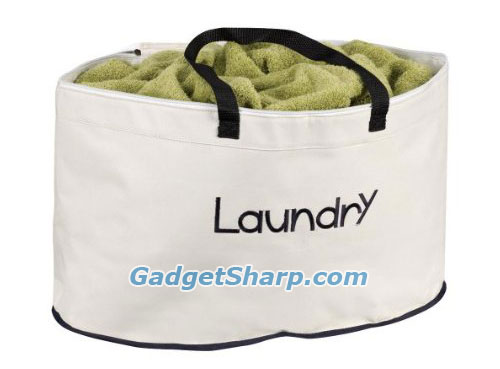 9. Burlington Baby Cherry Willow Hamper with Liner [amazon]
The lid is a lift off lid with a handle on it. The liner is removable and machine washable. This is to make getting laundry to the machine easy. 2 handles on the sides of the hamper for ease in carrying the hamper. Looks great anywhere you put it.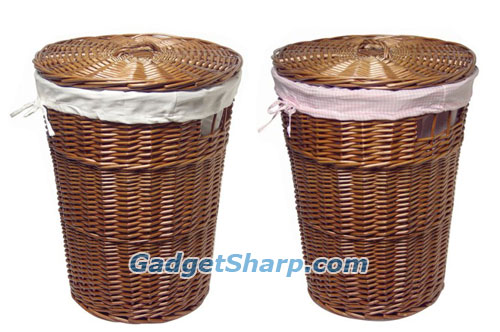 10. Wheeled H-Amper White with Titanium Handles and Wheels, 3-Pack [amazon]
Laundry h-Ampers offer a range of features that help ease the burdens associated with laundry. All Sterilite h-Ampers feature a contemporary design, durable construction and slim profiles for efficient use of floor space. Ventilated bases allow for airflow, wide openings provide easy access to clothing inside and lids help to contain and conceal contents neatly. Sterilite's premium wheeled h-Ampers also include smooth gliding wheels and comfortable handles for ease in transporting clothes to and from the laundry room.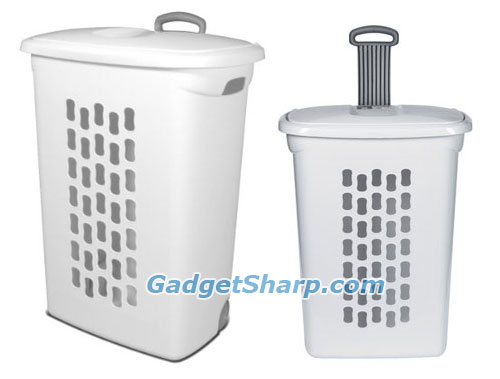 11. Cappuccino Finish Wood Laundry Basket Hamper w/ Removable Canvas Liner [amazon]
Cappuccino Finish Wood Laundry Basket Hamper w/ Removable Canvas Liner This is a brand new in box cappuccino finish Laundry Basket/Center/Hamper with a removable canvas liner. This contemporary style item will make a great useful laundry center.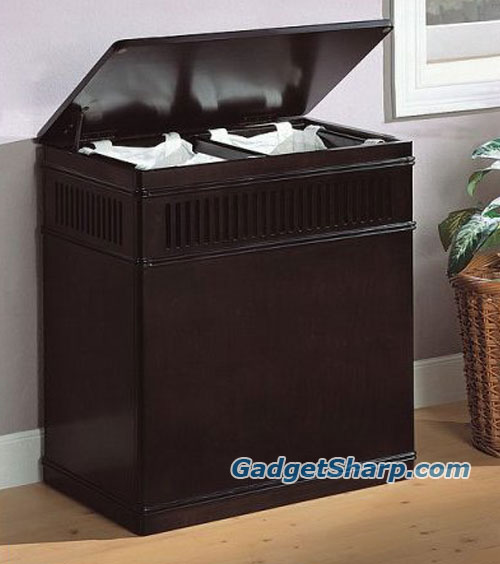 12. Neu Home Jumbo Laundry Basket with Canvas Bag [amazon]
This jumbo sized laundry basket holds a lot of laundry. The strong chromed wire frame and heavy canvas laundry bag make this laundry basket durable and worth buying. It comes equipped with wheels and handles for easy transport from one area to the next. No assembly is required. Features: -Jumbo laundry basket with canvas bag. -Strong chromed wire framing. -Heavy canvas laundry bag. -Holds a lot of laundry. -Durable. -Wheels and handles for easy mobility. -Canvas replacement bags available.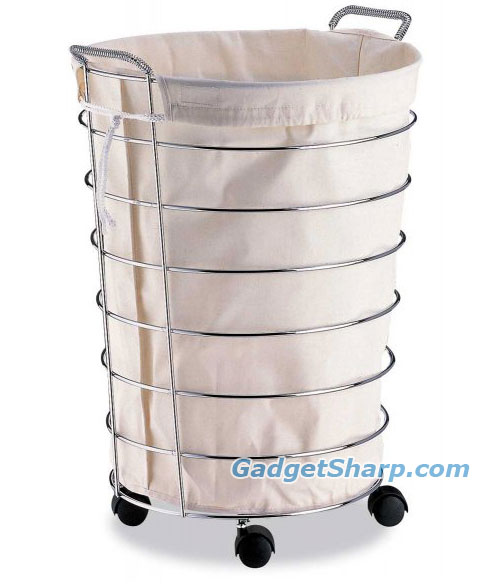 13. Brabantia Laundry Bins [amazon]
Brabantia laundry bins offer functionality while adding a sleek, timeless look to your home, be it your bedroom, bathroom, or anywhere in between. The ?Quick-Drop? opening keeps contents discreetly out of sight, and the removable, washable laundry bag is easy to carry and clean. Ventilation holes allow for airflow, and a plastic protective bottom ring prevents damage to any floor surface. Offered in a 50 liter capacity, these laundry bins can accommodate any size family, and take the laundry hamper to a new heights.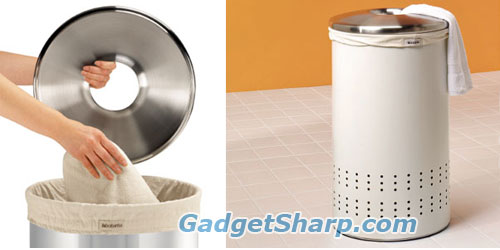 14. simplehuman double x-frame laundry hamper [amazon]
The x-frame laundry hamper is built with heavy gauge steel bars so it won't buckle, even when packed with dirty clothes. A strong pivot point and wide base keep the laundry hamper nice and stable.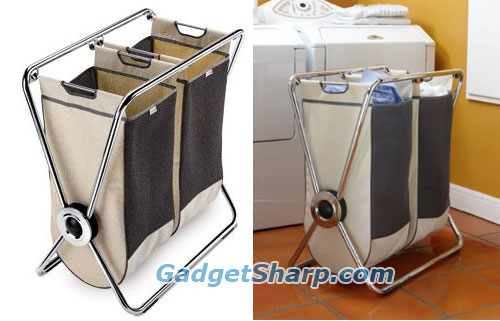 15. Caddy Concepts Portable Laundry Hampers [amazon]
Caddy Concepts Portable Laundry Hamper is a laundry hamper, laundry bag and laundry cart all in one. It has large wheels and a pop-up handle which makes transporting laundry easy. It is also collapsible, has side pockets and is water resistant. It can also be used to store and transport many other items including groceries, toys, sports equipment, and stuffed animals. It is great for the beach, boat or taking heavy things to far away places.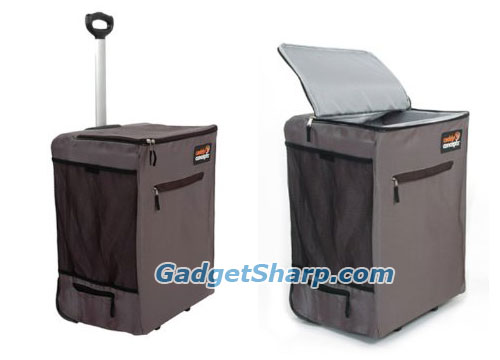 16. Tide Laundry Backpack Duffel Bag Duramesh Straps [amazon]
The Tide Laundry Backpack makes laundry day easy! This ultra-useful duffel bag is an all-in-one laundry solution! The large laundry bag is made from tough, breathable, Duramesh material, designed for maximum airflow to keep clothes fresh. Simply place dirty clothes in the bag like a conventional hamper. When laundry day arrives, just slide your arms through the comfortable shoulder straps like a backpack and you're ready to go! The Laundry Backpack is great for busy college students and bustling city-dwellers that have to carry clothes to the nearest laundromat. Say goodbye to laundry-lugging hassle, and pick up the Tide Laundry Backpack today!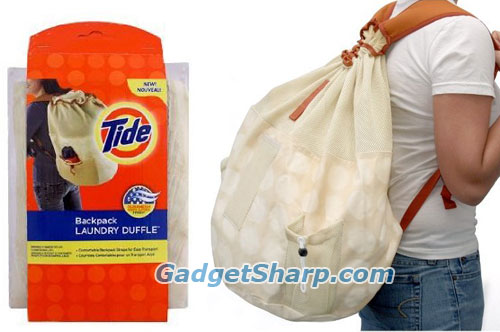 17. Secioni Laundry Basket in Zebrano Wood / Leather [amazon]
Secioni 53384 Collection Complements by WS Bath collections; unique and fine bath Complements and accessories that provide inspirational solutions for every decor. Features: -Laundry basket. -Complements collection. -Lid finish: Leather. -Zebrano wood construction. -Made in Italy.