Holiday season is coming. Are you ready for the party and celebration? Try to impress your family and guests, let them eat cakes or tarts with style? You got to check this post, where we rounded up 15 Modern Dessert Cake Tower and Stand Designs. Hope you can have some ideas of how to show off your cake/cupcake/dessert and at the same time, offers elegant options for serving and entertaining.
1. Wilton Cupcake Stands [amazon]
Individually decorated cupcakes are the perfect way to add a personal touch to celebrations. Now, with Cupcakes 'N More, you have the perfect way to serve them! The look is fresh and fun, featuring silver-finished wire spirals to securely hold each cupcake. The twisting, towering design is perfect for any setting-showers, kids' birthdays, weddings, holidays and more. 15 in. high x 18 wide. Easy to assemble! Just stack each layer of cupcakes onto the locking center rod. Keeps looking great! Non-toxic, coated metal has a durable non-chip finish. Collapsible design stores easily and safely. Holds 38 cupcakes!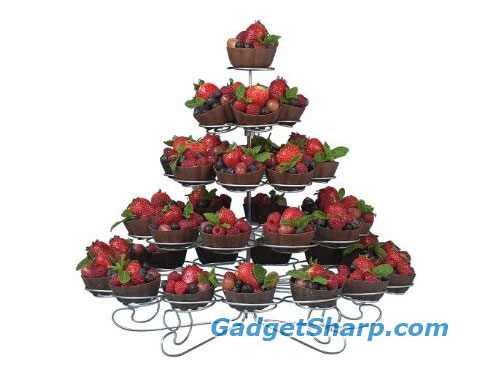 2. 3-Tier Cakes N More Party Stand [amazon]
Give any celebration a big finish! Serve you're your cakes, cupcakes and other party foods on this dramatic 3-tier party stand. Its clean lines and interlocking ring design work for any party or table d?cor. The chrome-plated finish and crystal-clear plates put the focus where it belongs, on your spectacular desserts. This versatile stand is great for presentations.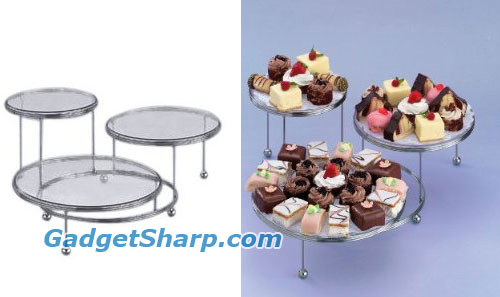 3. Clear Glass 12" Pedestal Cake Stand [amazon]
Wonderful 12" Glass Cake Stand. BRAND NEW & FACTORY SEALED! Beautiful Fine Cut Glass. Top Measures 12" on Top Height is 4" inches Tall This is One of the Most Stunning Cake Stands we have ever Come Across. Drop Dead Georgeous is the Only way to describe it. Your Cake will look absolutely fabulous on this stand. Not only can this stand be used for Weddings but it is wonderful to have around for other cakes or pastries.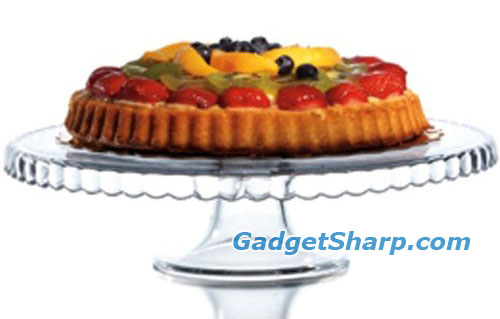 4. Nambe Morphik 3-Tier Condiment Server [amazon]
Like an accommodating host, the 3-Tier Condiment Server designed by Karim Rashid serves up a variety of stylish entertainment options. Crafted from signature Namb? metal alloy and smoked glass, this new addition to our Morphik series includes three elegant, shallow bowls that are ideal for everything from condiments, nuts, and candies to olives, crackers, and salsa. Evoking the curved forms nature favors, the eye-catching Server is anchored in a sturdy, tarnish-resistant metal base that polishes to a delicious shine.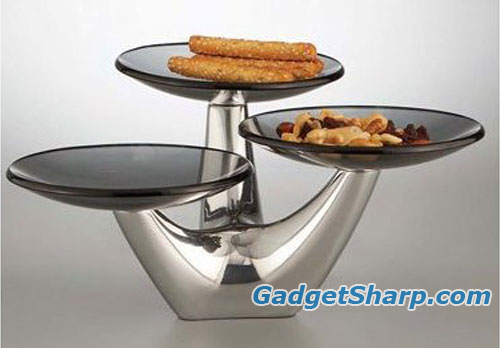 5. Luigi Bormioli Gallerie 4-in-1 Covered Plate with Dome [amazon]
A true entertainer's piece, the Luigi Bormioli Gallerie 4-in-1 covered plate with a dome cleverly handles many serving needs. The clear glass plate, stand, and lid can all be partnered in different ways to form a punch bowl, a chip-and-dip set, a cake holder, an hors d'oeuvres tray, or other creative food displays that the home chef might conjure up. What an economical way to multiply your serveware without over-filling the kitchen cupboards! Crafted of lead-free, heavyweight glass, this 4-in-1 offers a timeless, luxurious look. It also goes safely into the dishwasher–perfect for the modern home. Fully assembled, this piece measures 9 by 12-1/4 inches. It is made in Italy.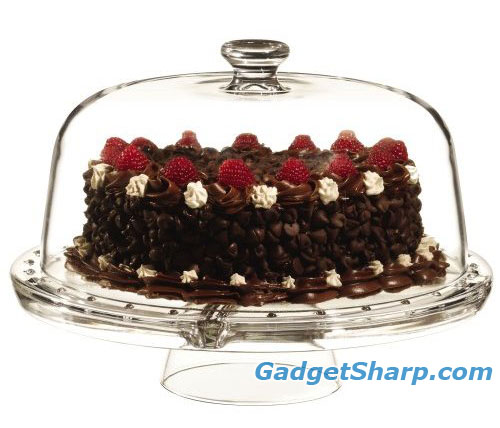 6. LEXINGTON FTD CVRD CAKE PLATE [amazon]
Measures approx: 14" high, 12" diameter. Beautiful covered cake plate.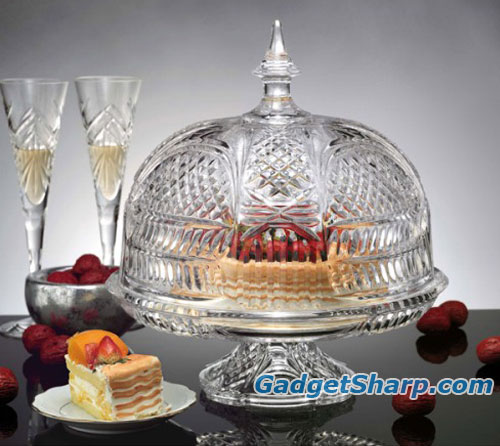 7. Wilton Tall Tier Cupcake Tower/Stand Set [amazon]
All pieces are made of white, durable plastic, with a lacy finish to each plate's edge for a fine, delicate look. The twist-apart center columns, with top and bottom bolts, assemble more quickly than traditional pillars, and they provide exceptionally stable support for six tiers of decorated cake. The 18-inch base plate comes ready to use with six sturdy feet and is the only plate that is not interchangeable. Each column piece in the set measures 61/2 inches high; the separator plates are 8, 10, 12, 14, and 16 inches in diameter; and the footed base plate measures 18 inches in diameter.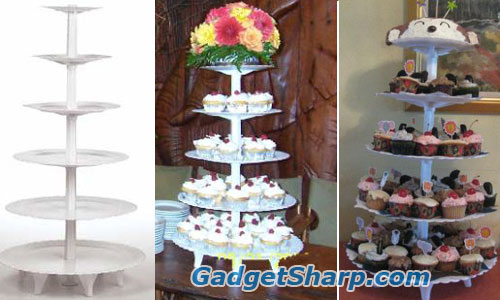 8. Nambe Morphik Cake 2-Tier Server [amazon]
Let them eat cakes or tarts with style, sophistication, and variety! Out of signature Namb? metal alloy and smoked glass, designer Karim Rashid has fashioned a dramatic, yet practical, new accessory in the Namb? Morphik series that offers elegant options for serving and entertaining. Evoking the curved forms nature favors, the 2-Tier Cake Plate is the ultimate in contemporary hospitality. Eye-catching and sturdy, the tarnish-resistant metal polishes to a delicious shine.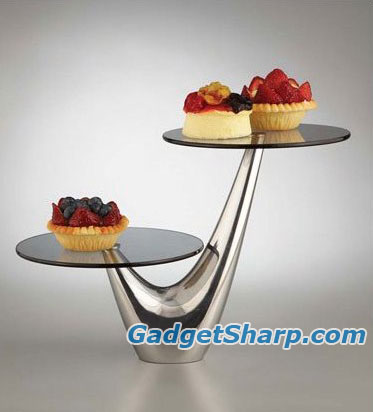 9. Rosanna Rococo Noir Black Large 12-Inch Cake Pedestal [amazon]
Measuring 12 inches in diameter, this cake stand is the largest of the three in the collection. The petal-shaped rim, repeated in the pedestal base, rises gently to beautifully present an eight- or nine-inch layer cake or keep a stack of chocolate chip cookies from sliding off. The two smaller cake stands may be stacked with this one to create a three-tiered buffet centerpiece with a strong wow factor. After the last crumb is gone, the pedestal cake platter can be placed in the dishwasher, although because of its shape hand-washing may be the better bet. Rosanna packages the cake stand in a round gift box comprised of a gold-and-white brocade-patterned top and a black base, almost as impressive as the piece itself.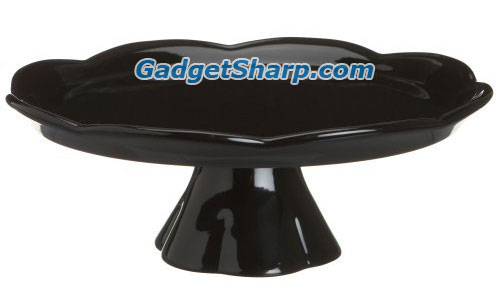 10. Arthur Court Grape 14-Inch Covered Cake Tray with Glass Dome [amazon]
A sophisticated piece for the table or buffet, this gorgeous Grape cake tray features a raised stand and a clear dome. With clusters of grapes and leaves in a stable flared design, the base is crafted from Arthur Court?s signature alloy, while the satisfyingly weight dome is glass. A sculpted glass finial completes the look. Measuring 14 inches in diameter, the base of this piece should be washed by hand, while the dome is dishwasher-safe. Look for Arthur Court dessert servers for a fully coordinated presentation.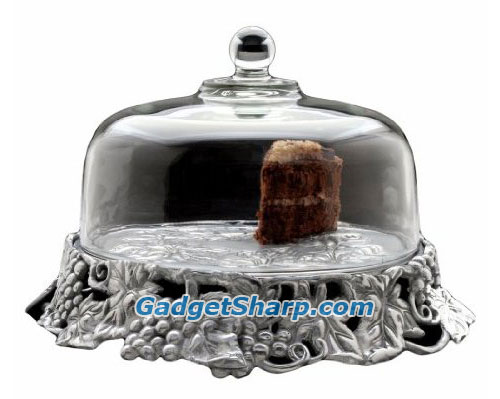 11. Set of Three White Iron and Glass Cake Stands [amazon]
Cake Stands with Scroll Metal Frames, Glass Inserts, Drop Dangle Accents and White and Clear Finish. Set of three - large is 11" diameter and 10.75" tall, 9.5" diameter and 8.5" tall, 8" diameter and 5.75" tall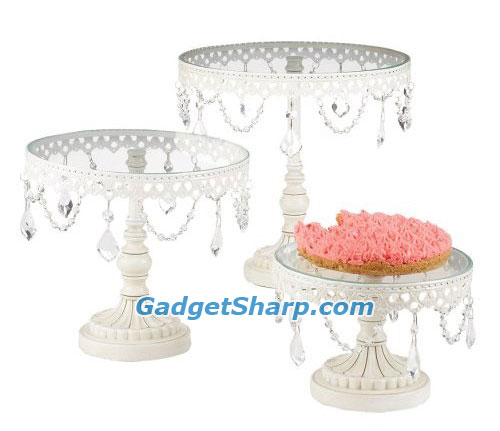 12. Acrylic Cake Stand or Cupcake Stand [amazon]
Includes four individual plates (8", 10", 12" 14") and three 6" pillars
Made a extremely durable 1/4 inch FF Acrylic. Hold up to 80 lbs
Stand can be assembled in seconds. Stores and ships flat. Lights can be added (not included) for additional decoration
Custom sizes are available- Please e-mail with your request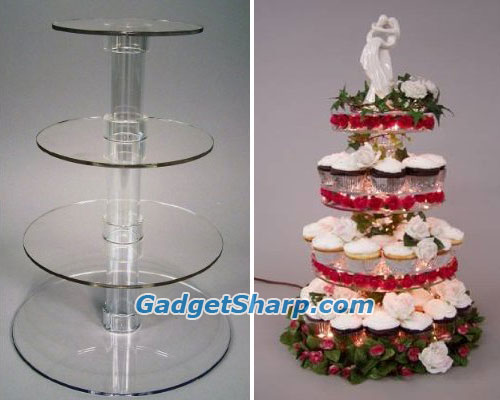 13. Copper Canyon 3 Tier Server [amazon]
These canyons are carved from water and wind. The coppery sand and dessert flora are referenced by the copper and verdigris on the ripples and ridges of Nambe's new Copper Canyon Collection. Due to subtly varying verdigris (green patina), each piece is unique, a sculpture of contrasting color and texture. For heirloom-quality durability, Copper Canyon pieces are made of our signature Namb? Alloy coated with copper. A clear protective coating makes upkeep as simple as wiping with a damp or soapy cloth and eliminates the need for polishing.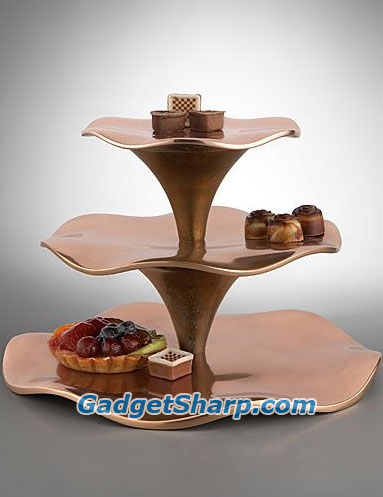 14. Wilton Cake Stands [amazon]
Stand supports 40 lbs.
4 flameless votives (with 4 replaceable CR2032 batteries included)
4 replaceable CR2032 batteries included
21 ? inches diameter x 5 inches high stand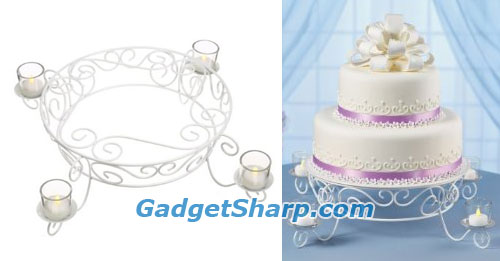 15. Freedom Footed Cake Plate [amazon]
Famous Godinger quality and value.
The Tiara cake plate has fan-shaped crystal cuttings on the top, and beautiful scalloped edges.
The base is fluted and sets off this cake plate in a most beautiful way.
This great cake plate will make a wonderful shower or wedding gift.
You will want to see the entire collection of beautiful crystal serving accessories and gifts by the famous Godinger Crystal Co.