Springtime is the traditional time to remove the winter blues from your home and make it ready for the long days of summer fun. Here, we have 14 useful Duster which can definitely help to Clean your Home. Ceiling, floor, fan, corner, plant, windowsill and even your keyboard, no place will be left out. So Ready? Let's check those helpful tools.
1. Slipper Genie Microfiber Cleaning Slippers [amazon]
* Open toe slipper in pink for women with microfiber fingers that catch hair, dust and dirt; one size fits most
* Cleans faster, easier and better; slippers can go where mops cannot
* Velcro pad attaches/detaches cleaning cloth from slipper
* No hard edges, so safe to use on all floor surfaces--including wood, tile, vinyl
* Machine washable; for use on dry floors only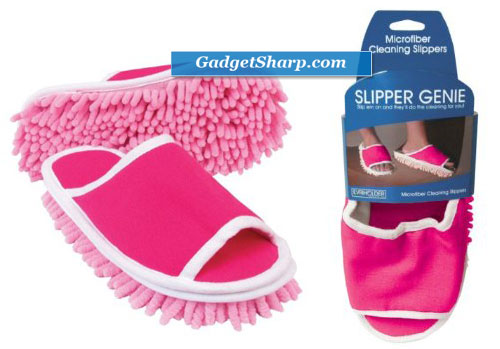 2. Long Reach Flexible Duster [amazon]
Reach where your ordinary duster can't go with this flexible duster. Its flat shape is perfect to reach tight spaces between and under heavy household items like the refrigerator, drying and washing machines, shelves, and more! Use wet or dry. Machine washable. Measures 30 1/2" L x 5" W.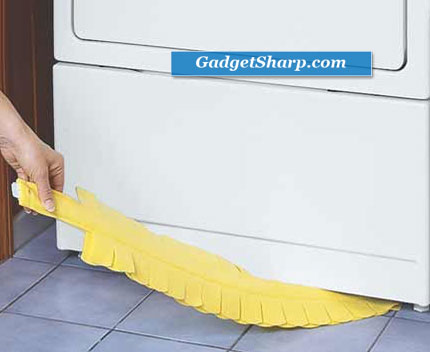 3. Complete Microfiber Telescoping Duster Kit and Accessories - Frontgate [amazon]
The lightweight aluminum extension pole has an ergonomic 16' reach and an integrated angle adapter to clean every corner and crevice. This ultimate dusting kit surpasses others, and includes:
* 16' telescoping extension pole
* Microfiber ledge duster for fan blades and ledges
* Brush head for cobwebs and corners
* Ostrich duster head with 15" handle for chandeliers
* Flexible fluffy microfiber head for all-over cleaning
* Ergonomic window washer head
* Ballistic nylon carry-all case with interior organizational compartments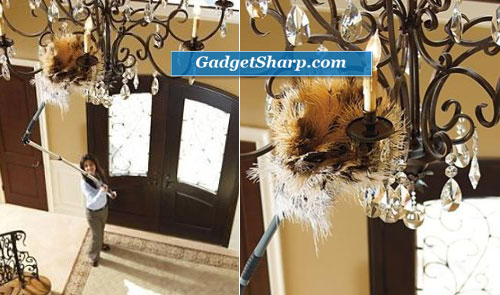 4. Fuzzy Wuzzy Microfiber Blind Cleaner [amazon]
* Microfiber Finger Pads can be used wet or dry with or without chemicals
* Machine washable
* Microfiber Finger pads are great for metal, aluminum, wood or vinyl blinds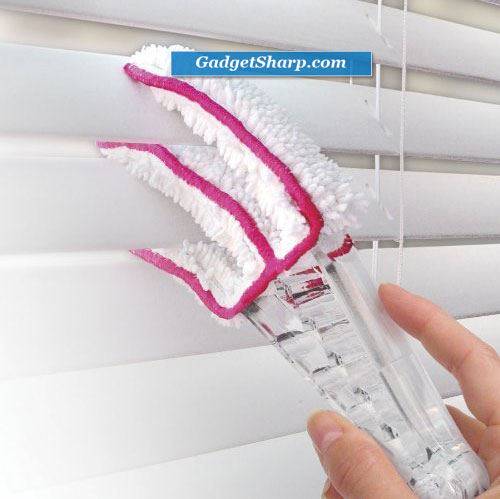 5. Ceiling Fan Duster [amazon]
* Fits ceiling fan blades measuring up to 6" wide
* Duster removes dirt and dust by static electricity
* Easily adjust duster length from 27" to 37" or to 47"
* Can also be used as a dust mop or duster for hard to reach spots
* Clean ceiling fans with ease without climbing on chairs or ladders
* Double-sided brush removes dust from both sides of the fan blades at once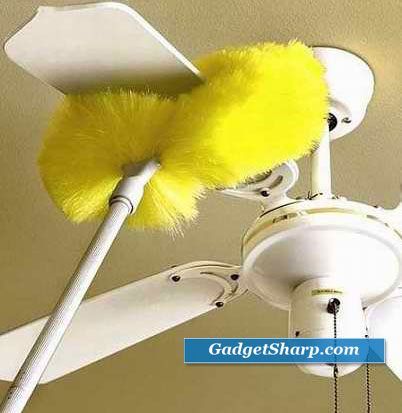 6. Go Duster [amazon]
* Use the Multi Surface Dusting Spray designed to enhance Go Duster?s performance by grabbing and holding onto dust.
* Made for comfort, Go Dusters handle is ergonomic and balanced to make dusting feel almost effortless.
* Seniors and children will love it!
* Cleaning your home has never been so fast and easy!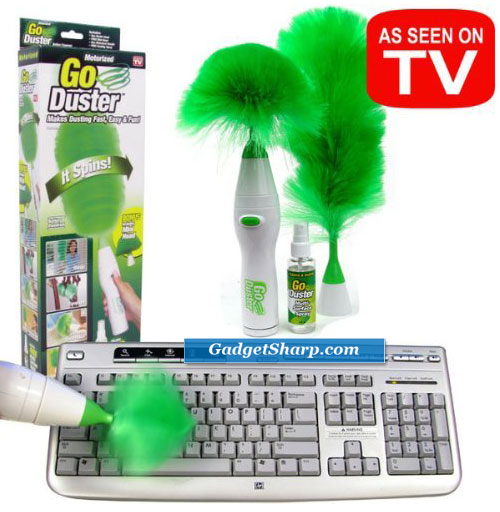 7. Fuzzy Fingers Mini Microfiber Chenille [amazon]
* Perfect for cleaning PDA's, monitors, Smartphones, dashes and more
* Unique multipurpose Double Sided mini mitt
* Available in Pink or green- assorted colors will ship depending on stock availability

8. Ettore 31000 Dazzle Webster Duster [amazon]
Brightly colored PVC bristles, split tips capture dust and dirt, metal handle extends to 59". Contoured shape and soft bristles remove dust and cobwebs from baseboards. Great for outdoor use. Unique Webster packaging.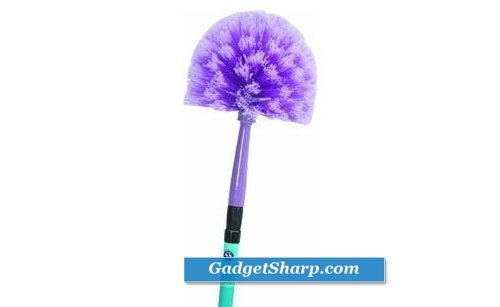 9. Norpro 24-Inch Lambswool Duster [amazon]
* Measures 24 inches long
* Wooden handle, with hole for hanging
* 100% Lambswool
* Easy to clean-can be cleaned with mild detergent or Wool Shop Duster Shampoo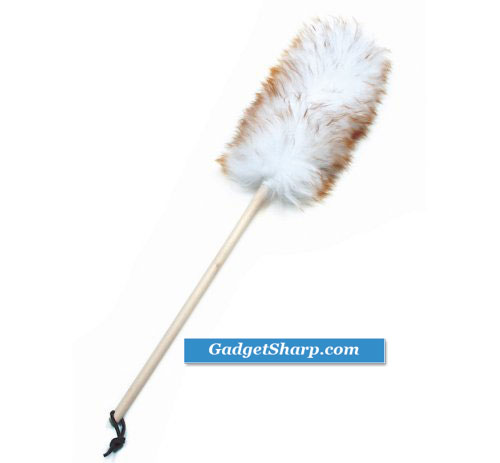 10. Mr. Long Arm 741 Ostrich Feather Duster with 3 to 6 Foot Extension Pole [amazon]
* Genuine ostrich feather duster
* Use with or without the 3-6 foot extension pole
* Cleans with mild soap and water
* Gets in hard to reach places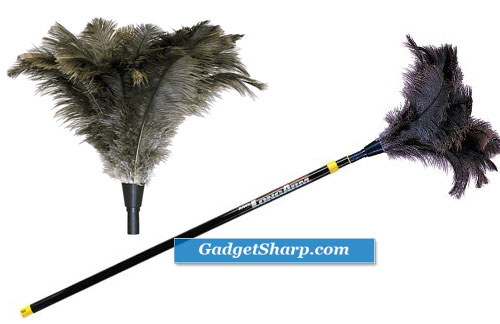 11. Bissell Smart Details Microfiber Floor Duster [amazon]
Microfiber Floor Duster. Jointed handle allows easy cleaning under furniture. Washable microfiber attracts dust, dirt and hair without chemicals. Bendable edges to clean baseboards and floors in one swipe. Wide duster swivels to reach tigh spaces and corners. Adjustable handle for height and storage. Soft grip for comfort. Non-slip; leans against walls without falling. Circular end for easy hanging.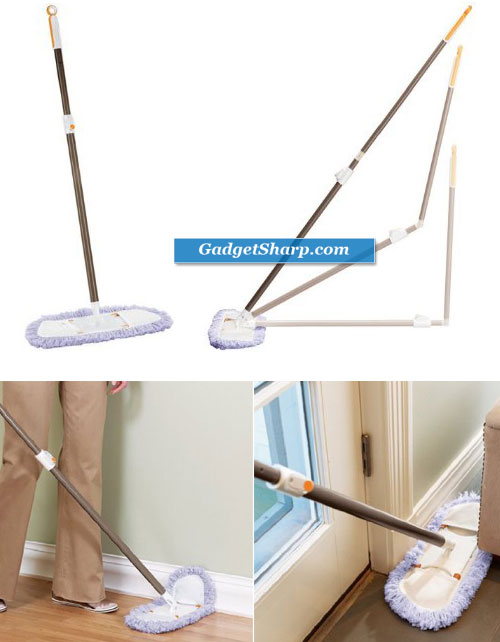 12. Microfiber Chenille Cleaning Mitts [amazon]
Mr. Clean products provide the finest quality products in the marketplace. We stand behind all of our products and guarantee tha they perform as intended and are free from manufacturer's defects. The Microfiber Chenille Cleaning Mitt fits either hand. It's machine washable, lint free, reusable. It's hundreds of raised microfiber pile fingers make for a more effective cleaning; Cleans without chemicals!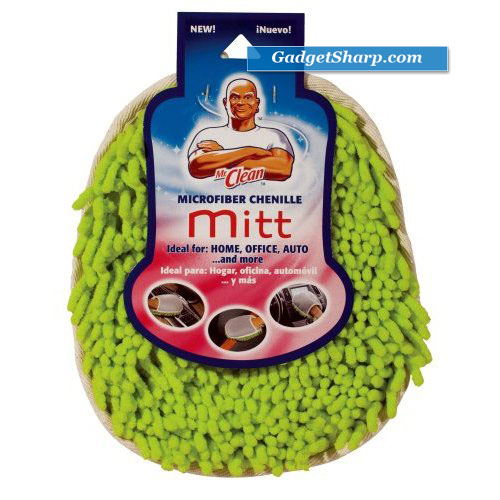 13. Oxo Good Grips Microfiber Double Duster [amazon]
* Double-sided Duster features a flexible side with fluffy fibers to remove dust with a light touch and a rigid side with duster cloth for maximum contact dusting
* 12-Inch Duster head is generously sized to clean large surfaces but has a slim profile to access tight spaces
* Removable, washable microfiber Duster head traps and holds dust without the use of additional cleaning chemicals
* Soft, non-slip handle for a comfortable grip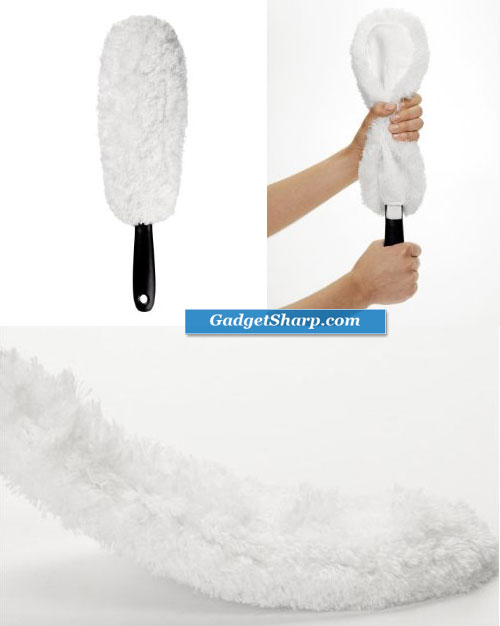 14. Bissell Smart Details Microfiber High Reach Duster [amazon]
Microfiber High Reach Duster. Extends your reach to 14 feet for hard-to-reach areas. Pivoting head locks at multiple angles to clean high ledges and ceiling fans. Washable microfiber attracts dust and dirt without chemicals. Handheld duster: Separates for regular dusting. Adjustable handle for height and storage. Soft grip for comfort. Non-slip; leans against walls without falling. Circular end for easy hanging.