Don't want to worry about the weather? Need a few gadgets that don't require perfect sunny conditions? TODAY we will highlight 13 Innovative and functional Waterproof gadget, covers from your bedroom to your bathroom, from beach to office. Hope you enjoy.
1. Waterproof Foldable Keyboard [amazon]
Flexible and foldable, convenient to take around: travel, school or any other working enviroment Silicone material: dustproof, waterproof. Don?t need to worry about the spill of coffee, tea or milk Soft keys, comfortable to touch and doesn?t make noise when typing. Washable!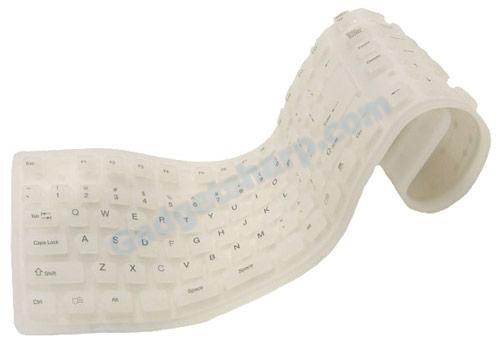 2. AquaNotes Waterproof Notepad [amazon]
We all know the frustration of having an incredible idea hit you in the shower only to have it slip away before you could write it down. Now you can jot down those ideas with the AquaNotes Waterproof Notepad. The waterproof pad features 40 perforated sheets so you can take your ideas, lists, and plans for fixing the government wherever you go.Using the included suction cups, stick the AquaNotes Waterproof Notepad and water-resistant cedar wood pencil on the wall of your shower. Made in the USA of non-toxic and recyclable waterproof paper.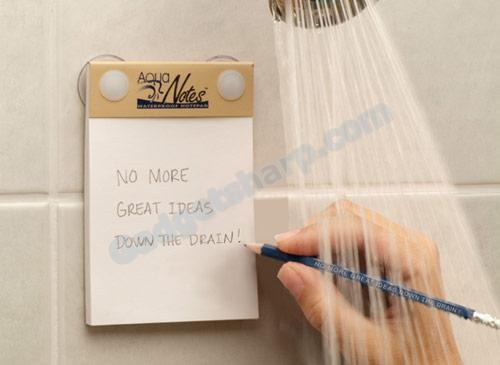 3. Underwater Light Show [amazon]
Do you have a pool or spa you?d like to jazz up for a party? Underwater Light Show is a funky waterproof lightbox that you can pop underwater in your pool, spa or even bath tub, creating a beautiful light display perfect for a relaxing night in or to get the party started. This fabulous underwater disco ball even floats! So don?t worry you have to lay on those balls whey your have bath.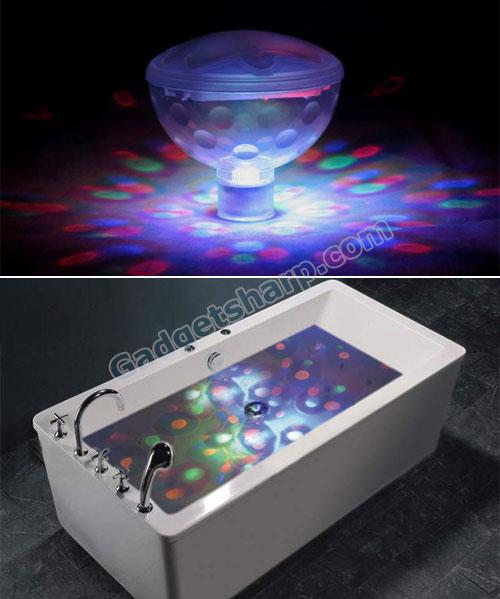 4. Wireless Floating Waterproof Speaker is good for beach [amazon]
With the warm weather season finally upon us (sorry Australian and New Zealand readers), you?re probably hoping to spend lots of time in the pool this Summer. But just because you?re floating around on an inflatable raft with a pi?a colada in hand doesn?t mean you have to be separated from your digital music collection.
Audio Unlimited PoolPOD 900Mhz Wireless Floating Waterproof Speaker Audio Unlimited?s PoolPod wireless floating speaker allows you to enjoy your music while relaxing in any other water environment. Just plug in your iPod, computer, stereo, MP3 player or any device that has a 3.5-millimeter or RCA output and enjoy high quality music without the hassle of running wires.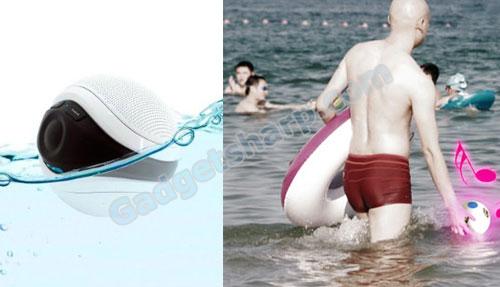 5. Waterproof Bag for your music and camera [amazon]
Taking on the challenge of creating an absolutely waterproof bag for lifeguard, fisherman, swimmer, urinator, etc, the new product features a robust sealing mechanism that keeps your iPhone, iPod Touch from water while still satisfies your basic needs of taking photos, answering calls and getting connected to earphones. If you?re planning to spend the hot summer on beach, you wouldn?t mind getting one such bag.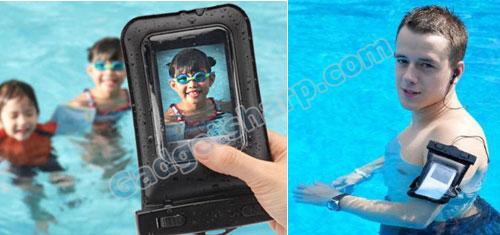 6. DicaPac WP110 Small Alfa Waterproof Digital Camera Case with Optical Lens [amazon]
WP110 Waterproof case for digital cameras are made of non-toxic materials (RoHS) and are tested and are of waterproof grade JIS IPX8 (Japaness Industrial Standard's highest waterproof grade). Underwater lab tested to 16ft . Patented roll and relcro zipper system which allows full funtionality of camera controls. It also has a removable optical lens with diffused reflection prevention. The big addition is a polycarbonate quality lens (clear and hard to break) opening that lets you take pictures with zoom control even when the camera is in the pouch. The lens has a 3-layer coating both inside and outside. (UV coating, Water repellent coating, Scratch resistance coating for quality pictures.) It also floats when you drop it into water.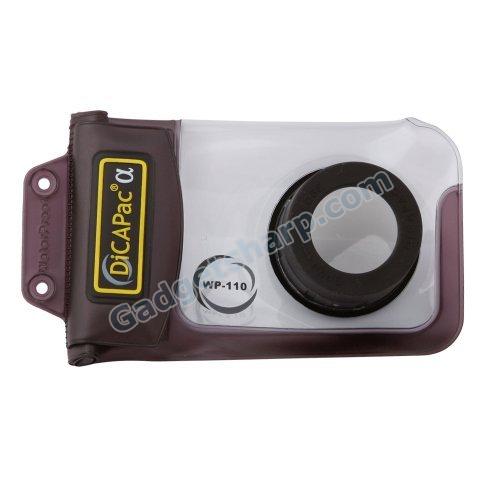 7. Belkin Washable Mouse [amazon]
A 1200 dpi optical engine offers precision on many household surfaces. View larger. This is where the Belkin F5L007-SCROLL Washable Mouse comes in. With all the functionality and performance you?d expect of your mouse?including optical technology and a versatile one-touch scroll pad?this one-of-a-kind mouse can be washed with warm soap and water, ensuring that you can stay comfortable and sanitary while you work or play.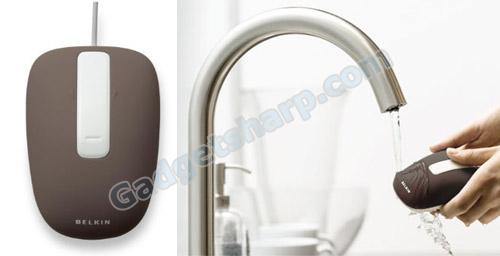 8. Ego iPod Waterproof Sound Case [amazon]
Swimming in the sea with your iPod on is a great way to relax. Listening to your music in the sea, it?s all possible with the Ego iPod. This iPod Waterproof Sound Case is totally waterproof and it can take a hit. You can use the iPod by touching the rubber buttons on the case. The Ego iPod also contains build in speakers, so let the party begin.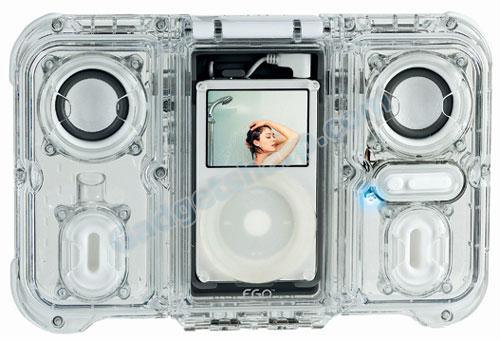 9. SentrySafe Fire-Safe Waterproof Data Storage Chest [amazon]
FIRE-SAFE waterproof data storage chest. The world's first and only fire resistant and waterproof multi-purpose data protection chest. Allows users to backup data using their own storage devices (devices sold separately). Protects up to 60 CDs and DVDs (in 30 double-sided sleeves). Users connect their laptop or desktop computer via the internal USB port.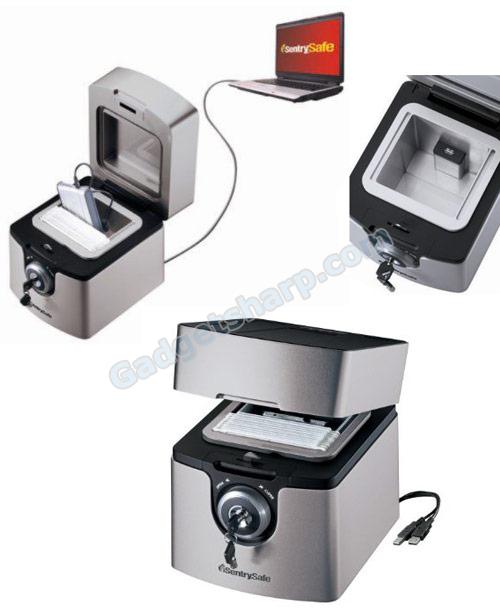 10. FINIS SwiMP3 v2 Waterproof MP3 Player [amazon]
Unlike standard waterproof MP3 players–which transmit sound through the air or water and produce only a muffled noise when submerged–the SwiMP3 v2 relies on your bones to conduct the sound. This direct transfer of sound vibrations from the cheekbone to the inner ear produces exceptional sound clarity, so you can listen to all of your favorite tunes while working out or taking a leisurely swim. And you needn't worry about damaging your hearing, as bone conduction hearing is a safe, well-established hearing mechanism in humans.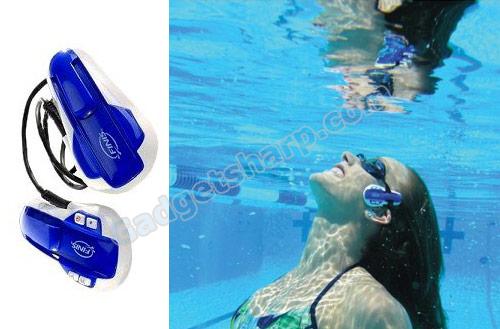 11. Kwik Tek Dry Pak Alligator Wallet [amazon]
Blue, alligator, embossed TPU front, clear TPU back
Adjustable neck lanyard included, Yellow sealing clip for high visibility
Holds ID, cash, credit cards, keys, pagers
For beach, pool, boating, airports, water parks, hiking, snorkeling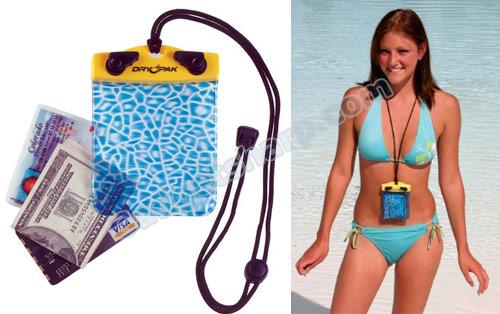 12. Canon PowerShot D10 12.1 MP Waterproof Digital Camera [amazon]
Take this camera anywhere: waterproof, cold resistant and shockproof
Life can take you almost anywhere. So Canon engineered a digital camera durable enough to go where you go and produce the kind of awe-inspiring images that will earn your respect. It?s the PowerShot D10 and it's no ordinary digital camera. This unique camera is waterproof down to 33 feet so you can take it scuba diving, snorkeling or surfing. It?s freeze proof and can withstand extremes of temperature from 14-104 degrees (F) so it?s also ideal for snowboarding, mountaineering and more. Plus, it?s shockproof to 4 feet, so when the going gets rough, the D10 will keep going strong.
13. LinenSpa PREMIUM Universal Fit Mattress Protector (Waterproof-Eliminates Dust Mites) [amazon]
Universally sized fully elasticized fitted sheet style fits all mattress depths from 6" to 22"
100% Waterproof - repels all liquids including bodily fluids, perspiration, urine and accidental spills
15-Year Warranty covers product performance, workmanship, and normal wear and tear
Hypoallergenic 100% cotton terry surface and polyurethane backing inhibits allergy-causing dust mites, bed bugs, and bacteria from living in your mattress
Ultra-thin, breathable material is quiet, sleeps cool, and will not change the feel of your mattress