Cow is one of beloved animals and many of us are fond of its black and white pattern. In this post, we rounded up 13 Adorable Cow Inspired Product Designs, from cheese picker to cookie jar, from the corn holder to whistling Tea Kettle. Hope these lovely cows can spice up your home and bring some humor and fun into your life.
1. Boska Holland Cow Party Serving Set [amazon]
Serve cheese at your next party with this fun Cow Serving Set from Boska Holland. A ceramic cow with six mini cow forks.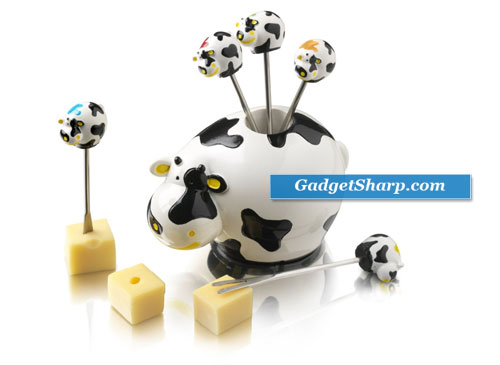 2. Boston Warehouse Udderly Cows Earthenware Soap and Lotion Hand Pump [amazon]
Spice up the bathroom and bring some humor into the house with the Udderly Cows lotion pump by Boston Warehouse. Featuring a hand painted black and white milk cow design made from earthenware, the dispenser uses a hand pump to dish out either soap or lotion. The cow humorously rests on it's udders, which are non-slip and rubber tipped, and is sure to be a hit with the family and your guests.
3. Decorative Country Cow Paper Towel Holder [amazon]
Perfect for the farmhouse kitchen, this cute cow paper towel holder stands anywhere you need it. Made of resin/wood. Ends detach to replace roll. 16"L x 8"W x 6"H….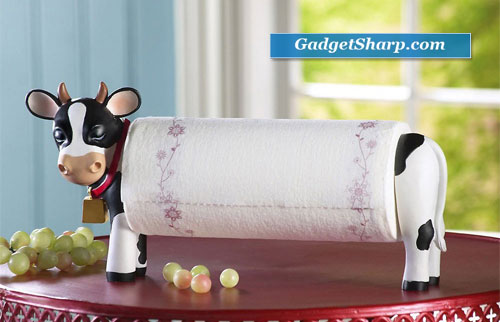 4. Black & White Cow Ceramic Cream And Sugar Bowl Set [amazon]
Start your day off with a helping of pure charm. Farmhouse sugar and creamer set takes its styling from the barnyard and makes a whimsical and attractive addition to any kitchen table even if you take your coffee black. Made of ceramic; hand wash. Creamer: 7"L x 3"W x 4 1/2"H; sugar bowl: 4 1/4"D x 4 3/4"H….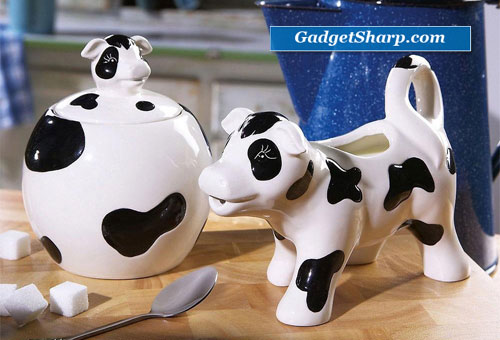 5. Charcoal Companion Cow Corn Holders [amazon]
8-piece Cow Corn Holders from Charcoal Companion put the fun into eating corn off the cob. Corn holders make four cows, the moo end and the swish end joined by the corn in the middle. 4 sets, made of polyresin with stainless steel prongs to hold corn securely.
6. Mwah Magnetic Cow and Bull Salt and Pepper Shaker Set [amazon]
Westland Giftware Mwah, Magnetic Cow and Bull Salt and Pepper Shaker Set, 2-1/2-inch. These cute shakers have a magnetic insert to keep them together.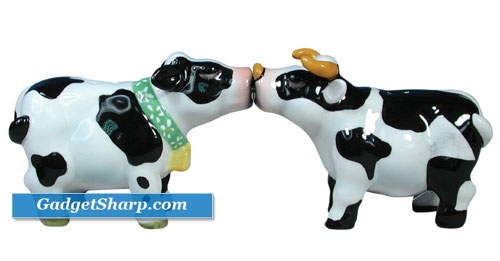 7. Cow Non-Skid Slipper Socks [amazon]
These fun tube socks by K. Bell will keep you warm and comfy all season long. With a cute Cow design, these socks will keep you warm and cozy all winter long. They are a generous 15 inches long and have a non-skid gripper pattern on the sole.Very well constructed of 80% Cotton, 20% Nylon.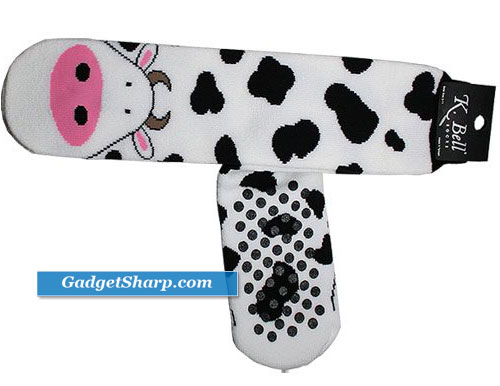 8. Moo Mixer Supreme [amazon]
Push Button Chocolate Milk Mixer The 16-ounce Moo Mixer Supreme features an easy to use trigger button, fun to hold handle and large detachable clear tumbler. Battery operated (two AA batteries, not included), dishwasher safe clear tumbler and the totally cool mixing action that makes a whirling vortex of power to thoroughly dissolve chocolate powder mixes or syrups.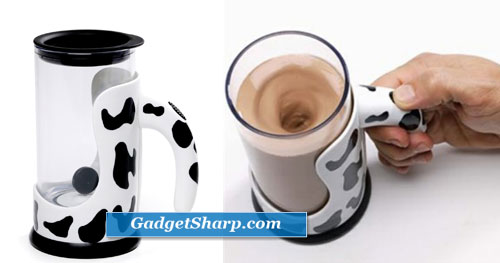 9. Clay Art Free Range Cow Mug 3-Piece Set [amazon]
Dinnerware piece that is perfect for everyday use or for entertaining guests.
Ceramicware Cow Design Dishwasher and Microwave safe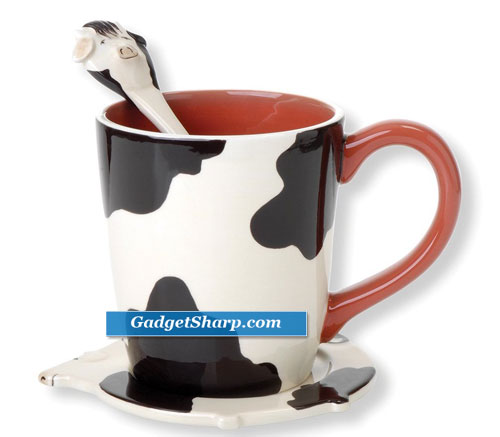 10. Incredibly Cute Black / White Cow Ceramic Cookie Jar [amazon]
This adorable light black and white cow ceramic cookie jar really brightens up a kitchen. The bank has big crossed eyes and a body that will carry a whole lot of cookies. The cow measures 11 1/2 inches tall, 8 1/4 inches wide and 7 inches deep. The lid has a rubber seal around the bottom, so your cookies stay fresh. He makes a great gift for cow lovers.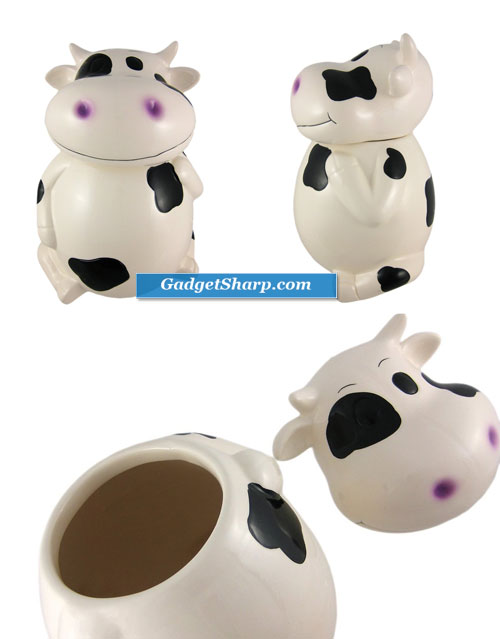 11. Cow Whistling Tea Kettle [amazon]
Heavy gauge stainless steel Finish: Enameled Capacity: 2.5 quart Dimension: 8" width x 11" height Clean and Care: Hand wash Barcode: 7 95110 71508 0 This tea kettle will add fun to your kitchen, and bring a smile to your face every time you boil water! These designs come in a cute gift box, ready for gift giving. These kettles are made of enamel on steel (both inside and out) and the handle, spout and lid knob are made of durable plastic.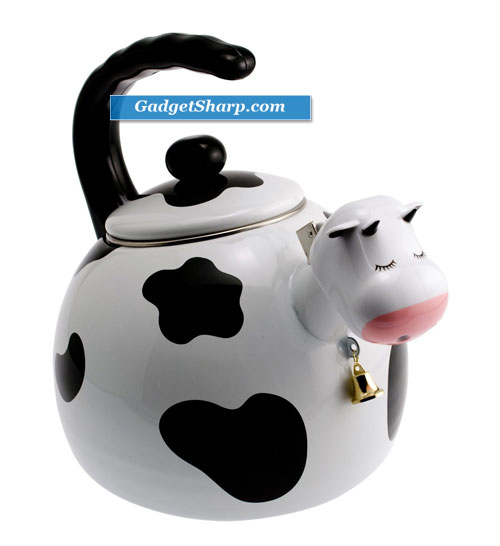 12. Udderly Cows Spoonrest [amazon]
Udderly Cows Spoonrest is made of hand painted earthenware. Spoonrest measures 7-inches long and 5-inches wide. Dishwasher safe; hand wash recommended. From Boston Warehouse: creative ideas for home entertaining.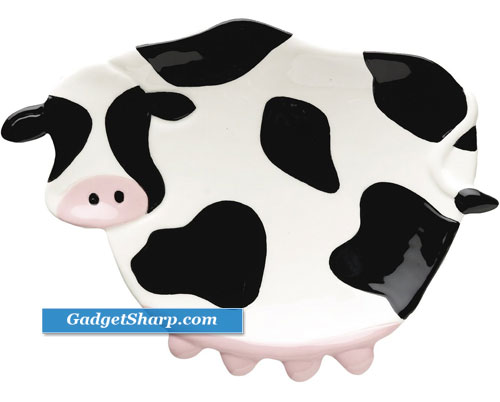 13. Miniature Cow Tabletop Vacuum [amazon]
Make crumbs and tiny dust balls disappear with our Miniature Cow Tabletop Vacuum! These powerful tabletop vacuums operate on two AA batteries. The easy to use one touch operation makes this mini vacuum useful and convenient. Comes with two AA batteries and instructions on how to operate and clean. Keep out of reach of children five years of age and under.