What is it about the aroma of freshly toasted bread in the morning that makes us feel like we?re going to have a perfect day. All of the orange juice, coffee and jam in the world can?t duplicate that same effect without the scent of warm toast. It?s quite amazing how toasted bread can lift our spirits. Hence, we rounded up 11 Innovative and Functional Toaster Designs found in the market, which can not only bring us freshly toasted bread but also poach our eggs, making us coffee, heating our bacon and even printing interesting pattern. Even just for toasting bread, it has so many functions like heat, cancel/eject, pause, defrost, and reheat. (Em… I fell hungry now… maybe it is time to grab a toasted bread. :)
1. Egg-and-Muffin 2-Slice Toaster and Egg Poacher [amazon]
The Egg & Muffin Toaster brings innovation to the toaster category by combining the functions of a toaster and an egg poacher into one easy-to-use appliance. It even heats your breakfast sausage or bacon! The Egg & Muffin can be used solely as a full functioning toaster or poacher or can be used simultaneously to make the ultimate breakfast sandwich in just 4 minutes!. Simply add the necessary ingredients and start the machine.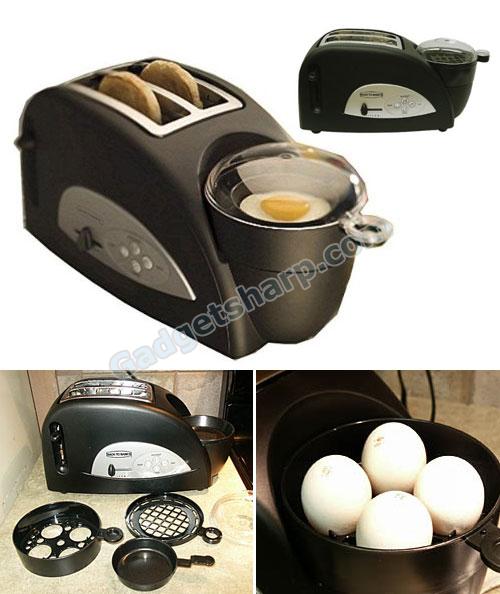 2. 2-Slice Toaster and Mini Oven [amazon]
Hamilton Beach 2-slice extra wide 1.5" slot toaster with mini-oven . Unique bottom compartment bakes like an oven , perfect for flat foods, large enough to fit two large slices of pizza, two pop-tarts , or two 5" single serve pizzas. Includes auto-shut off & chrome accents.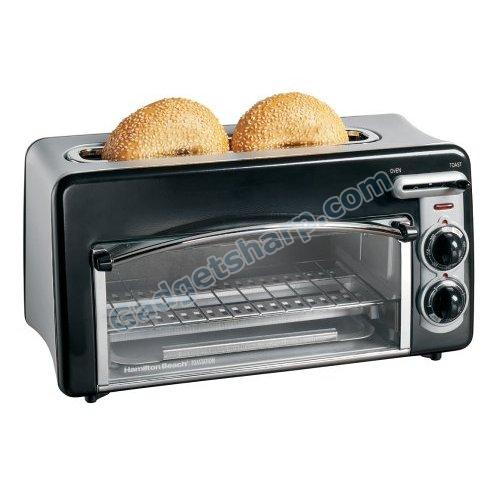 3. Keep Warm Toaster [amazon]
This two slice model features extra wide slots, adjustable electronic controls with blue backlit displays, integrated warming racks, and independent controls for cancel/eject, defrost, and reheat. This feature packed unit is complimented by a stainless steel brushed housing.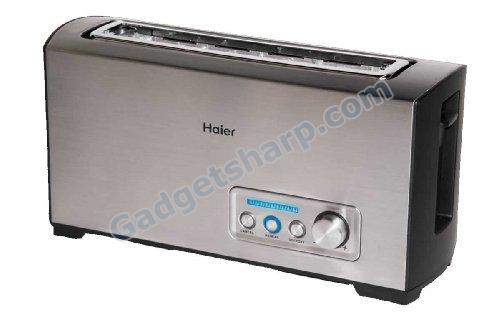 4. Bugatti Volo 2-Slice Toasters [amazon]
With its sleek modern design, this two-slice toaster will make a bold statement on any kitchen counter. The unit features wide slots that can accommodate anything from thick slices of homemade bread to bagels, buns, and English muffins. Simply push the gentle-touch button controls for an array of functions. Toast one side of sliced bagels with the bagel-toasting option, or thaw-out frozen bread or pre-made waffles with the "defrost" button. The user-friendly electronic browning selector allows for six levels of precisely controlled toasting–from light to dark. Toasted bread can also be reheated without additional browning by pushing the "reheat" button. Press the "go/stop" button to start the motorized lift system for easy access to toasted items. The toaster also comes with a spacious bun warmer for heating up buns or bagels, and it can also be used as a serving tray. For added convenience, an integrated tray in the base of the unit catches crumbs for quick cleanup.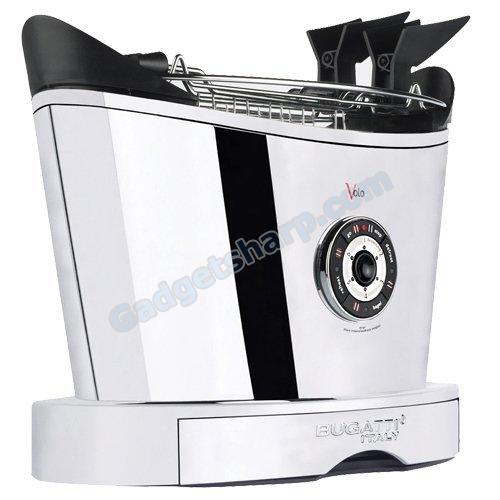 5. Elite Cuisine 3-in-1 Breakfast Station [amazon]
Kick off your mornings with elite by Maxi-Matic's 3 in 1 breakfast station. Enjoy coffee, toast and eggs all prepared by one space saving appliance. The oven has a 15 minute timer, temperature control setting and indicator light. The coffeemaker has a 4-cup capacity, swing-out filter compartment and pause 'n serve anti-drip feature. The griddle has a 6-inch diameter frying griddle and uses energy and heat from toaster oven and is perfect for frying eggs and other breakfast foods.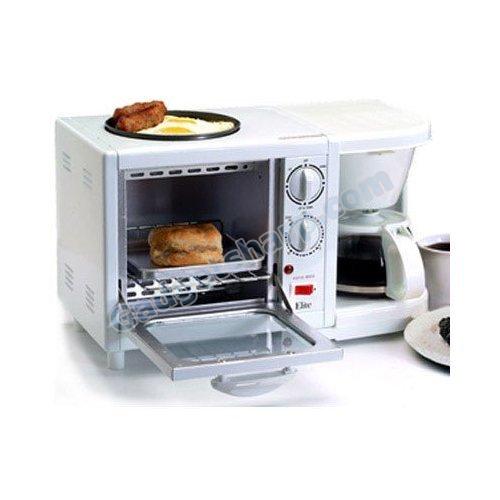 6. T-Fal Avante Elite Convection Toaster Oven [amazon]
Bake, broil, toast (six slices), and reheat your favorite foods with T-Fal's Avante Elite convection oven. No other manufacturer has a unique warming compartment which allows you to warm bread or side dishes while cooking dinner. The Avante Elite convection oven has electronic controls and you will be pleasantly surprised how easy it is to use.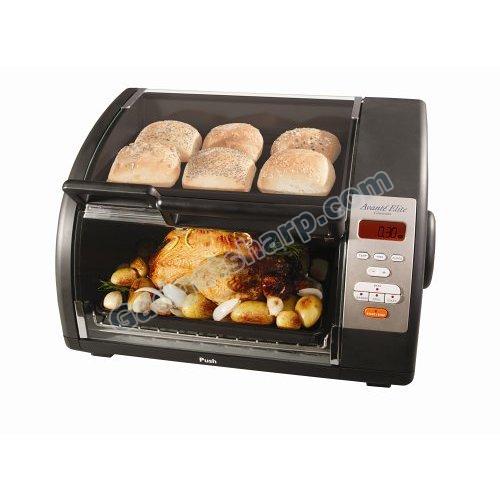 7. Bistro 2-Slice Toaster with Bagel and Bun Warmer [amazon]
The BISTRO Toaster by BODUM is designed to toast to perfection. The variable browning button lets you set the toaster to your preferred browning, delivering perfectly toasted bread every time. The BODUM Bistro Toaster includes a handy defrost feature and comes with a rack to keep bread, bagels, muffins and croissants warm. The toasting slots have adjustable widths allowing the BISTRO Toaster to keep the toast in place. The toaster also features a slide out crumb tray for easy cleanup and a cord retainer to adjust or store the cable away. Available in 8 beautiful colors.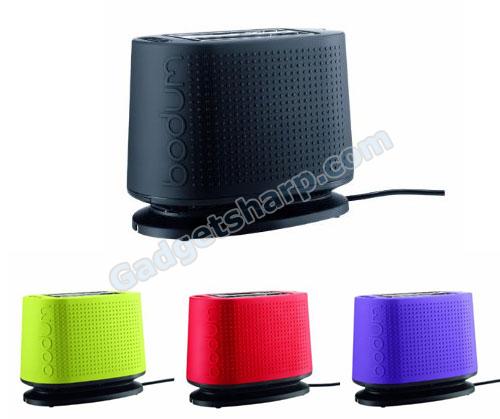 8. Alessi Stefano Giovannoni Toaster [amazon]
The Electric Toaster, by Alessi, a 2003 Stefano Giovannoni design, is a kitchen must have. It toasts, warms, and reheats with precision control, and your kitchen will love the look. The handsome, Stainless steel beauty contains powerful technology producing accurate information that takes the guesswork out of toasting to perfection.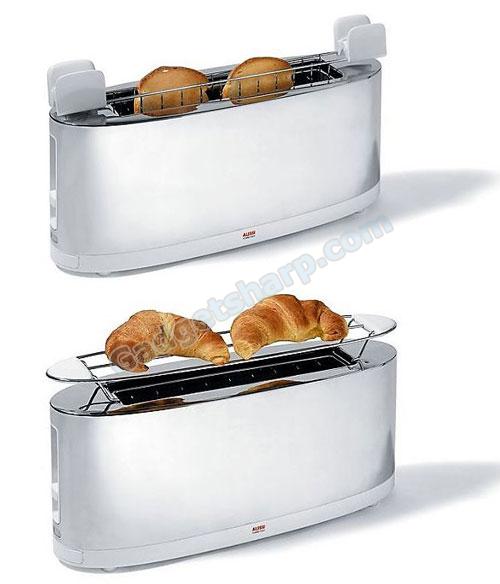 9. HELLO KITTY TOASTER - Cute Toaster for Kid [amazon]
If you think Hello Kitty is so cute that you just want to eat her up, go right ahead! This colorful 2-slot toaster browns Kitty's sweet face onto every slice of bread. The appliance features 7 shade settings and 4 toasting modes: bagel, defrost, reheat and cancel. Extra-wide slots let you warm thick slices, and a removable crumb tray makes cleanup easy. The decorative cool-touch exterior looks cheerful on your countertop, and has cord storage in the base.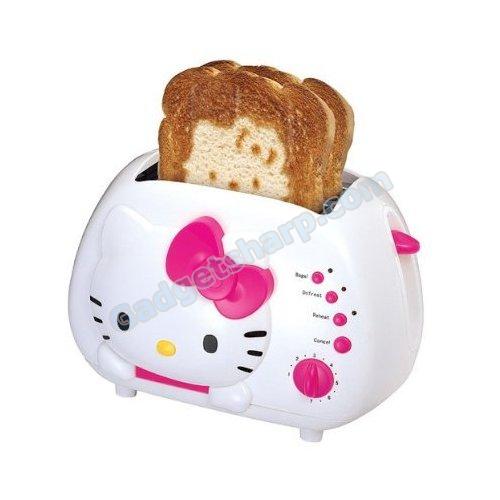 10. Bodum Bistro Flatbed Toaster [amazon]
The Bistro Flatbed Toaster is not your average toaster. It allows you to defrost or toast any size of bread directly on its flat, stainless steel heating surface. It?s great for pizza, tortillas, hamburger buns or any other oversized food item previously deemed un-toastable. Its sleek design makes it a perfect complement to any countertop or buffet station but can also be stored neatly on its side when not in use. Toasting is controlled by a dial offering different browning settings and the crumb catcher is easily removed for quick clean-up.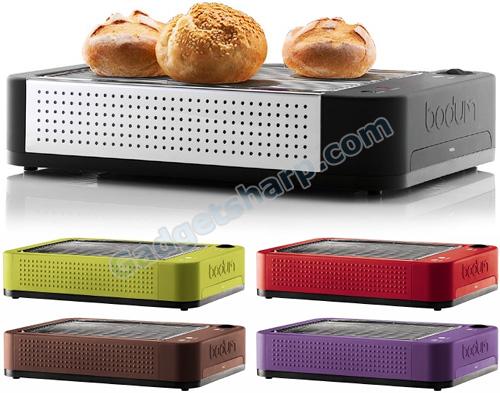 11. West Bend Quick Serve Toaster [amazon]
No more grabbing hot toast as it pops up. As the bread browns, it automatically slides out onto a serving tray?saving your fingers from the heat. Perfectly browns bagels and waffles, too, via six settings. Removable side panel doubles as a serving tray. Cancel button; plastic housing with nonskid pads.