Elephant is a lovely creature which carries many positive symbolism like reliability, dignity, royalty, pride, happiness and fortune depends on culture. Besides these symbolic Thoughts about the Elephant, this long nose animal is beloved by kids. Its pattern and shape can be found in many designs and in this post, we rounded up 11 Beautiful Elephant Shaped Products for your home decoration. These stylized elephants will willingly bear daily burdens anywhere in the home, and be beautiful decorations as well.
1. Carter's Green Elephant Lamp Base And Shade [amazon]
Requires a 60-watt bulb maximum
On/off switch conveniently located on approximately 46" cord
Requires one 60-watt maximum bulb, Included
Hand-painted resin base with a carved icons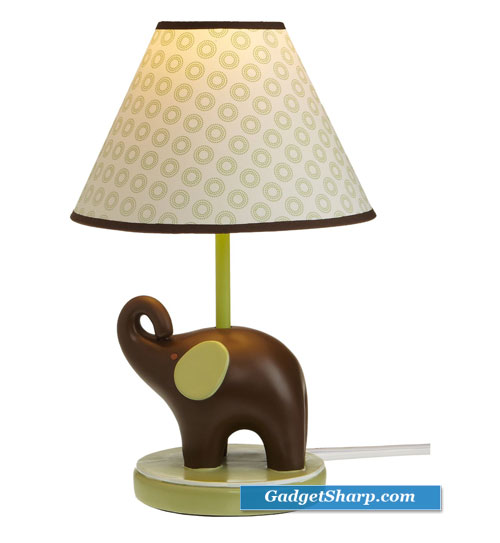 2. Baby Elephant Ring Holder [amazon]
Size: approximately 0.24" x 0.15", 0.25" high (7.5 x 5cm, 8cm high) This lovely jewelry stand can help hold your rings. It will also be a beautiful decoration in your room. Great gift for women!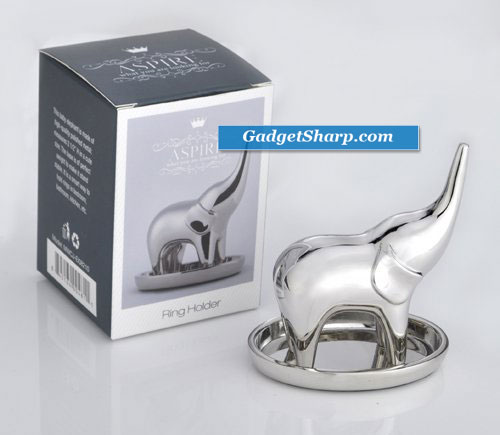 3. Elephant Oil Warmer [amazon]
Brighten your home with this lucky elephant and enjoy the sweet smell of good fortune! Cute ceramic figurine makes a darling decoration when not in use, but with the addition of a little scented oil and a tealight candle, it becomes an elegant fragrance diffuser that brightens the air with your favorite perfume. Tealight and oil not included. 5 inches x 2 1/2 inches x 6 inches high.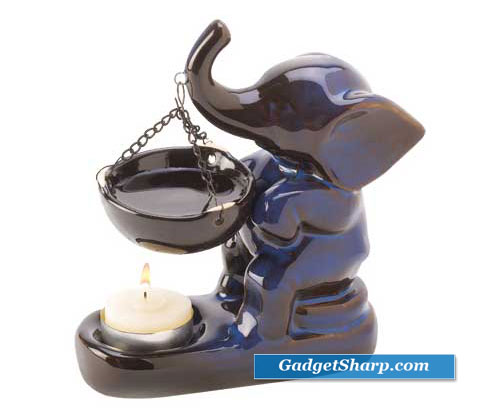 4.Ceramic teapot, 'Elephant Cream Tea' [amazon]
Holding its trunk high in sign of joy, an elephant models for Putu Oka Mahendra's art. He designs an endearing ceramic teapot that is exquisitely detailed in a glossy cream finish. The natural grain of rattan creates a harmonious contrast.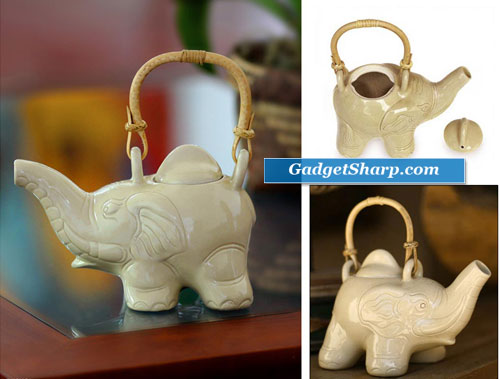 5. The Sultans Elephant Sculptural Side Table [amazon]
"Add an exotic accent to home or gallery with this work of decorative art cast in 13 lbs. of quality designer resin, richly textured and hand-painted one piece at a time. Ready to serve as a free-standing sculpture, table, footstool or display stand, this stylized elephant will willingly bear daily burdens anywhere in the home. 20and 1/2""Wx9and 1/2""Dx15and 1/2""H."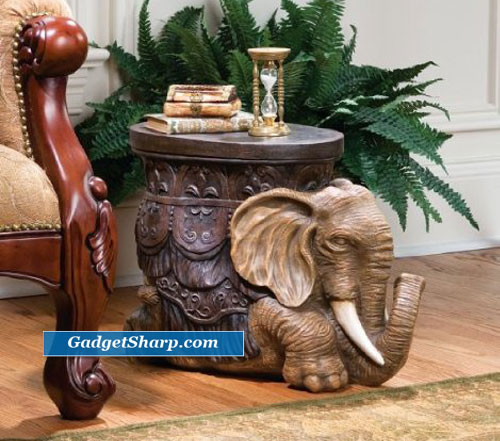 6. Rattan Elephant Hamper [amazon]
This hamper is perfect for a child's room. Lift the lid to reveal a large compartment for dirty laundry.This wicker piece is handwoven. It will add texture and interest to your decor. Order yours today.The Rattan Elephant Hamper was featured in the February/March 2008 issue of Carolina Homes and Interiors magazine. Actual size is 22"Hx14"D
7. Elephant Wine Bottle Holder [amazon]
What's tickling the tummy of this roly-poly elephant? A bottle of bubbly, or any wine you please! Figural holder charmingly cradles your beverage for a playful display. Polyresin. Wine bo ttle not included. 10 3/4 inches x 6 1/4 inches x 6 1/2 inches high.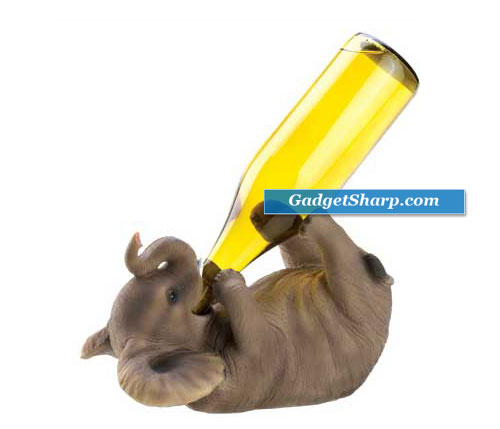 8. Kel Gar Tubbly Elephant Bubble Bath Dispenser [amazon]
Creates tons of bubbles while promoting bath tub safety in a soft protective cover for hard metal faucets in fun Tubbly the Elephant design!
Soft plastic faucet cover easily fits over standard metal faucets to protect your little one from accidental bumps and bruises.
Just pour your bubble bath into Tubbly the Elephant's trunk and watch tons of bubbles form.
Cannot be used with faucets with the shower diverters on spout and not for use with Delta Faucet Models 1548 and 2600.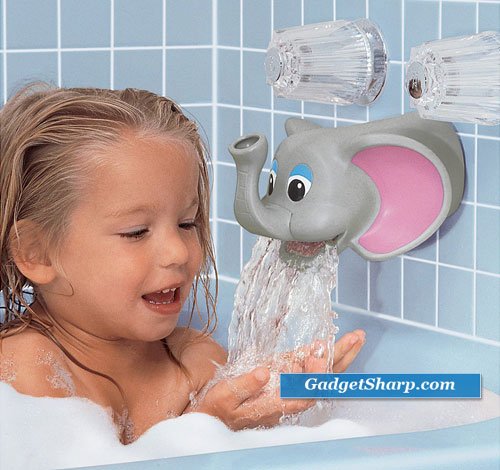 9. Magnetic Elephants Salt and Pepper Shaker Set [amazon]
Westland Giftware Mwah, Magnetic Elephants Salt and Pepper Shaker Set, 2-inch. These cute shakers have a magnetic insert to keep them together.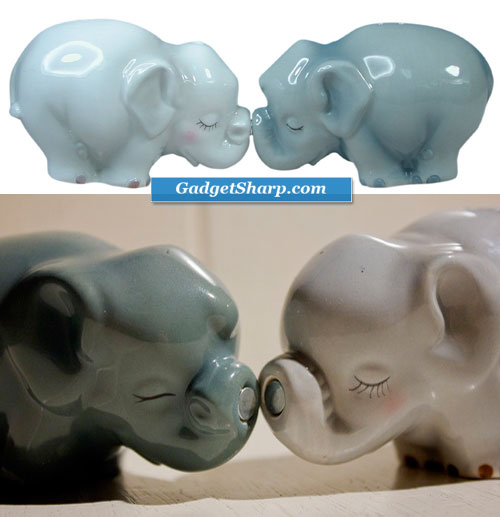 10. Elephant Cake Pan [amazon]
Perfect for birthdays, competitions, holidays, more
Hand washing recommended
Crafted of quality aluminum for even heat distribution and long-lasting durability
Recipe and decorating instructions included
Realistic detailing is instantly recognizable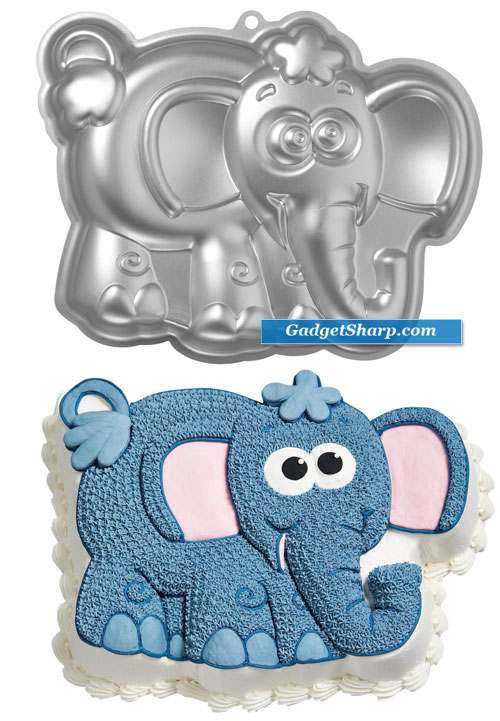 11. ceramic pencil stand, 'Kneeling Elephant' [amazon]
Kneeling a ceramic elephant carries a lotus petal basket on his back. Celadon glaze in smooth cool jade brings a timeless look to this beautiful piece. Ramphan Thatsanee and Ramphan create a delightful pencil holder rooted in Thai tradition.