Photography enthusiasts are known for their piles and piles of gear. While we not talking those professional ones, and only focusing on those designs can be used and loved by every photo-taker. Here is our today's topic 10 innovative and useful photographer gadgets and accessories. From double strap for two-camera shooters to Bottle Cap Tripod, from Waterproof Digital Camera Case to Shoot-Through Camera Bag, we know you will like it… since it is summer, it is photo time.
1. Helmet Bike Camera Mount [amazon]
It's a tripod mount with nylon straps that slide through the vents in your helmet. Simply twist your camera onto the mount, tighten up your hard hat, and record some beautiful video. Just don't forget to hit record.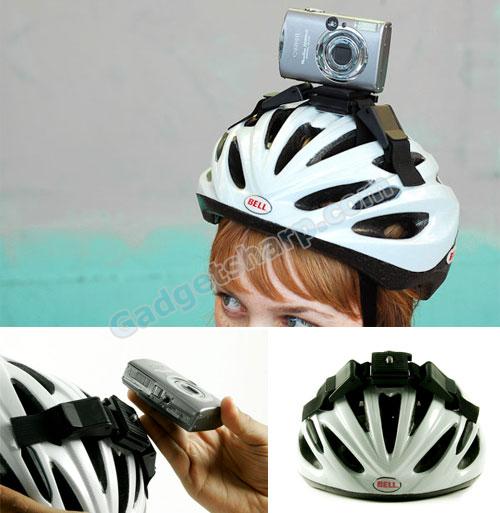 2. RS DR-1 Double Strap [amazon]
The DR-1 is the ultimate solution for two-camera shooters. Ergonomic and sleek, it works with BlackRapid?s MODS system of attachments so you can customise your strap to your exact needs. One side can even be detached for use as a single R-Strap. Simple, fast, and intuitive, you?ll wonder how you lived without it. The DR-1 comes with two FastenR-3 connectors.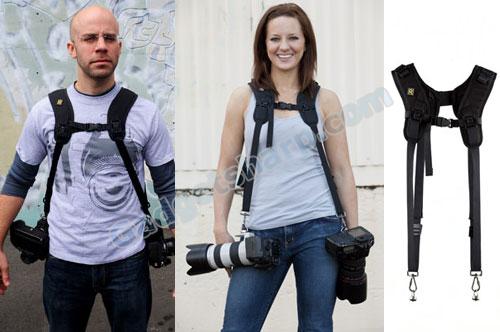 3. Bottle Cap Tripod [amazon]
Need a tripod in a jiff? Grab the nearest soda or water bottle, stick on the Bottle Cap Tripod, and you're set! Self-portraits, group photos on self-timer, and steady low-light shots just became a whole lot easier!
He's got a stretchy rubber socket that fits on top of pretty much any kind of bottle, and a standard-issue tripod screw on the other end that fits most any camera.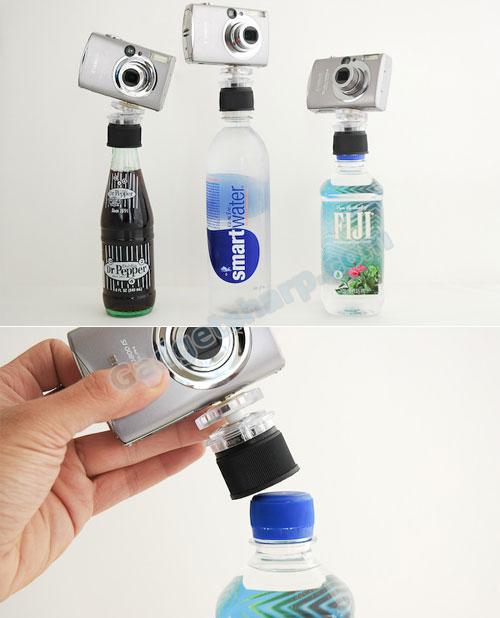 4. XShot Camera Extender [amazon]
What is the Xshot? If you take a lot of pictures then it?s the coolest gadget you can have. No more awckard situations having to ask a stranger to take your pictures for you and no more odd looking shots of you sticking your arm out to snap a shot of yourself. The Xshot is a camera extender that extends up to 3feet giving you the ability to snap perfect photos of yourself and up to 10 people with complete ease.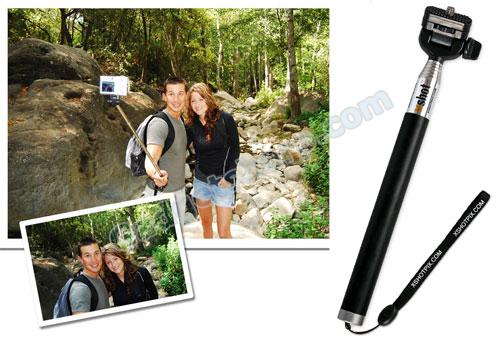 5. Cloak Bag Discreet Shoot-Through SLR/DSLR Camera Bag [amazon]
The Cloak Bag is the world's first shoot-through camera bag that allows a user with a DSLR or SLR camera to take photos without removing the camera from the safety of the bag. It's the perfect fit for travelers or any photographer who has missed a shot simply because the camera was left in the bag. The Cloak Bag has been designed to fit the majority of popular SLR bodies.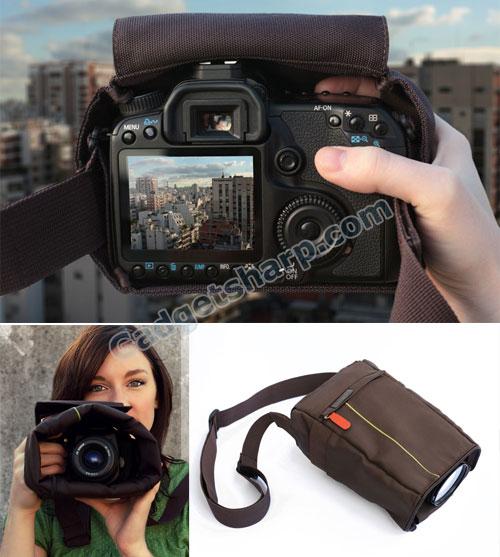 6. Small Alfa Waterproof Digital Camera Case with Optical Lens [amazon]
WP110 Waterproof case for digital cameras are made of non-toxic materials (RoHS) and are tested and are of waterproof grade JIS IPX8 (Japaness Industrial Standard's highest waterproof grade). Underwater lab tested to 16ft . Patented roll and relcro zipper system which allows full funtionality of camera controls. It also has a removable optical lens with diffused reflection prevention. The big addition is a polycarbonate quality lens (clear and hard to break) opening that lets you take pictures with zoom control even when the camera is in the pouch. The lens has a 3-layer coating both inside and outside. (UV coating, Water repellent coating, Scratch resistance coating for quality pictures.) It also floats when you drop it into water.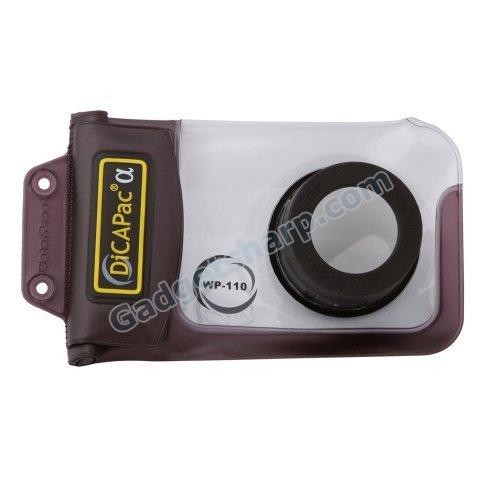 7. The Super-Secret Spy Lens [amazon]
People have a sixth sense for knowing when someone's taking their photo. Especially so when you've got an SLR and a big lens pointed right at 'em.
Super-Secret Spy Lens is the answer. It's the ultimate accessory for kids, the photo-shy, street photography or any time you want natural, unposed shots. Meant to fit the end of your SLR's zoom lens, this guy has a secret cut-out on the side and a precision mirror assembly inside. In short, you can shoot left, right, up, or down (it swivels 360 degrees), all while appearing to shoot straight ahead.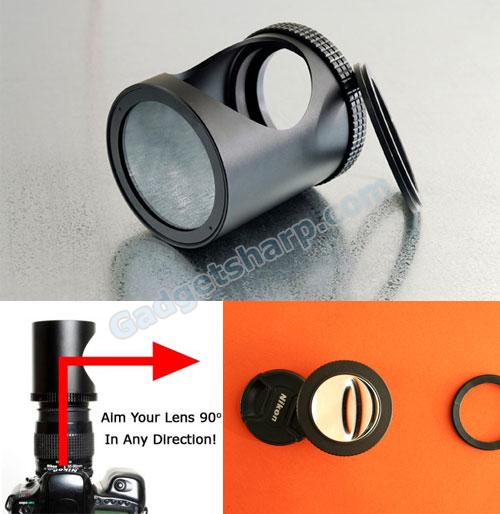 8. Bubble Level for Camera [amazon]
Take better pictures when using a tripod by making sure your camera is level. This 3-Axis Spirit/Bubble Level makes it easy to line up great shots. Simply put it into the camera's hot shoe/flash mount and check the three bubbles. All lined up? Shoot! Fits most standard flash mounts on SLR or DSLR cameras.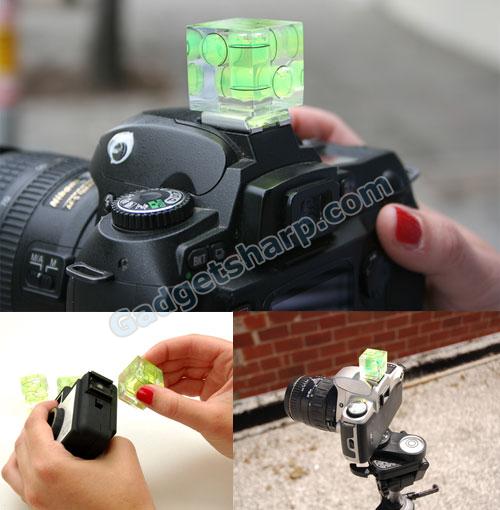 9. White Balance Lens Cap with Neutral and Warm Domes [amazon]
Go from orange, blue and green-tinted photos to beautifully captured color with the balance Cap and achieve a look that is not always possible with in-camera automatic white balance or with in-camera pre-set white balances. Just squeeze both side tabs of the balance Cap for easy mounting or removal, even with a lens hood in place. Its center pinch-release mechanism and streamlined design help to prevent the balance Cap from accidentally being bumped off, either while traveling or when shooting in a crowd. So no matter how challenging the lighting, with a balance Cap you can get better colors right out of the bag.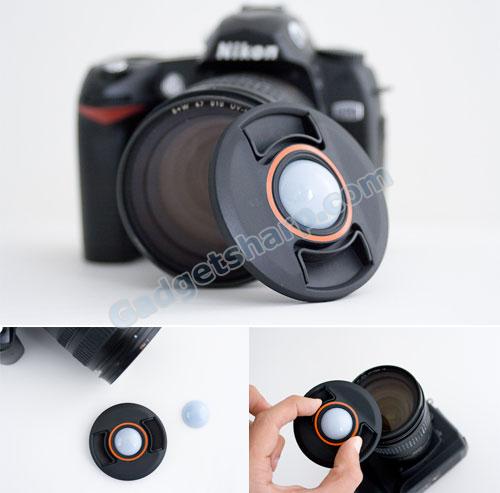 10. Joby Gorillapod Flexible Tripod [amazon]
The Joby Gorillapod makes taking digital photos more fun than ever. Designed with self-timer photography in mind, the Gorillapod lets you mount your camera just about anywhere you want so that you can include everyone in your automatic shots. All you need to do is use the universal 1/4-20 screw to attach your camera to the standard tripod mount, then wrap the three flexible segmented legs securely to a nearby tree branch, fence, park bench, or anything else that's convenient.