If you're in training, you know how important it is to track your progress and heart rate. You can do these tracking info with the Heart Rate Monitors presented below. Wearing these Heart Rate Monitors, you can review your workout average, and meet your peak heart rate during every workout. Except the heart rate, these functional monitor also provide you some other useful information like Calorimeter burning calculation, work like a full-functional watch or even a GPS receiver. Be serious for your training, be serious for your health.
1. Garmin Forerunner 310XT Waterproof Running GPS With USB ANT Stick and Heart Rate Monitor [amazon]
Waterproof to a depth of 50 meters, so you can wear it in the pool or the lake to time your swim
Tracks bike and run data and sends it wirelessly to your computer
Track your position, distance, pace, heart rate (with bundled monitor), add accessories to measure power data and more
20 hours of battery life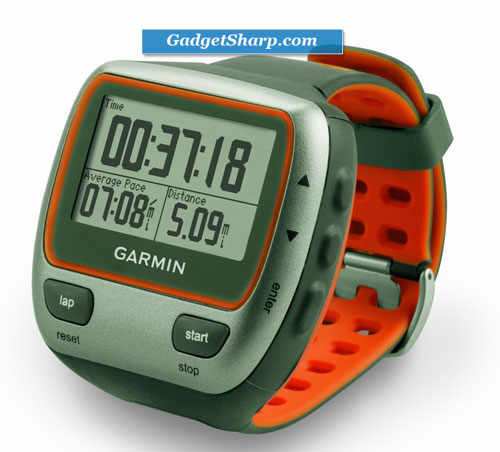 2. Polar Cycling Heart Rate Monitor [amazon]
The advanced wireless cadence sensor in the Polar CS200cad Cycling Heart Rate Monitor measures your pedaling rate as RPMs and measures your current, average, and max speed. This means you can train to increase speed while keeping your heart rate in a specific zone. Arrows on the CS200 let you know when you're above or below your average speed, and the automatic display scroll switches the information according to your preferences. Polar OwnCal tracks your energy expenditure during your session and shows past sessions, and the cycling economy feature lets you foresee your calorie expenditure so can bring enough fuel along. *Included bike mount, multifunctional handle bar/stem installation, speed sensor installation for different fork shapes.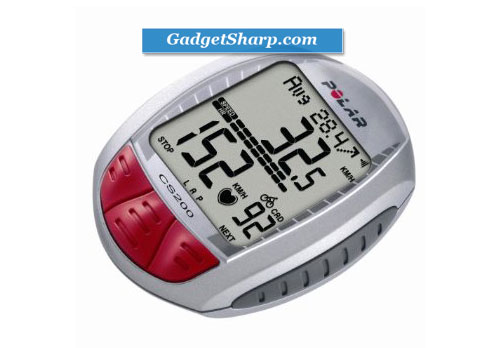 3. Garmin Forerunner 305 GPS Receiver With Heart Rate Monitor [amazon]
Forerunner 305 is the most accurate, most reliable wrist-mounted performance and GPS tracking tool. The 305 model includes wireless heartrate monitoring and it can also be connected to Garmin's wireless bicycle speed and cadence sensor. If you don't need these features.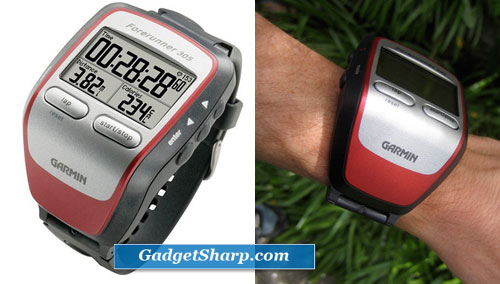 4. Impact Sports ePulse Strapless Heart Rate Monitor Watch and Calorimeter [amazon]
Chest-strap-free heart rate monitor and calorimeter that wears around the forearm
Delivers the benefits of heart rate monitoring without uncomfortable chest strap
Shows current heart rate, maximum and minimum heart rates, and average heart rate
Calculates calories burned based on personal profile and heart rate
Includes fat burning and cardio target zones; powered by AAA batteries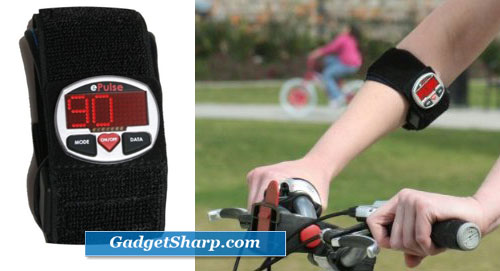 5. Oregon Scientific SE138 Strap-Free Heart Rate Monitor [amazon]
Displays current heart rate (does not display continuously).
Tracks calories burned.
Stopwatch timer counts up to 99hr 59min 59sec59milisec with 1/100th second precision.
12/24-hour clock with alarm function and calendar.
Water resistant (up to 164 feet/50 meters) and shock resistant (up to 3 feet/1 meter).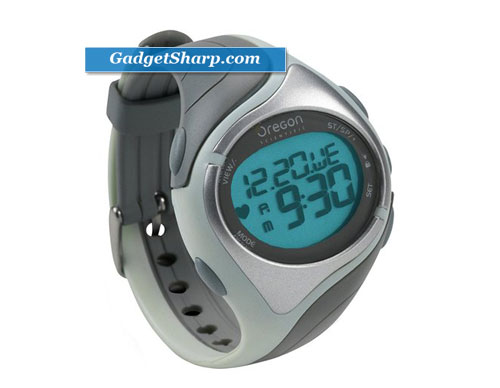 6. Garmin Premium Heart Rate Monitor [amazon]
This heart rate monitor has a soft fabric strap and is more comfortable than ever before. Plus, it's optimized for use in congested areas like gym classes and starting lines.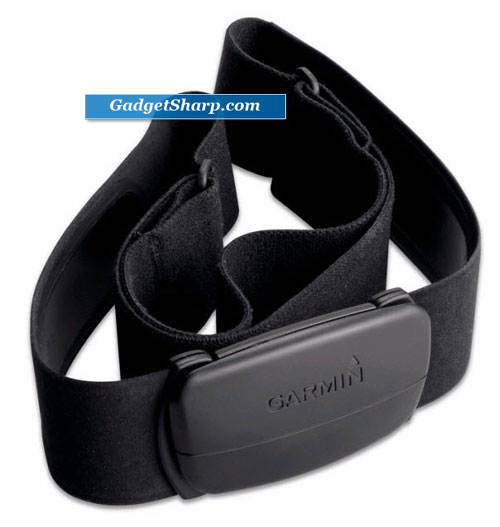 7. Mio Drive Special Edition Heart Rate Monitor Watch [amazon]
ECG accurate heart rate, without a chest strap
Visual indicator of exertion level based on heart rate and personal data
Percent of maximum heart rate display based on age and gender
Resting Heart Rate: Measures and displays your resting heart rate
Calculates calories burned during exercise. Utilizes the 3500 Calorie Countdown: program tracks calories burned weekly and indicates calories remaining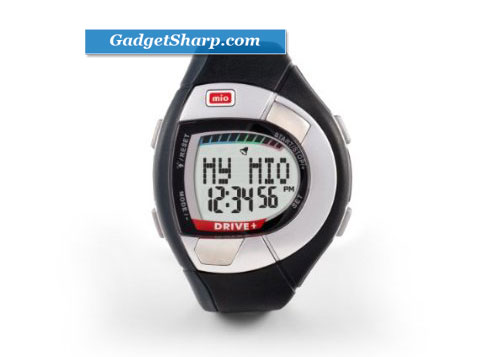 8. All-In-One Waterproof Heart Rate Monitor Watch and Transmitter Chest Belt [amazon]
New Training and Exercise Tool - Multi Function Heart Rate Monitor Watch/Stopwatch/Timer
Measures and Displays Burned Calories and Fat - Body Mass Index (BMI) - EL Backlight
Stores Up to 40 Records Of Data - 3 Target Zone Alarms - Alerts When Reached Target Heart Rate
Watch Your Current, Maximum, Minimum and Average Heart Rate - Daily Alarm Function
Comfortable Wireless ECG-Accurate Transmitter Belt - Transmits Heart Data to Watch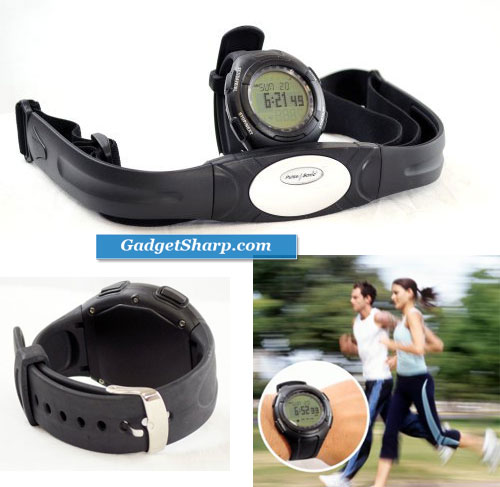 9. Polar FT4F Heart Rate Monitor Watch [amazon]
Heart rate monitor shows fitness progress based on heart rate
Wrist unit displays calories burned and includes comfortable textile transmitter plus coded heart rate transmission to avoid cross-talk
Automatic age-based target zone automatically determines heart rate target zone limits according to age-based maximum heart rate
Polar OwnCal calculates number of calories burned during training, during individual sessions and cumulatively over time
Polar OwnCode (5kHz) coded heart rate transmission automatically locks in code to transmit heart rate to training computer, preventing interference from other training computers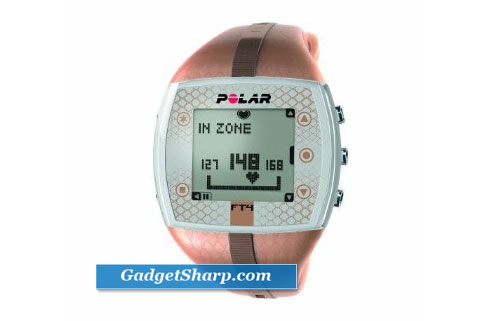 10. Timex Ironman Men's Road Trainer Heart Rate Monitor Watch [amazon]
Preset your Desired Heart Rate Target Zone to One of Six Ranges, Review Workout Average and Peak Heart Rate
Review Time-In-Zone, Recovery Heart Rate, and Calories Burned
100-hour chronograph with lap and split, either in large digits, 50-lap memory with average heart rate per lap
100-hour, 2-mode countdown timer, Alarm with 5-minute backup, INDIGLO night-light with NIGHT-MODE feature
Owner-Replaceable Battery; Data Recorder 2 and Data Recorder Compatible; water resistant to 100m