We all know kids like toys. They grow up with tons of different toys, but there is one of them are beloved by most of them - rocking chair. To have a rocking horse as gift is big dream for me when I was kid. While now, those lucky kids have so many options for their rocker: horse, crocodile, motorcycle and boat. Some rocker are designed to be used from Newborn-To-Toddler! Take a look at below 10 Cute and Lovely Kids Rocking Chairs and hope your kids will like one of them.
1. Charm Co. New Pinto Horse w/brown Saddle [amazon]
For ages 2 to 6 years
Small version of the large stallion
Same luxurious plush and synthetic leather saddle with blanket
Hear him "gallop" and "whinny" by gently squeezing his ears
Dimensions 29"L x 11"W x 24"H with seat height of 16"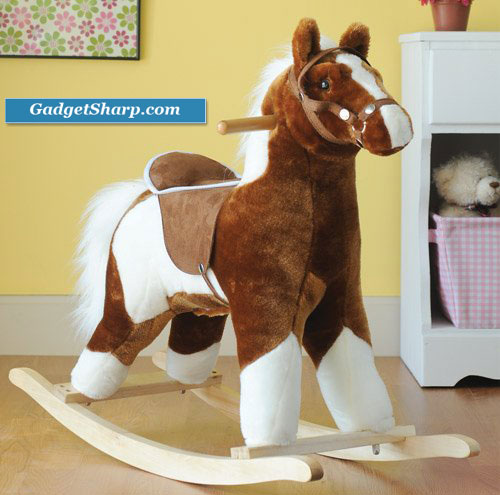 2. KidKraft Harley Davidson Roaring Softail Rocker [amazon]
Rock and roll fun for the kids
Safe, durable and delightful
Based on the best-selling softail rocker
Harley-Davidson Rocker has the authentic Harley-Davidson sound via a sound chip that can be easily activated
Restocking fee will be deducted if this item is returned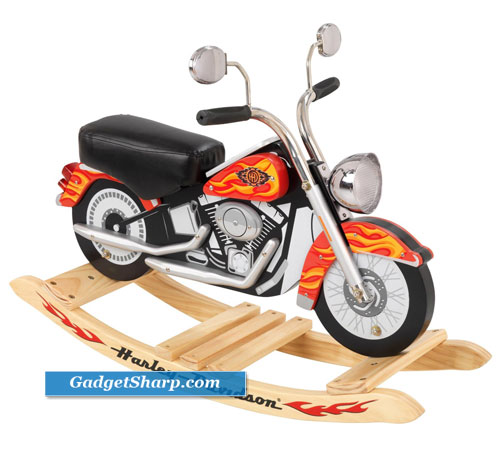 3. Little Tikes Plastic Rocking Chair [amazon]
Sturdy plastic construction. Easy to wipe clean. Ages 2 to 6 years. Product Size 15.00"L x 23.75"W x 22.75"H / 5.00 lbs.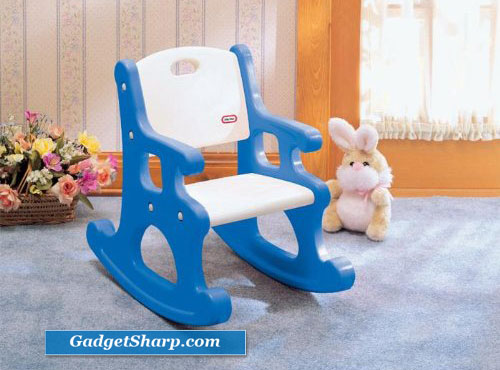 4. Fisher-Price Newborn-To-Toddler Portable Rocker [amazon]
Adjustable features allow the newborn-to-toddler portable rocker to grow with baby
Baby can choose from two toys for endless entertainment while sitting still
Remove the toy-arm and extend newborn to toddler rocker for a stationary seat or rocker
Includes soothing vibrations
Fold down and use struts as handles for great on the go convenience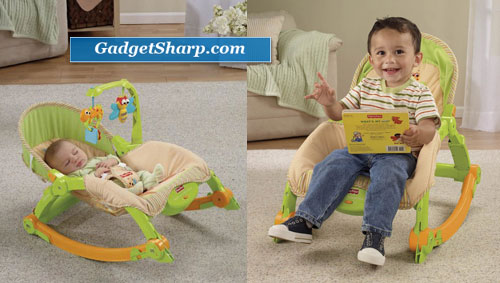 5. Guidecraft Wooden Retro Rockers Runabout [amazon]
Sail the high seas in this whimsical rocking boat. Kids will love the bright nautical colors and vintage lines of classic wooden boats. They will also delight in the "crashing waves" and friendly dolphins that frolic in the wake of the boat. Features: Bright nautical colors and vintage lines Classic wooden. Adult assembly required. Care Instructions: To clean your product, use mild soap and water on a damp cloth. Do not use window cleaners or cleaning abrasives as they will scratch the surface and could damage the protective coating. Specifications: Dimensions: 18" H x 16.5" W x 37" L Weight: 21 lbs.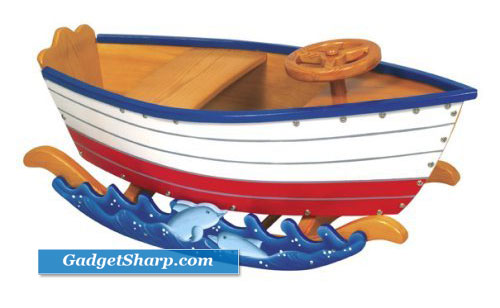 6. Original Toy Company Dantoy Crocodile Rocker [amazon]
Crocodile Rocker accommodates 3 children and up to 150 pounds
No assembly required and is suitable indoors or out
Made from top grade raw materials by Dantoy of Denmark
PVC and Phthalate free
Made in Denmark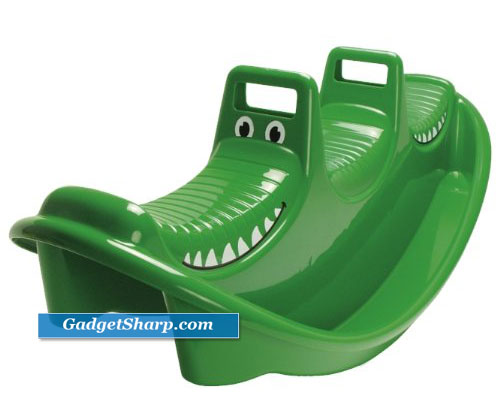 7. The World Of Eric Carle The Very Hungry Caterpillar Rocker [amazon]
The Very Hungry Caterpillar is transformed into a wooden rocker
Brightly colored, soft plush body for children to cuddle
Perfect size for toddlers
Easy to grip handle bars
Made of high-quality wood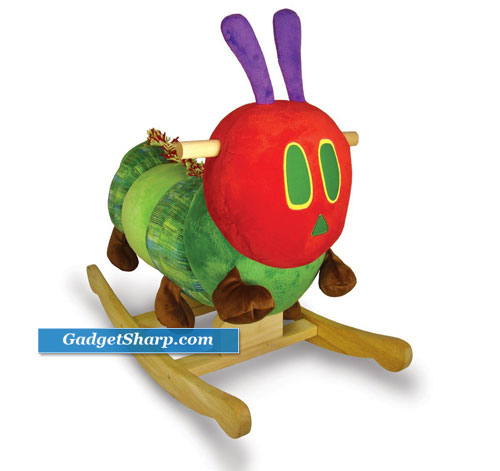 8. Plan Toy Palomino [amazon]
Palomino is a low stable rocking horse for young toddlers
Hand Pegs And Foot Pegs Provide A Secure Ride For Young Children
The Minimal Rocker Arc Ensures Children Won't Tip Over By Rocking
The EuroContemporary Design Makes This A Perfect Addition To Any Child's Room Or Classroom
This Toy Is Made From All Natural Organic Recycled Rubber Wood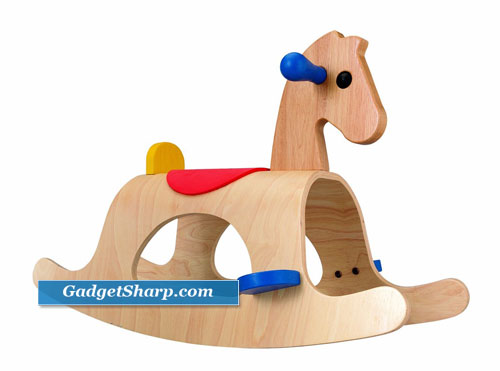 9. Rockabye Ahoy Doggie Pirate Ship Rocker [amazon]
Ahoy doggie straight away!
These two doggie pirates are sailing the seven seas looking for sailors "ruff" enough to be pirates on the SS Rockabye.
Your little sailor will love to play aboard our premium pirate ship rocker, because it is a Play and Rock rocker.
Play and Rock rockers combine role playing and imaginative play with a Rockabye rocker to provide years of fun.
They will also get to play four fun songs over and over again. Located on the ship's wheel, your little pirate will find 4 colored shapes that activate original songs that teach ABC's, 123's, colors, shapes and more.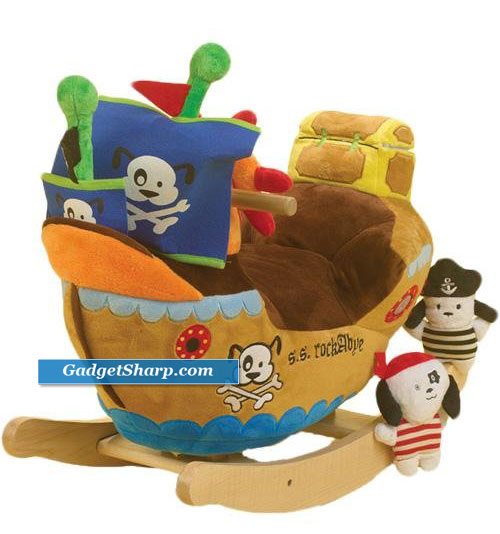 10. Wonderworld Rocking Crocodile [amazon]
Multi-colored plush fabric with stripes and polka dots
Sturdy wood rocker base
Fun alligator design will encourage child's imagination
Alligator can be removed for easy cleaning or as a plush toy
Made from rubberwood, non-toxic water based paints as well as biodegradable fabrics