We have written a post about 10 Modern Watch Designs several days ago. According to the heated response, we decided to continue our time travel and introduce you with 10 creative watch concept designs. In this post, you will find bizarre handcuffs watch, super futuristic spaceship watch design as well as the confusing Liquid Time watch?
1. Tiwe OLED Wrist Watch Concept [link]
Tiwe OLED Wrist Watch works by displaying a series of dots across the watch?s face that appear to float around in a wholly random fashion until you either shake the watch or tap the screen ? at which point the OLED dots will quickly assemble from their chaotic meanderings to form order hence displaying the current time in an analogue style before timing out and floating away back into chaos again.
let's Shake the Watch to Form the Time from Chaos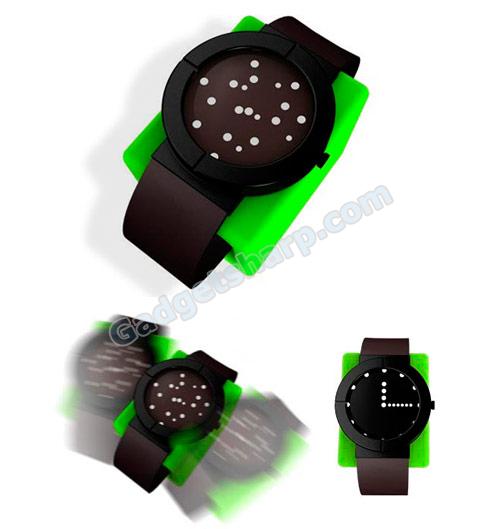 2. ON AIR Wrist Watch [link]
ON AIR Wrist Watch shows time in an extraordinary minimal way. While LED display shows minutes in number, its position shows us the current hour. Display is also function as a light and set button. If you push once LED lights up. To set the time you need just to push in the center of the display for 5 seconds and LED flashes, here you push upper or lower corner of the display to set the hour and the left and right corndxer to set minutes.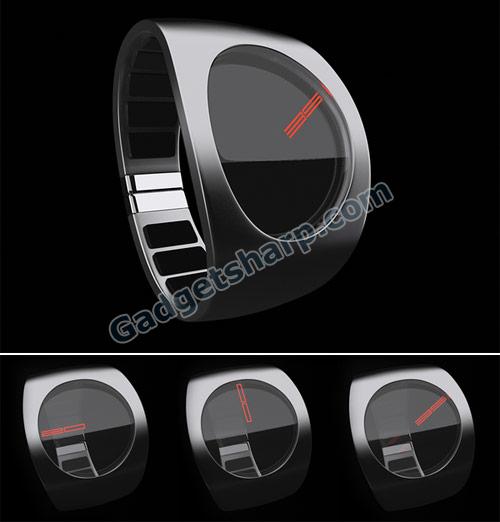 3. Cuckoo Watch [link]
The cuckoo clock has had difficulty adapting to the digital era, with its species bordering on extinction. But this cuckoo watch is evidence that this poor avion timepiece might survive the harsh habitats of 2009.
Dubbed the Nooka Cuckoo by designer Hannes Grebin, this concept cuckoo watch features a digital, Tamagotchi-esque bird that appears on screen to delineate the time. And indeed, its mixture of an angled roof and rounded bottom seems to merge modern design trends with the iconic bird house clock of yore.
But as long as we're talking concept here, I'd love to see a Lilliputian bird pop out on the hour while expelling a faint "cuckoo" for just you to hear. Plus you could poke people with it and stuff.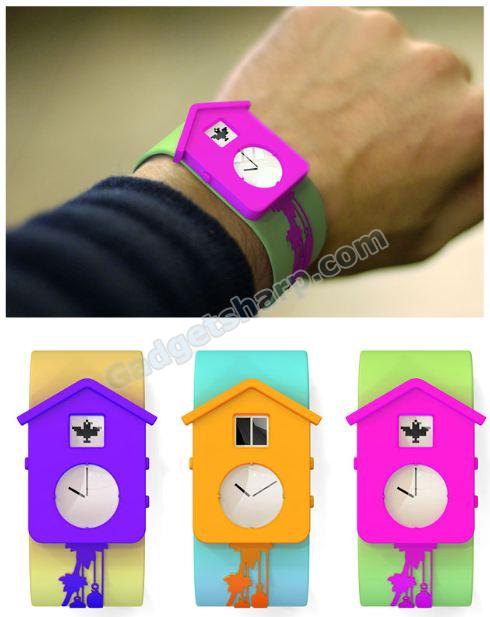 4. Azimuth SP-1 Mecanique [link]
Azimuth premieres the brand new SP-1 Mechanique concept watch. Nicknamed the 'spaceship watch', this forward-looking timepiece is an adventurous mix of bold, futuristic styling and progressive technical flaunts. The so-called spaceship watch has a rendition of Earth as seen from space which rotates every sixty seconds. It has a jumping hour display powered by a Unitas 6497 movement. It has a rotating disc which is at the base of a minute hand.
5. Gucci LED Watch [link]
As a luxury brand, Gucci?s watches always give you elegant experience. This new design comes with a sliding cover revealing a glass LED display.
But, it is just a concept.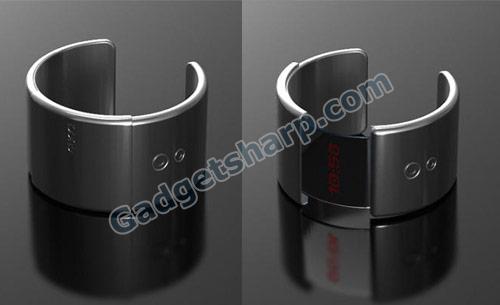 6. ZeroPointZero Watch [link]
esigner Luis Beruman's new ZeroPointZero concept is a set of digital watch handcuffs. Yes, that's handcuffs. This concept is inspired by "we are all slavers of time"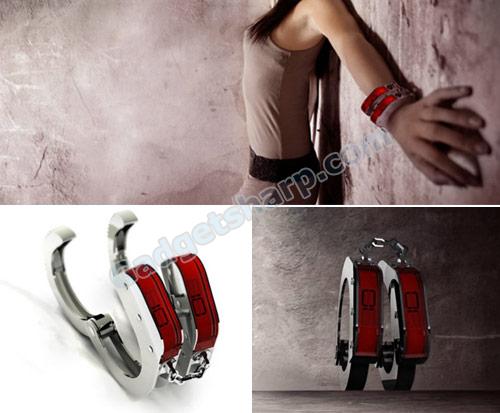 7. ORB concept [link]
The idea for this watch is classic plastic bracelet, with incorporated lines inside the watch that show the current time. Those three line are rotating around the watch and show the time, while the seconds line is going around all the time. One line for hour,second for minute and third for seconds,and three different colors for every lines. It`s simple concept, attractive and eye catching. The ORB could be made in two colors, black and white, with different colors for the time lines. Adjusting the clock is easy as the watch is the touchscreen, all you have to do is to touch the line, click adjust icon and slide current time line to correct time.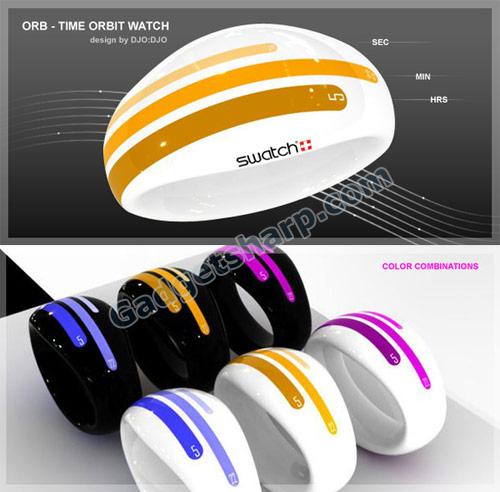 8. Time floats magically inside the Luna Crystal Watch [link]
If you ever tried to match the brilliance of Swarovski?s expertise in crystal and mixed it with the bedazzling gems Signity specialize in, you might end up with something that looks a whole lot like this Luna Watch created by designer John Pszeniczny. Made with crystal, stainless steel and a Spessartite Garnet, the watch almost gives you the illusion of a crystal ball since the touching of tow contact points seems to make the time flash and float magically inside the crystal. With a subtle luminescence making it glow like a secret key to some outlandish magical world, the Luna watch finds the perfect balance between function and aesthetics making it just the perfect fashion accessory for the season.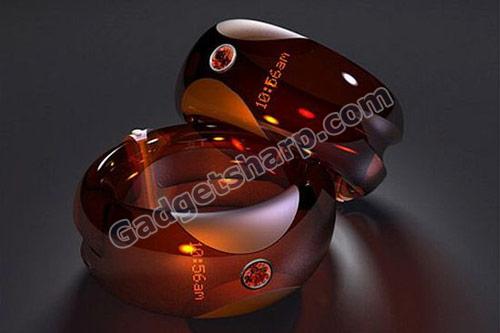 9. Liquid Time [link]
What Time is? It's Time to Refill. There are two names of this watch: one is "Liquid Time" and the other is "From nowhere to nowhere". Liquid Time utilizes two LCD screens specially crafted to fit the watch as well as some very clever typography. It looks pretty cook, but i am still confused about its working way…maybe that is just too futuristic for me…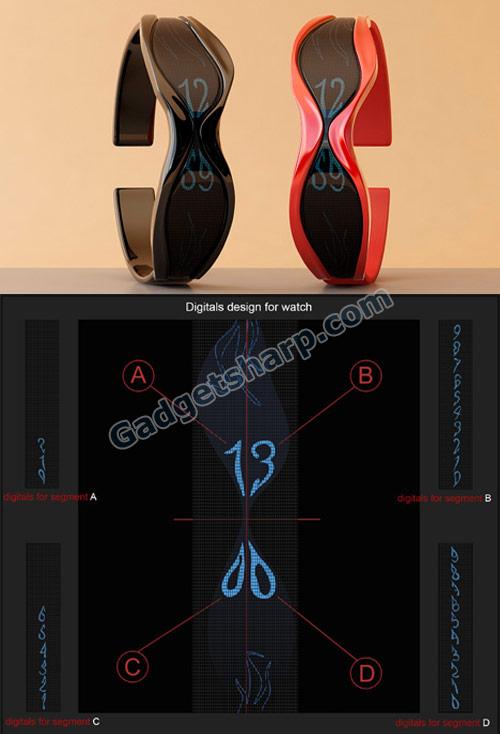 10. Sharing Watch [link]
Sharing Watch by design studio Maezm. This watch is a good idea, which makes it easier to share the time on your watch with others by tuning the face 90 degrees. Maezm's Share Watch makes it easier to show someone standing beside you what time it is. You just hold up your hand, the numbers is readable. Unfortunately now this watch is just a concept and isn?t available for sale.