The weather is so hot that we even don't want to do house cleaning. Can we, apparently not. But we can find some handy appliance help us do those routine cleaning, like vacuum. In this post, we rounded up 10 Creative and Useful Vacuums, from you desk to your kitchen table, from your floor to your carpet, from you food to your pet's hair, those vacuum gos clean everywhere. And you even can use them to shoot/vacuum bugs at your backyard… lol
1. iRobot 560 Roomba Vacuuming Robot, Black and Silver [amazon]
Cleans routinely, so you don't have to. With dramatically improved navigation, cleaning coverage, vacuum pickup, and particle filtration, the Roomba 560 vacuuming robot picks up amazing amounts of dirt and debris with the simple touch of a button. The powerful unit features innovative spinning side brushes that grab dirt and dust from corners and along wall edges, as well as two high-speed, counter-rotating brushes that pick up pet hair, cat litter, food crumbs, and other debris from floors.
For added convenience, the vacuum's cleaning head automatically adjusts to transition from wood, tile, and linoleum to carpets and rugs, while improved anti-tangle technology ensures it will not get stuck on cords and rug fringe.
The vacuuming robot returns to its self-charging Home Base to dock and recharge between cleaning cycles or when the battery starts to run low.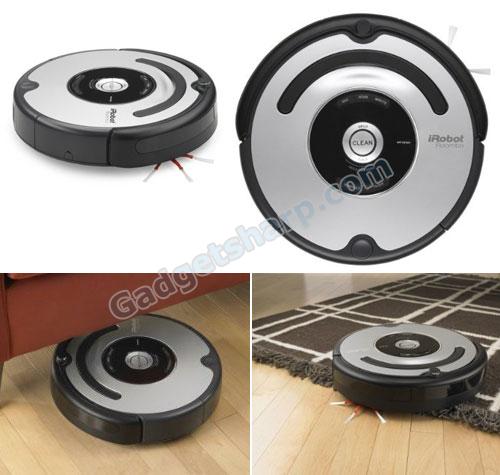 2. Metro Vacuum ED500 DataVac [amazon]
Quickly and easily blow dust, lint, and debris off keyboards, computers, printers and other high-tech equipment. Protects your valuable hardware from breakdowns and costly repairs. It is much more compact and comfortable to use than previous models and features a new, almost unbelievably powerful 500-Watt motor that literally blasts dust, dirt and debris off expensive computer/electronic equipment to keep it running at peak efficiency.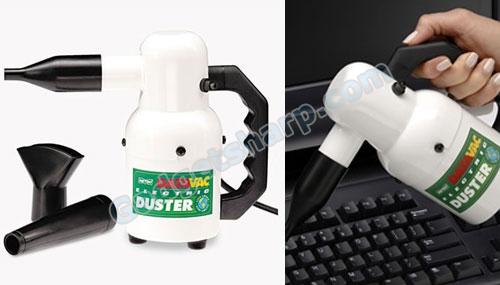 3. Battery-Operated Zamboni Desk Vacuum [amazon]
Everyone wants a chance to drive the Zamboni machine! This scaled down version of the Zamboni ice resurfacer is a perfect little companion for your desktop. Recreated as a desk vacuum, this Zamboni machine will help tidy your work space. Fear not the desktop dust and crumbs, for the Zamboni desk vacuum is ready to resurface in your "arena".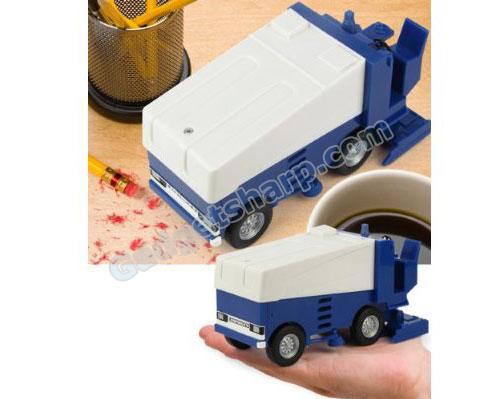 4. 18-Volt Pivoting-Nose Cordless Energy-Star Handheld Vacuum Cleaner [amazon]
Its 18Volts of power coupled with Cylconic action and an EZ Clean filter dial to maximize suction power makes it perfect for cleaning up large & small messes in the home, cleaning underneath furniture, on top of stairs, or inside your vehicle. An exclusive 10 position pivoting extension nozzle provides extended reach in tight spaces, and a 2 speed switch ? high speed for maximum pick up; low speed for extended run time - provide that ultimate in vacuuming accessibility and versatility. A 1 Step side emptying bowl system allows you to keep your hands clean when emptying out the dustbowl and a 3 stage filtration system provides clean air exhaust. As an added perk, the PHV1800CB folds in half for compact charging and storage.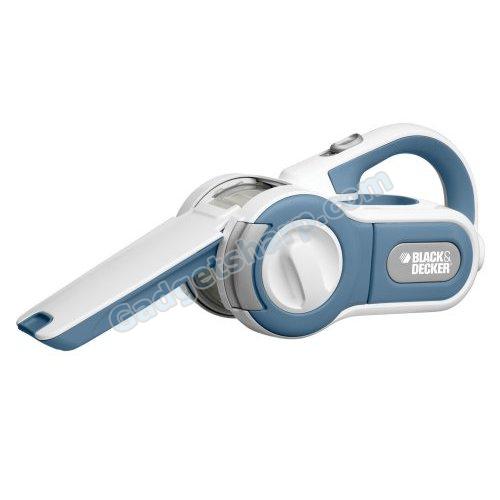 5. FreshSaver Handheld Vacuum-Sealing System [amazon]
Food prepping ahead of time means less time spent in the kitchen and more time to enjoy with family and friends. Slice up an array of deli meats and cheeses for a party platter, then keep it fresh and ready to go with the help of this rechargeable handheld vacuum sealer. Designed for use with the FoodSaver vacuum zipper bags and FoodSaver deli containers, the cordless unit removes the air with the press of a button, creating an airtight seal that keeps ready-to-eat food items in the refrigerator or pantry fresh for longer. The thoughtfully designed device comes with a dishwasher-safe nozzle that catches overflow liquids, and its compact size takes up minimal space on the counter or in a drawer when not in use. Two medium zipper bags come included.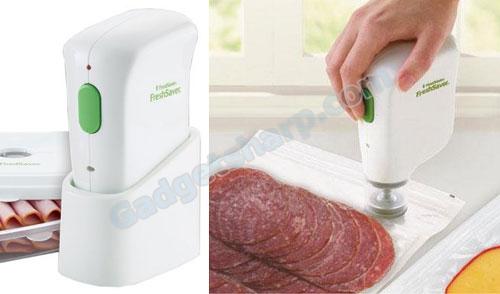 6. Dirt Devil Kone Cordless Rechargeable Hand Vac [amazon]
Always Charged. Always Ready. The Dirt Devil KONE's hand vacuum designed by Karim Rashid, is a simple, elegant design you can proudly display in any room. 7.2 volts, cordless, rechargeable, KONE is ideal for daily upkeep around your home.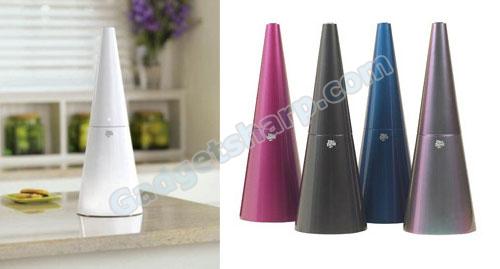 7. Backpack Vacuum - Low-Pile Vacuum Cleaner [amazon]
Lightweight, weighs only nine pounds. 1-1/2" positive locking hose and attachments and deluxe nylon woven shoulder harness for comfortable, trouble-free use. Chiropractor designed, ergonomic harness includes sternum clip to secure shoulder straps. Clear dome lid for instant debris inspection. Shake-out cloth inner filter bag.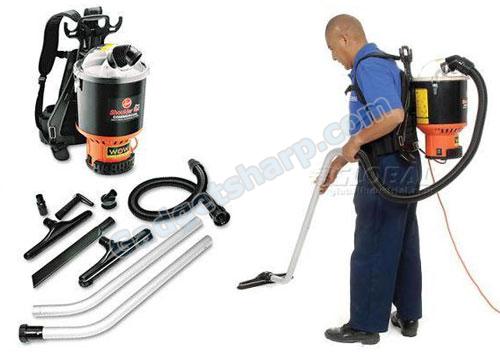 8. Bissell Pet Hair Eraser Handheld Vacuum [amazon]
Designed especially for pet hair pick-up around the house, this handheld vacuum cleaner delivers the power needed for fast results. The unit comes equipped with a flexible rubber contour nozzle that effectively removes dirt and pet hair from upholstery and stairs, plus a hard nozzle for cleaning dry messes or the inside of automobiles. Switch out one nozzle for the other by pressing down on the round nozzle-release button and snapping the new nozzle into place. The vacuum cleaner offers lightweight construction at less than 4 pounds, a comfortable easy-grip handle, and a fingertip-access on/off switch.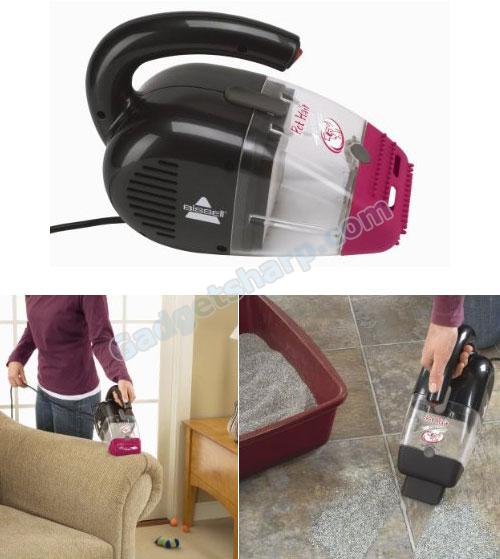 9. Mini Robo Vacuum [amazon]
This Mini Robo Vacuum is a fun kit on your kitchen table, Cool? Powered by 2 AA batteries. Simply press top button and it will begin to suck, pencil shavings, breadcrumbs or other debris and he'll sweep up.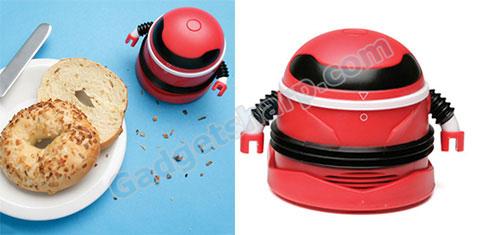 10. Backyard Safari Bug Vacuum [amazon]
Catch your insect friends in a safe and humane way with this Backyard Safari Bug Catcher. This fun outdoor toy captures insects by battery-operated vacuum suction power, without harm to them, into a clear plastic capsule. You can view the bugs through the magnifier in the capsule. Then you can either release the insects back to the outdoors or into the Backyard Safari Bug Habitat (sold separately) built especially to house small insects. The "capture core" even includes a magnifier for cool viewing. Includes two capture cores, two nose cones and a magnifier.