A pitcher is a container with a spout used for storing and pouring contents which are liquid in form, like lemon water, iced tea and more. It is really useful in summer time, when you want to enjoy sun but also have the refreshing and cool beverage. Some pitcher comes with special designs like removable fruit infusion rod, removable filter for fresh tea leaves and removable freezer ice tube to provide more enjoyment of your drink.
1. Lenox Tuscany Classics 48-Ounce Pierced Pitcher [amazon]
Tuscany Classics Pierced Pitcher by Lenox. A ?hole in one?? In this geometrically shaped pitcher, a hole proves visually intriguing and practical as well. That?s because the hole forms the pitcher?s handle. A beautiful presence when filled or simply on display.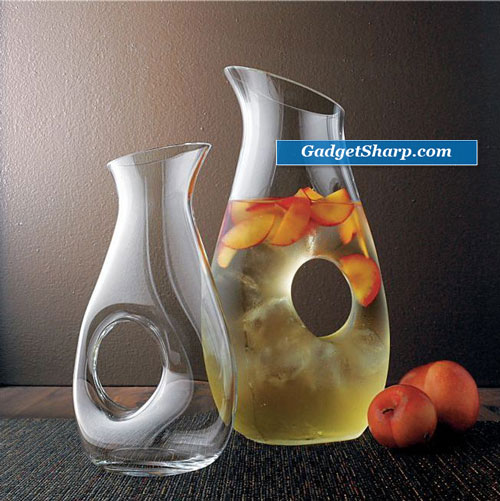 2. ?Friends with you? pitcher and glasses [amazon]
This set is more like a collection than something we will use in our daily life? but I really like those glasses.
The Friends With You tableware series is a beautiful piece of work, created by artist Ernst Billgren. The series includes a pitcher framed with green leaves and features a happy duck swimming at the bottom, and four glasses that feature a bear, a duck, a fox and a badger in them.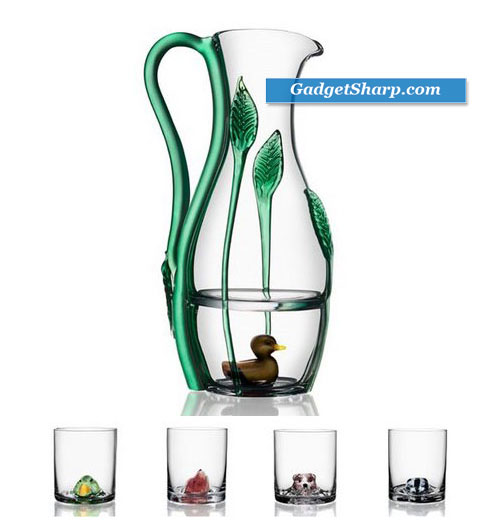 3. Libbey 7 Piece Sangria Set [amazon]
Mix up a pitcher of sangria by following one of the included recipes and relax. This 7 piece set from Libbey includes one 76 ounce pitcher and 6 10.5 ounce footed poco grande glasses. Not only for sangria, this is a great entertaining set because of the versatility of the pieces.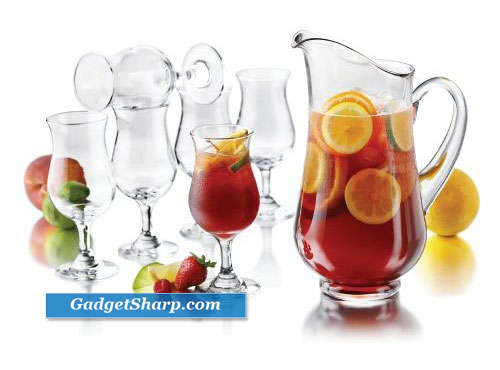 4. Fruit Infusion Pitcher [amazon]
Enjoy refreshing lemon water, raspberry iced tea and more. Crystal clear acrylic pitcher has removable fruit infusion rod that screws into the lid. Open slots in rod allow liquid and fruit to mix naturally. Refill the pitcher without replacing the fruit.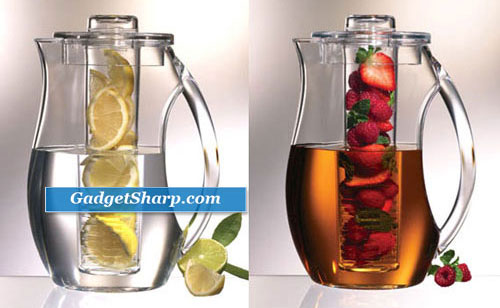 5. Bodum Ceylon Ice Tea Pitch [amazon]
No more mixing stale, sugary tea powders! The Ceylon Ice Tea Jug is the solution for preparing ice tea as nature intended: with fresh tea leaves! Brew and drink from the lovely pitcher that holds a durable clear plastic removable filter for brewing to your exact preference. The Ceylon is made of BPA-free plastic and its transparency allows you to make a beautiful visual presentation when serving sangria, ice tea or any fruit-infused drinks imaginable.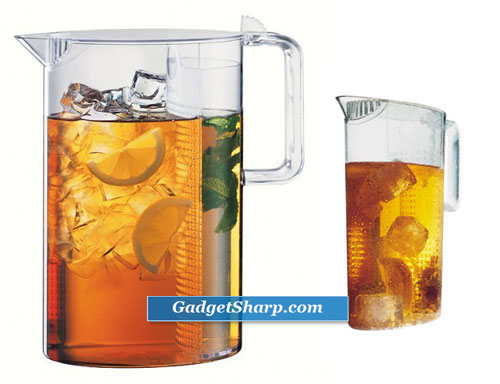 6. Primula Iced Tea Pitcher with Tea Bag Buddy [amazon]
100% silicone tea bag buddy
Borosilicate glass allows the pitcher to go from hot to cold with no risk of cracking
1 liter capacity pitcher
Comes with green Tea Bag Buddy
Ergonomic handle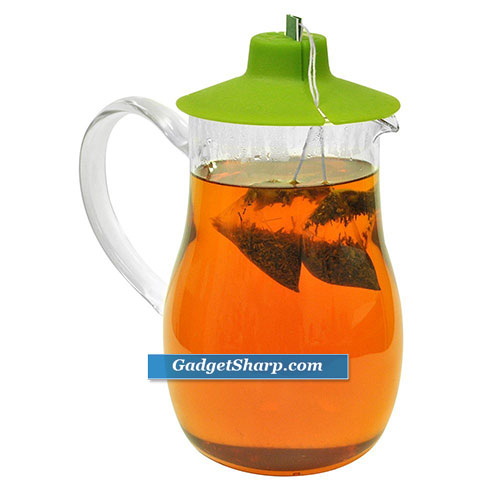 7. Luigi Bormioli Black Swirl 54-Ounce Pitcher [amazon]
Make Your drink Sparkle when Using the Black Swirl Glassware Collection . An elegant black ribbon in clear glass lends this sturdy 54-ounce Pitcher a sophisticated twist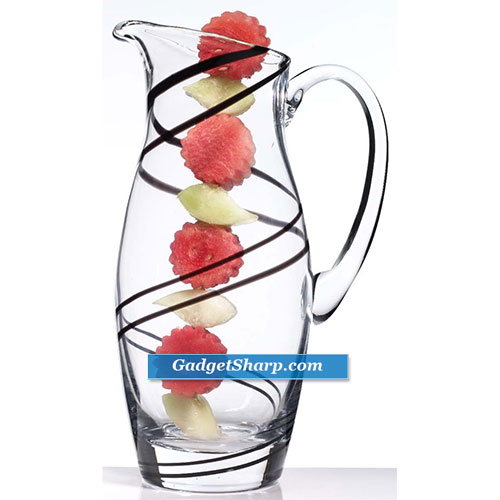 8. Crisa Acapulco Glass Pitcher [amazon]
One 89-1/2-ounce clear glass pitcher with handcrafted lip 8-3/4-inch tall
Material: glass
Classic kool-aid pitcher features a handcrafted lip to prevent ice from spilling into glass
Hand wash recommended
Comes in a gift box ideal for storage hand-made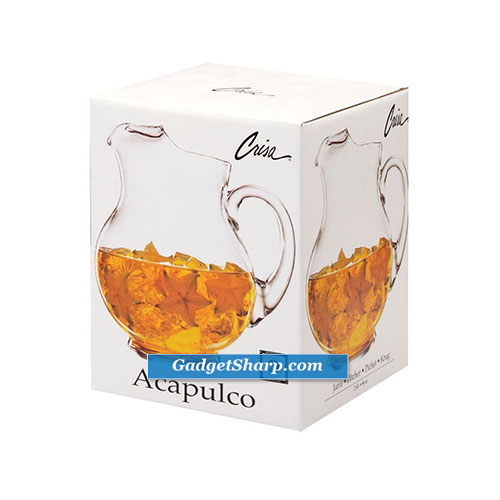 9. Prodyne 3-qt. Iced Fruit Infusion Pitcher [amazon]
Enjoy refeshing fruit infused water, iced tea or other liquids in this 3-qt. pitcher. Fill infusion rod with your favorite fruit and slide into pitcher. Liquid and fruit will blend naturally. For meal or party use, attach the removable freezer ice tube to keep pre-chilled beverages chilled for hours without ice cube dilution..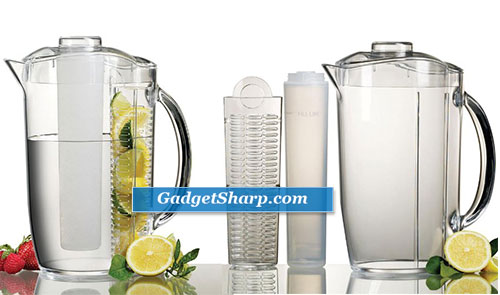 10. Mary Jurek Helyx Water Pitcher with Knot Handle [amazon]
Mary Jurek Helyx water pitcher with know handle Multi-use, easy care and dishwasher safe Hand hammered stainless steel 18/8 Height 12in