Modern calculators are electrically powered (usually by battery and/or solar cell) and vary from cheap, give-away, credit-card sized models to sturdy adding machine-like models with built-in printers. It is such a common and ordinary device in our life and most of we never thought it can be described cool or unusual. While in this post, we will present you 15 Unusual Calculators collected from world. Each of them have something special, like shape, material, usage; and you also can find some innovative designs with combining calculator with some office supply like business card holder or clipboard. Sounds Interesting? Let's begin!
1. Royal Rubber Calculator [amazon]
* Full Flexible Rubber Body
* Full Function Memory
* Percent key
* Square Root key
* Solar & Battery Powered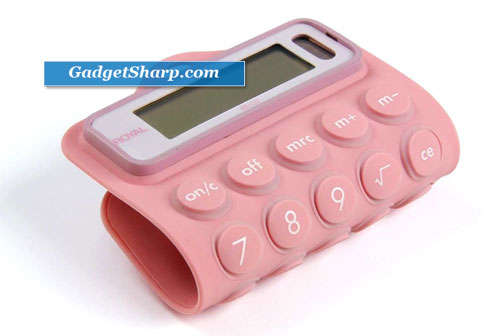 2. Chocolate Calculator [amazon]
* Chocolate scented calculator
* Solar powered
* Smells like real chocolate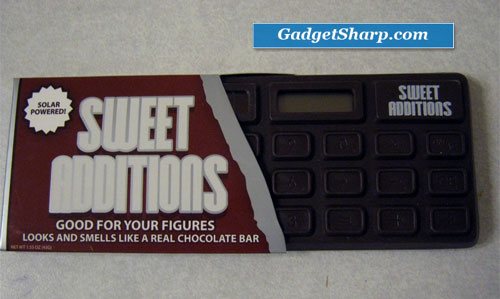 3. Sleek Calculator & 30cm Ruler Combined [amazon]
* Perfect for architects or artists, it's handy to have a ruler on your calculator.
* Designed by Nina Tolstrup
* International Guarantee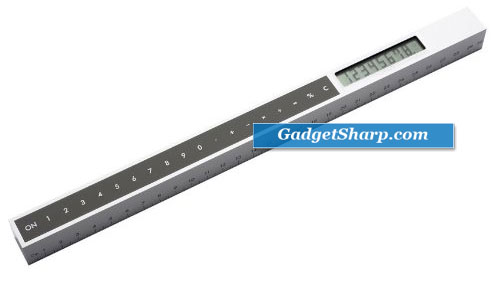 4. New Generic Transparent Solar Touch Screen Calculator [amazon]
* Transparent Solar Touch Screen Calculator.
* Enjoy calculating from this device as it is transparent so you can easily see the things.
* Ultra Thin, Solar powered, thus no requirement of external battery.
* Made up of plastic and electronic components material.
* Product images may differ from actual product appearance.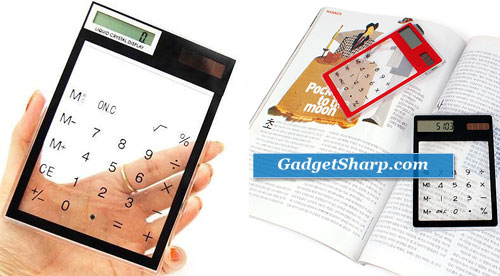 5. Credit Card Calculator [amazon]
Perfect for pocket or purse the Credit Card Solar Powered Calculator designed by Sam Hecht is always ready to go. The slim form factor mimics the size and shape of a standard credit card and the raised numeric keys allow for a tactile feel during operation Dimensions: 8.5 x 5.4 x 0.2cm
6. Hello Kitty Electronic Solar Small Foldable Calculator [amazon]
Fun, super cute Hello KittyFace shape foldover Solar powered calculator that's just right for work or at school! Cute heart & flower shape buttons. Available in pink and white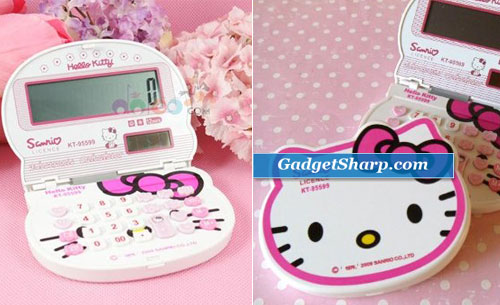 7. 8 Ruler with Solar Powered Calculator and Magnifier [amazon]
8" ruler with solar powered calculator and magnifier. Solar powered calculator also features a 180 degree protractor.
8. Solar Powered Calculator and Pencil Box [amazon]
Solar powered calculator and pencil box. Unique crayon shaped with colorful printed numbers on the keyboard. Plenty of storage space for pens and pencils. Great for kids.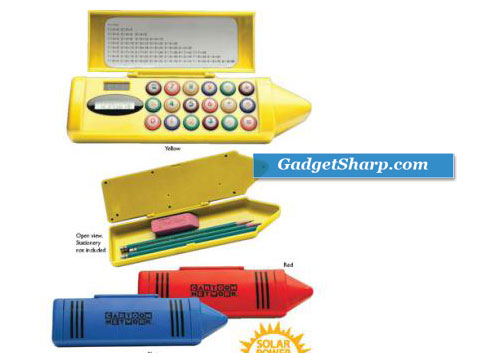 9. Officemate Portable Clipboard Storage Case with Calculator, Charcoal [amazon]
* Includes dual battery/solar powered calculator
* Large compartment for letter size papers plus separate filing pockets for papers, CDs, and business cards
* External pen/pencil compartment plus two external compartments (one magnetized) for clips and other small articles
* Ergonomic hand grip
* Battery included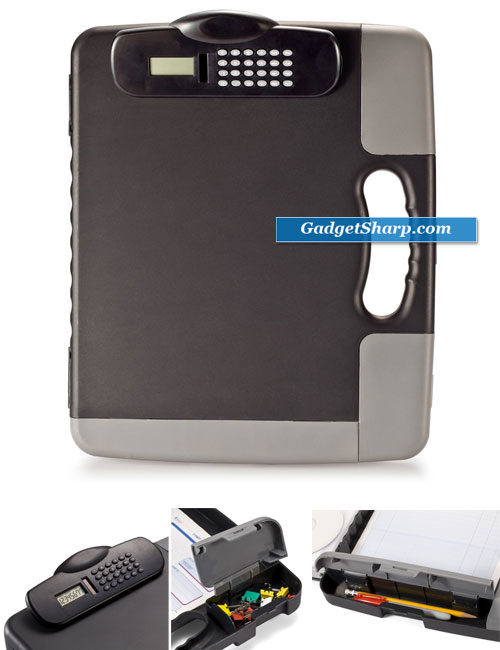 10. Building Block Lego Calculator [amazon]
You'll feel like a kid again with our retro calculator. Available in 4 colors, each reminiscent of building blocks. Constructed from plastic. Dimensions: 5.5"L: x 2.5"W x 1"H.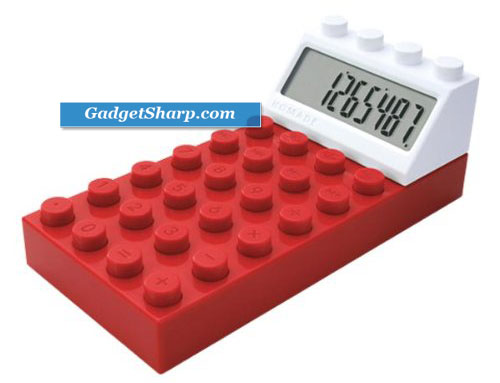 11. Liquid Powered Calculator [amazon]
* Never Needs Batteries!
* Powered by water, juice, soda, beer, or almost any liquid
* 8 digit liquid crystal display
* Can also operate on 1button cell battery (not included)
* 2 7/8" x 5" x 5/8"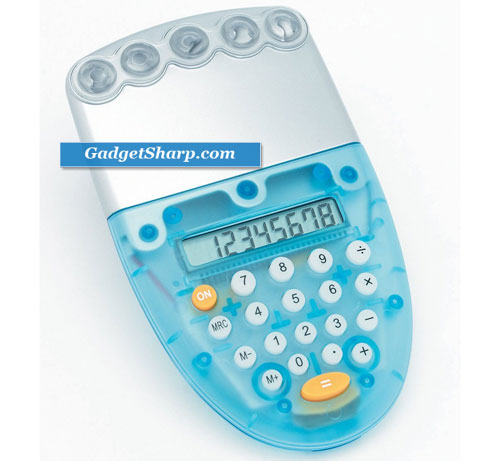 12. Checkbook Calculator with Designer-style Wallet and Pen [amazon]
* Keeps track of a personal budget or income and expense records in in one of the 3 independent memories
* Solar powered so it will work anywhere, anytime.
* Built-in long life lithium battery maintains your memory files
* Soft black leatherette wallet holds the checkbook calculator plus your checks, bank receipts, credit cards and more
* Lock mode lets you set a password in order to protect your data from unauthorized access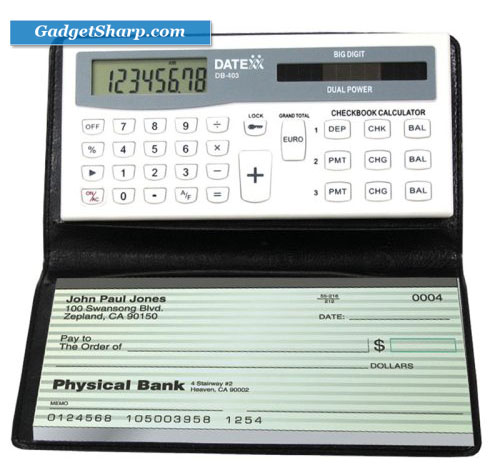 13. Solar Calculator, Pen Office Business Card Holders [amazon]
* 8 digit calculator, name card holder with pen
* rotate the wheel on the right, the namecard will come out
* Convenient to get your namecard and easy to carry around
* Dual power supply: Battery or solar power
* Unit size: 10.5 x 7 x 1.2cm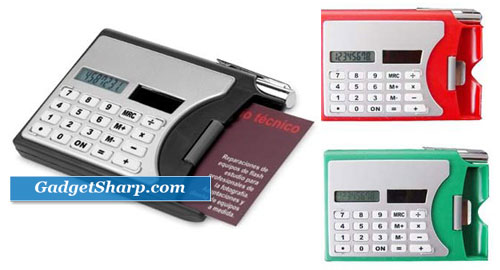 14. Datexx MouseStation Executive Leather Mouse Pad with Calculator and World Time Clock [amazon]
With space on the desk or workstation at a premium, this multifunction unit really fills the bill- and calculates it too. Tell the time anywhere in the world, pop out the calculator to do some numbers, slide it back into the pad out of sight, check the temperature, and just enjoy the beauty of a sleekly-crafted, genuine leather and rugged cast-aluminum design.
After so many unusual calculator, here we have a really advanced scientific calculator for some serious calculating. lol
15. Texas Instruments Ti-nspire Graphing Calculator with Touchpad [amazon]
* Includes an easy-glide Touchpad that works more like a computer with a mouse
* See multiple representations of a single problem - algebraic, graphical, geometric, numeric and written
* Explore individual representations, one at a time, or as many as four on the same screen
* Grab a graphed function and move it to see the effect on corresponding equations and data lists
* Link representations - Manipulate the properties of one and observe instant updates to others without switching screens