If you like to check out your photos more than one time in a year and prefer to admire by your relations or yourself more often then you could find these original items interesting. These items allow you not only to put out many of your favorite photos, but also could add a very unusual touch to your interior design. Except the normal metal frames, we also includes some special ones, like digital photo frames which can store more than 6400 photos, chalkboard photo frame and Doodlebook Frame which allows you to draw around your photo and change the style anytime you want. They look cool and can accommodate a lot of photos of different sizes.
1. Umbra Fotofalls Photo Holder [amazon]
The Fotofalls Photo Organizer by Umbra is great for the home or office with limited space. The desktop fotofalls holds 18 photos (or notes, poems - whatever you wish!) and stands approximately 18-inches tall. It has a nickel finish and the clips will not damage photos.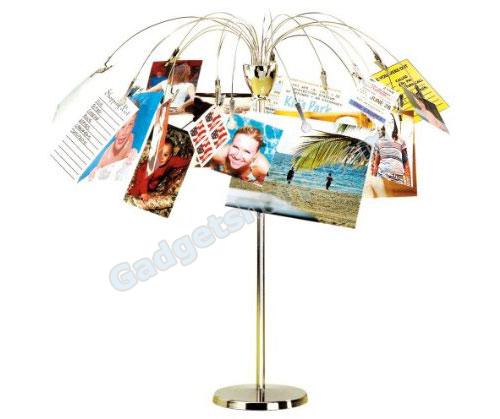 2. Seto Multi Picture Frame [amazon]
With Umbra?s Seto Multi Picture Frame you?ll turn your collection of photos into a sleek piece of table or desktop art. Group your photos by subject, theme or make your own hodgepodge of favorite people or favorite places. Designed by Tom Vincent, this unique and lovely two tiered metal frame will spotlight your art, be it friends or memories. Frame includes 6 magnetic clips. Simply clip pictures and hang on stand, in any number of positions. Black finish. Unit measures 6 X 4 X 10? tall.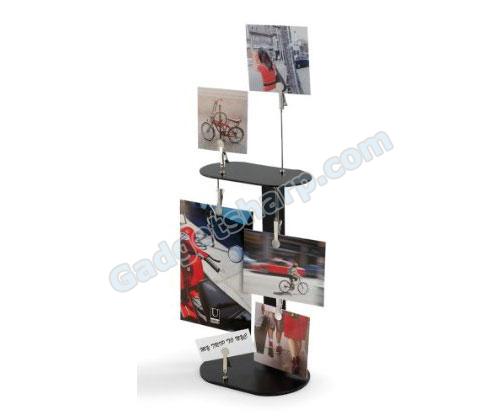 3. Multi-photo Chalkboard Frame [amazon]
With spots for 3 pictures and tons of writing and doodling space, the Multi-Photo Chalkboard Frame will always be a work of art. No matter what you're documenting, you can create a special, personalized place for your memories. From vacations and birthdays, to adding a photo for every year of your child's life, this is a frame you'll certainly get tons of milage out of.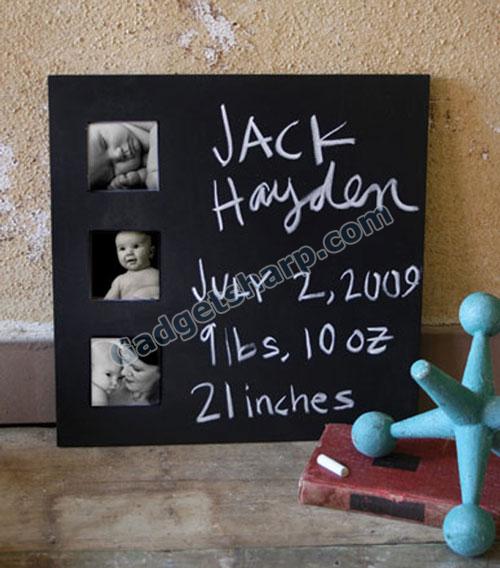 4. 10 Wood Frames in a Box Set [amazon]
Display an array of pictures and let these 10 black wood frames tie them together. Solid wood frames are perfect for the wall or tabletop. Set includes: one 8x10", four 5x7", three 4x6", and two 2-1/2x3-1/2" frames. Arranging and displaying suggestions and directions are included on box.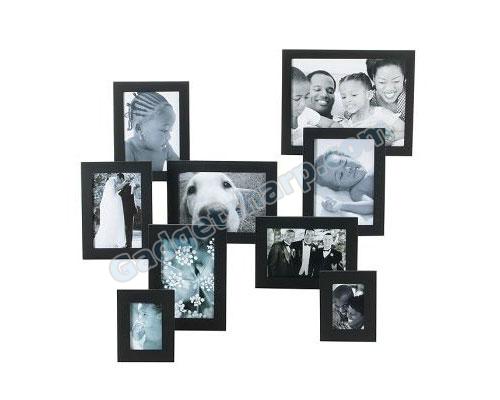 5. Studio Silver Tree Of Life with 4 Frames [amazon]
The tree of life 5 piece. Frame set is a stylish and different way to show pictures of loved ones. The metal tree holds 4 wood frames to show off children and grandchildren.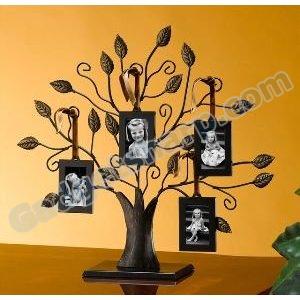 6. Sony DPF-X1000 10.2-Inch Digital Photo Frame [amazon]
Beautifully display up to 4,000 photos on a stunning 10.2-inch WVGA resolution LCD screen with the DPF-V1000/B digital photo frame. Boasting direct USB input from most digital cameras and support for most memory cards, transferring your photos is a snap. You can also transfer images from Bluetooth wireless-enabled devices such as a compatible camera phone. This photo frame features Auto Correction to help enhance image quality, while an HDMI connection and HD output lets you share your photos in Full HD 1080 quality on your compatible HDTV. You can even navigate through your photos from a distance with the supplied remote control.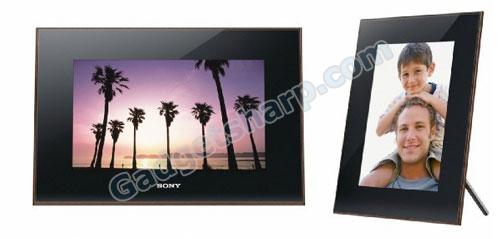 7. Umbra Lira 4-Picture Metal Photo Frame [amazon]
The Lira frame from Umbra is a contemporary overlapping of metal frames with removable easel and glass covers. Mix and match your photos with this simple yet versital frame that holds four 4 by 6 photos of your choice. This frame is great on a coffee table, end table and even a mantle!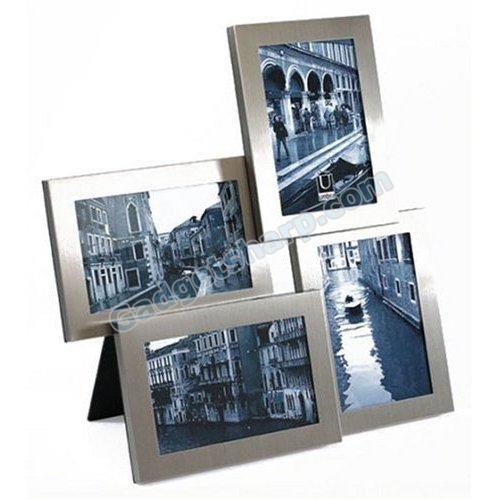 8. Umbra Annex Photo Frame [amazon]
This innovative and funky frame system is composed of 3 metal frames with magnetic legs and metal base and glass covers. The three frames accomdate one 4 by 6-inch, one 4 by 4-inch and one 3-1/2 by 3-1/2-inch photo. Mix and match your photos as well as where the photos stand on the base! Great for kids pictures and adult pictures alike. Even travel photos are fun to display in this new style of frame!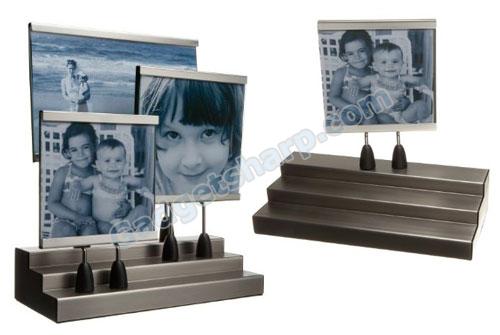 9. Doodlebook Frame [amazon]
If you can't seem to find the perfect frame that sums up your style, here's a photo frame that you can really make your own. The Doodlebook Frame comes with 80 sketch pages that you can doodle, write on, color or do whatever you want to do with it. And once you get bored of the design you've created just rip it off and create a new one. Go crazy and let your creativity flow!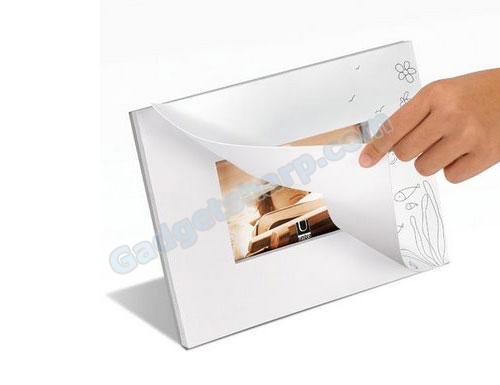 10. Trapeze 6-Photo Hanging Frame [amazon]
The trapeze collection from Umbra is the latest and greatest thing to happen to frames! This modern metal and glass hanging frame system is innovative, fun to decorate with, and available in an assortment of size options. This frame grouping floats three 4 by 6-Inch photos and three 3-1/2 by 5-Inch photos. Each photo floats between two pieces of glass. The only tool necessary is a small screwdriver in order to un-screw the two pieces of glass and then put them back together. Once you have placed all your photos in-between the glass, you have a magnificant display of six of your favorite photos!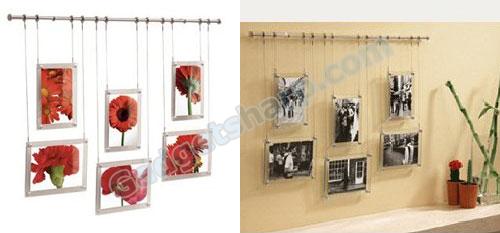 11. Coby Deluxe 8-Inch Digital Photo Frame and Clock with Multimedia Playback and 1 GB Built-in Memory [amazon]
CobyDP8088-1G Deluxe 8-inch Digital Photo Frame & Clock with Multimedia Playback, handsome wooden frame with analog clock, 1GB internal flash memory lets you store your favorite photos directly on the frame, displays JPEG photo files, plays MP3 and WMA music files, plays MPEG-4, H.264, and Motion JPEG video files, photo slideshow mode with music, calendar and clock with alarm timer, SD, MMC, MS, xD, and CF card slots, full-size USB port for use with flash memory drives, integrated stereo speakers, includes Vividshare PC software for creating custom multimedia slideshow, full-function remote control included, integrated stereo speakers, woodgrain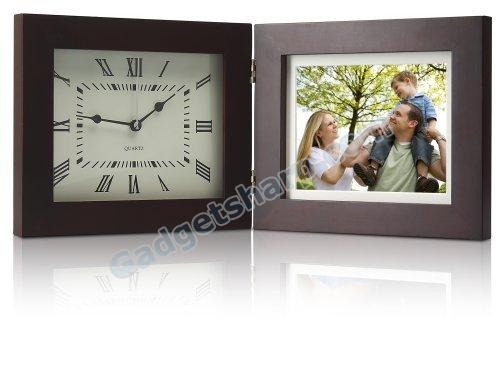 12. Empire Wall Frame [amazon]
Designed by Tom Vincent, this multi opening wall frame is fresh and perfect for the home and office! The Empire holds 12 photographs or prints: four 2.5 X 3", four 3.5 X 3", two 3.5 X 4" and two 4 X 6". Molded wall frame fits on a corner. Includes mat boards. Espresso finish. By Umbra. Umbra is the worldwide leader in casual, contemporary and affordable design for the home. They have a strong commitment to making a positive and sustainable contribution to the realm of fiscal, social and environmental responsibility.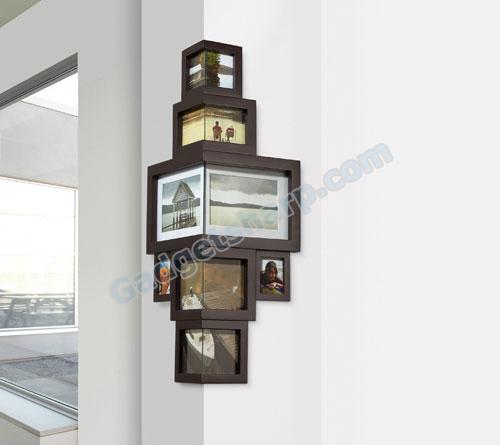 13. Thinker Wall Frame [amazon]
Show them who your favorite subject is thinking about with Umbra's Thinker Wall Frame. This fun, set of two wall frames will let everyone will know who's on your subject's mind. Great for lovers, kids, friends and family! Set of two resin wall frames; one single and one collaged. Single opening holds one 5 x 7" photo and the multi-opening holds three 2.5 x 3" and two 2.75 x 4" photos.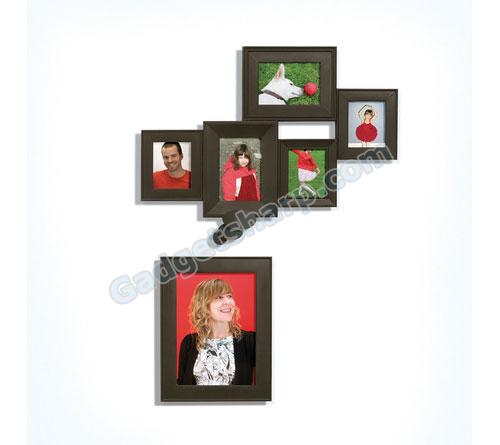 14. Pandigital PAN7000DW 7-Inch Digital Picture Frame [amazon]
The world's first 7" frame displays in 4:3 aspect ratio for no stretching, cropping or distortion. Digital screen displays up to 6400 images on 1GB of internal memory. Transfer images, audio and video from a memory card via 5-in-1 card reader or from PC with included USB cable. Customize the look of your frame with the interchangeable white and charcoal mats. WiFi/Bluetooth compatible.