Napkin Holder is a handy device to keep napkins handy and organized in the home. It can be made from virtually any solid material and is built so that the napkins do not slip from its hold, either by way of sandwiching them between two surfaces, or simply enclosing them on their sides in a horizontal design. Here, we rounded up 12 Beautiful and Modern Napkin Holders, which is perfect for kitchen counters or your table for easy use. Especially in this holiday season, an elegant and modern napkin holder will definitely help to spice your holiday party table.
1. Arthur Court Grape Cocktail Napkin Box [amazon]
Arthur Court grapes motif cocktail napkin box, napkins, and matching paper weight
Manufactured with Arthur Court's signature premium aluminum
Grapes and leave design
Hand wash, towel dry
Great for entertaining and happy hour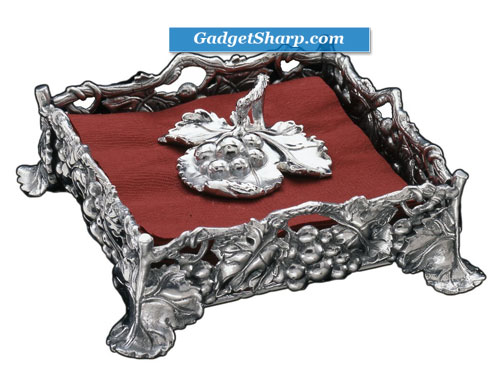 2. Dark Metal Square Vintage Design Napkin Holder [amazon]
This is a new piece, that is distressed to look vintage. Cast iron style, with scroll accents, it measures 7.5 inches square.
3. Alessi Cactus Flat Napkin Holder [amazon]
The successful ?Cactus" fretwork series now enhanced with other items: hors-d?oeuvre set, cheese board, trivet, plates, bowls, and now, a paper napkin holder. This flat-lying, pierced paper napkin holder featuring the cactus design is complete in 18/10 mirror-polished stainless steel. Material: 18/10 stainless steel. Dimensions: 8" Sq x 2" H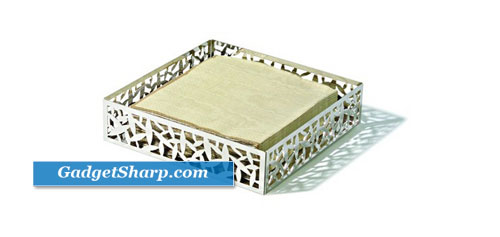 4. Nambe Pebble Napkin Holder [amazon]
A haphazard pile of paper napkins is the fastest way to spoil the look of your table - so why not present yours to your guests in our ingenious and elegant Stone Napkin Holder? It cradles napkins on a gently curved metal alloy bed, while the accompanying polished stone reins in errant napkins and keeps the aesthetic sleek. Perfect for foiling the wind during an al fresco meal, or for use indoors when you want to add that extra special, "where'd you get that?" touch to breakfast, lunch or dinner.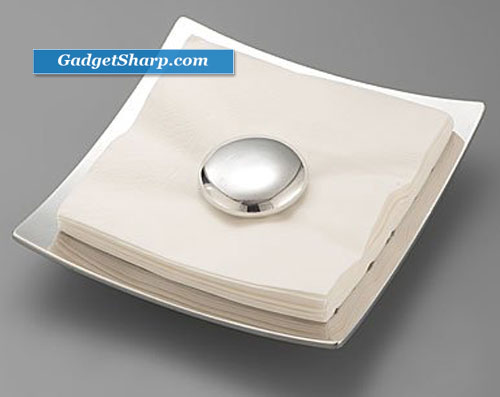 5. Royal Doulton Old Country Roses Napkin Holder [amazon]
Produced by Godinger Silver Art Company for Royal Doulton Royal Albert Old Country Roses shown on this beautiful fan shaped piece Silverplated napkin holder with goldplated highlights Measures 6.75W inches X 4H X 2.25D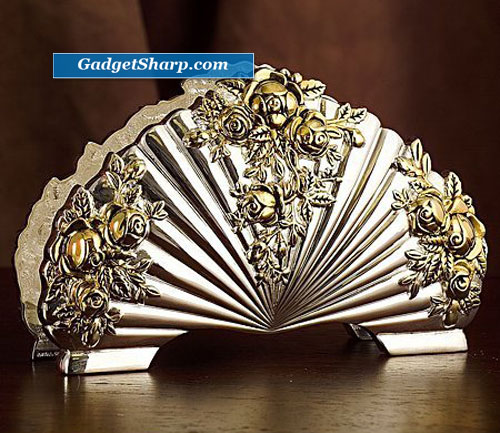 6. Cactus! Napkin Holder by Alessi [amazon]
A beautiful rendering of cactus plant as container and an eye-catching centerpiece for napkins, envelopes, or notepaper Designed by Marta Sansoni in 2002; crafted of 18/10 stainless steel Measures 1 inch wide by 5 inches long by 3 inches high; pairs beautifully with other stainless-steel containers from Alessi Peruse the full A di Alessi collection for other artistic, like-minded pieces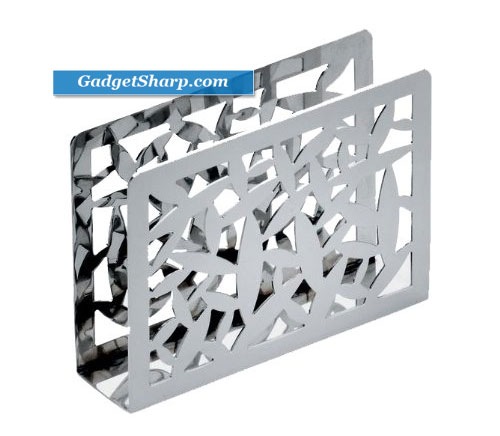 7. InterDesign York Lyra Squeeze Napkin Holder [amazon]
The York Collection of organizers and accessories offers simplicity and contemporary style. Powder coated bronze formed into stylized shapes and designs is more than trendy; it's a timeless look of freshness to last you for years. This napkin holder makes a great addition to any table. Durable steel build is appealing.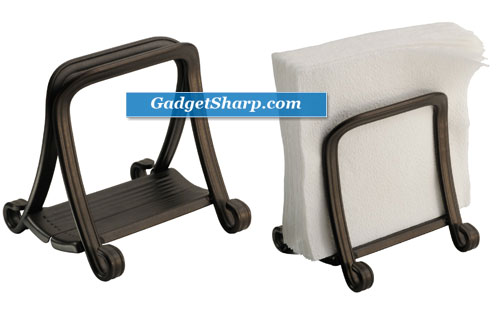 8. Florida Marketplace Metal Palm Tree Napkin Holder [amazon]
Florida Marketplace adds a touch of the tropics to your table settingwith this palm tree napkin holder. This metal napkin holder features decorative scrolls and a palm tree to secure your napkins. Measures 7'' x 7'' x 2 3/8'' and holds approximately 40 napkins.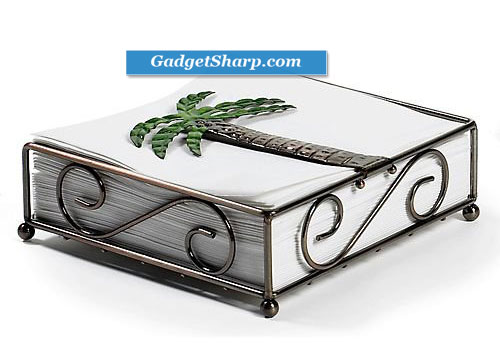 9. Euro Flat Napkin Holder [amazon]
Keep your countertop and table neatly organized with this euro flat napkin holder by spectrum. this decorative napkin holder keeps your napkins clean, dry and readily available for when you need them. made of metal, this napkin caddy features a stunning satin nickel finish that will enhance any decor. size: 2-1/2-inch h by 7-1/2-inch w by 7-1/2-inch d. satin nickel.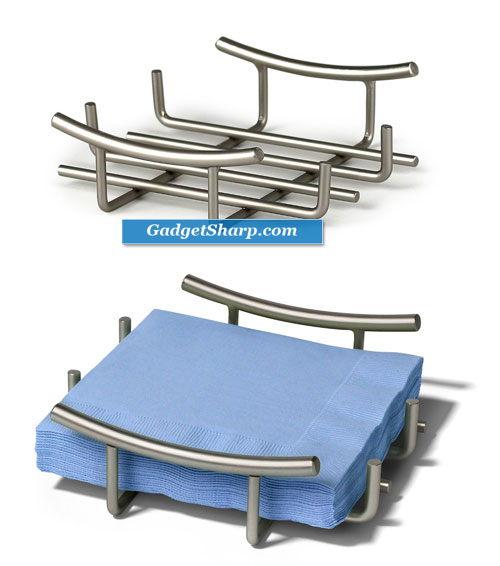 10. Cuisipro Satin Finish Napkin Holder with Pendulum Arm [amazon]
Elegant, contemporary design
Satin-finish 18/10 stainless steel
Weighted arm keeps napkins secure
Rubberized base prevents slipping
Rubber inserts on top of base for added security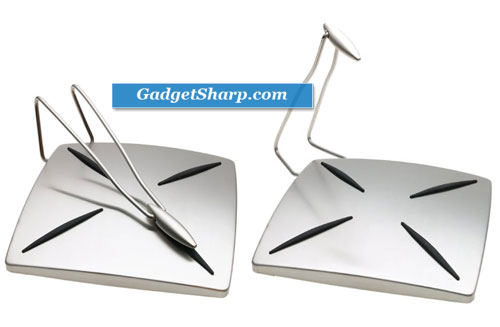 11. Talavera Design Napkin Holder [amazon]
This is a Talavera Style Napkin Holder measuring about 3 3/4" tall, 5" long, 2" wide. The picture shows several painting style and the one you receive will be identical in shape and size but the color and pattern will vary. Each piece is made of ceramic and painted in a Talavera style.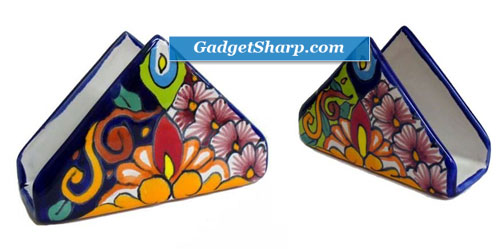 12. Wrought Iron Outdoor Luncheon Napkin Holder [amazon]
Arched wrought iron grapevines with hand forged grapes, beautifully frames the luncheon sized napkins and adds a striking accent to any table setting. Bring Italy to your kitchen, family gathering when placing this Black Wrought Iron Napkin Holder by Bella Toscana onto the counter or table.