For the amount of use they get in our every day lives, sinks have evolved far beyond a faucet, drain and a basin. They?ve been hacked to include garbage disposals, dish sprayers, water purifiers and more. Beyond the functional elements, however, there have been great advancements in the aesthetic quality of the modern sink.
To demonstrate, here is a look at how sink designers are abandoning the generic, water-intensive styles of old in favor of new designs heavily influenced by the natural world, technological innovation and the desire to conserve water. Here are 14 designs that certainly create a splash!
1. Moody Aquarium Sink [link]
The cutting-edge modern sink isn?t content to just deliver hot and cold running water. Take the Moody Aquarium Sink from Italbrass. It?s all the rewarding work of a fully-functional fishtank, coupled with the decidely odd sensation of washing your hands in it. The soap dishes on either side of the watertight main basin conceal entrances into the tank, allowing feeding and maintenance, and the whole structure is mounted on an integrated chrome finish brass stand.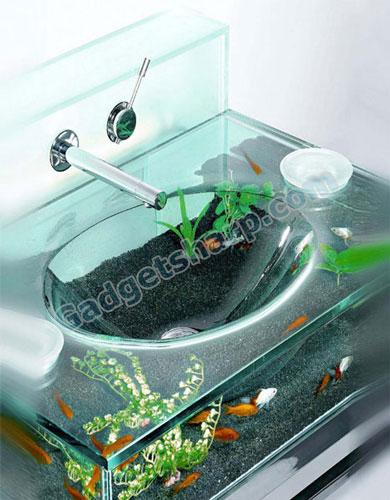 2. Plugless Sink by Maja Ganszyniec [link]
Do sinks really need a paradigm shift in design? Designer Maja Ganszyniec seems to think so. Check out this Plugless Sink. From the name you should be able to figure out what?s different about it. There?s a reason behind this altruistic design though. Since you have to manually pour the water out into a spillway, you?re consciously aware of how much water you?re using. Great, I?m a total water hog so this sink would definitely make me think twice about leaving the faucet running.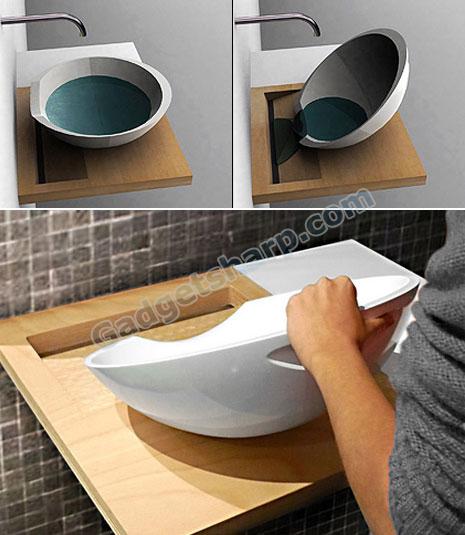 3. The Axolute Horizontal Integrated Siphon Eliminates the Drain Pipe [link]
Your eyes aren't playing a trick on you, nor is the sink some imaginary Photoshopped conceptual solution. The floating metal sink above can go sans traditional plumbing thanks to a horizontal drainage system which opens a world of space saving possibilities. It also just pretty darn cool…we'd imagine guests would find it perplexing and would find themselves staying in your bathroom a lot longer trying to figure it all out.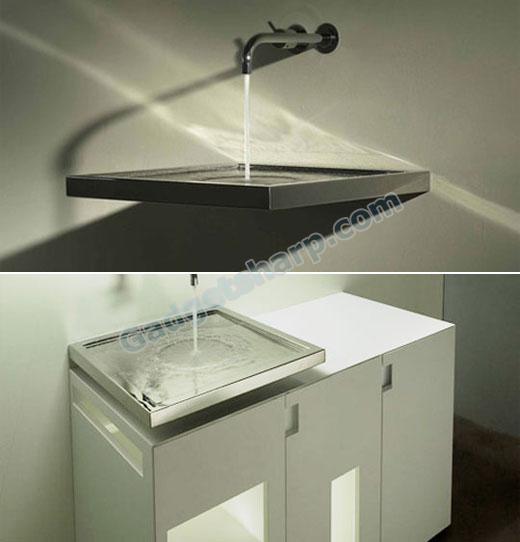 4. Origin Sink [link]
Based on the idea of a trickling stream, the Origin Washbasin has an eye-catching stone tap that when lifted, frees a flow of water to cascade down a winding groove. Designed by Jin-woog and Jae-han Song for NOTHING Design Group, the water pools in a basin ?lake,? which is emptied by lifting a drain stone.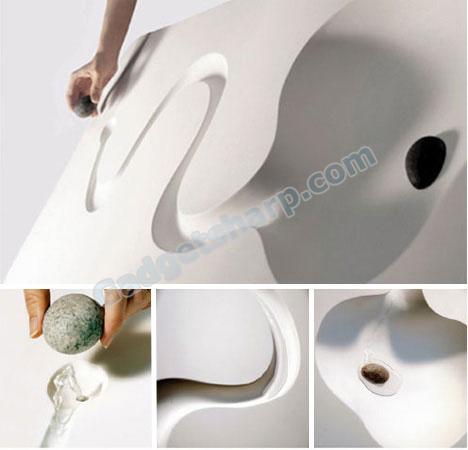 5. Ammonite Sink [link]
Inspired by the archaic beauty of ammonites, this unique design showcases the organic qualities of concrete. The washbasin can be produced in widths between 90 cm and 330 cm with a standard depth of 56 cm, and is available in several colors. It can be installed either with a table-mounted or wall-mounted tap.
The fascinating shape of ammonite fossils ? which resembles a rolled up helix ? is the basic design element in the new HighTech washbasin. The association of water and fossil design is a clear allusion to the prehistoric inspiration for the Ammonite washbasin."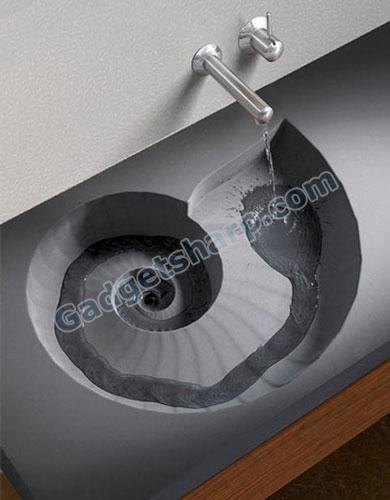 6. Take Away Sink Saves Water & Space [link]
In domestic environments buckets are used in endless ways ? whether it is for cleaning purposes, washing your feet, cooling beer or carrying something. With the ?Take-Away Sink? there is no need for an extra bucket that has to be stored and that is often too big for filling it conveniently in an ordinary kitchen sink. Furthermore the possibility of removing the washbasin encourages the saving of water by the re-usage of it.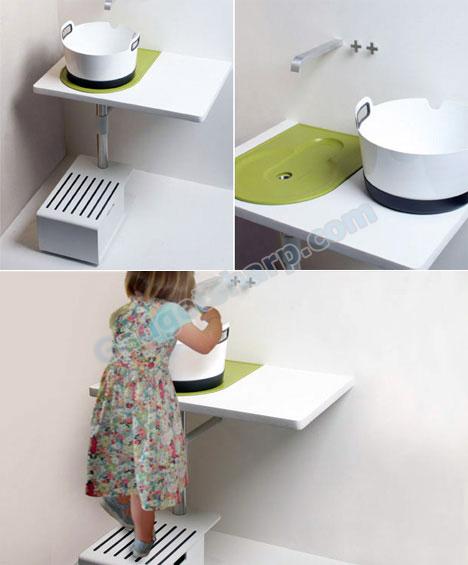 7. Waterfall Sink by Contemporary Bath Design, L.P. [link]
Contemporary Bath Design, L.P. will present its latest tempered glass Waterfall Sink that is available in 30", 40",60" and custom size. This company took the glass art to the highest - many of their one-of-the-kind luxurious glass pieces are simply amazing. Their contemporary and classic traditional design portfolios of beautiful sinks, vessels, vanities, mirrors and shower doors will impress you. Plus the matching bathroom accessories, all made out of tempered glass.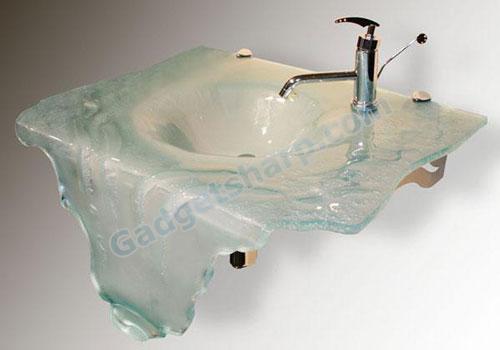 8. Moab 80 AIS sink [link]
Now this is the idea of product convergence: a sink without an actual faucet. Yep, the Moab 80 AIS sink has water-flow channels molded directly into the body of the sink, and the H20 flows out of an aperture in a mini-waterfall. The minimalist design is still somewhat cluttered by the existence of a metal handle to activate the agua, but at least you won't bang your head on it while washing your face, like you might with a high center-mounted faucet.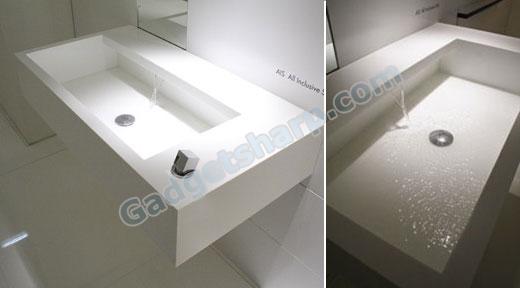 9. Abisko Washbasin from Eumar [link]
Inspired by the unspoilt waterfalls of the Swedish National Park Abisko, the sink is unfettered by pipes. Nor does it allow water to accumulate in a big tub, something designers Johan Kauppi and Lars Sundstrom deem unnecessary. Rather, one should be aware of just how much water one is using, and catch it with careful consideration. An extraordinary, sculptural piece, the Abisko washbasin captures the freshness of mountain streams as water cascades down the length of the sink to slip away down a discreet floor-level grill. Living with an awareness of our limited resources, surrounded by cherished objects…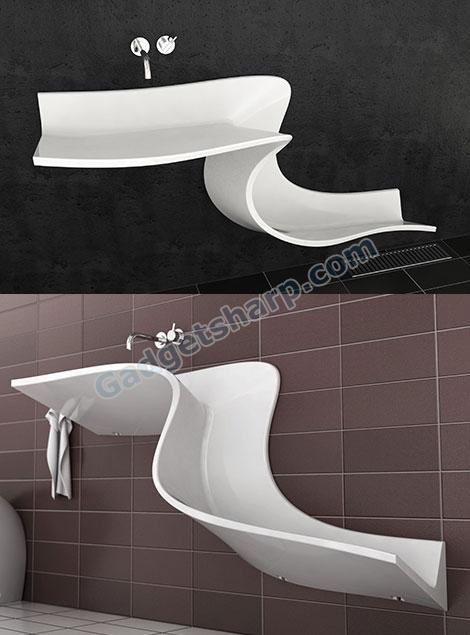 10. Mystic Sink [link]
With faucet and drain positioned at opposite ends of the dramatic 48-inch-long sink span, water cascades through the 8-inch-wide tapered preparation/work area, much akin to a stream or river. Kitchens have long been the informal gathering place for family get-togethers and entertaining. Elkay's four-foot-long sink design was developed to be the focal point of that activity. The under-mounted sink slopes from 4-1/2" to 2-1/8" and is made of #16 gauge nickel bearing stainless steel, undercoated to dampen sound and prevent condensation.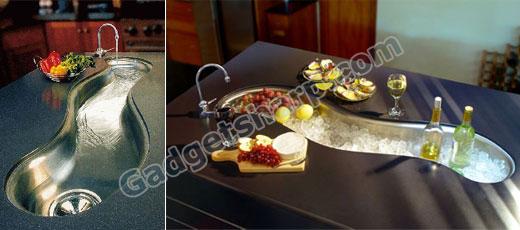 11. Bandini Ocean Sinks [link]
The Ocean series of modern sinks from Bandini are like interactive bathroom art for the user to explore. So sculptural, yet entirely functional, the eye-catching organic forms bring to mind the soothing motion of ocean waves.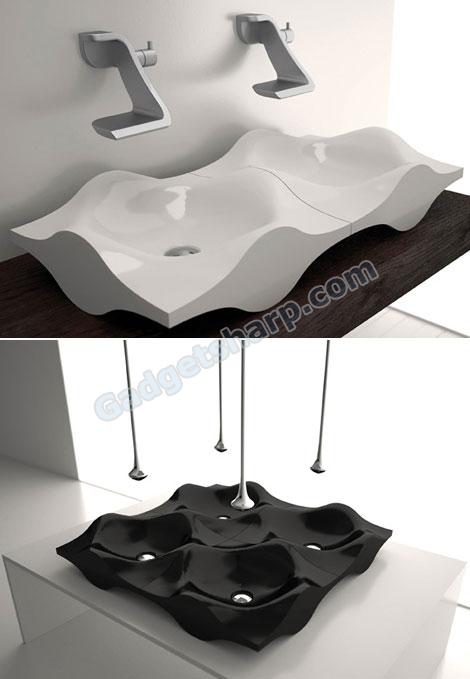 12. Omvivo Contemporary Sinks [link]
Designed by Joseph Licciardi, the contemporary sink incorporates his concept of a shallow basin to respond to the modern bathing ritual, which utilises a constant flow of clean water. Simply stunning, the well-proportioned and flowing expanse of the sink allows the user to appreciate the beauty of surging water without any distractions.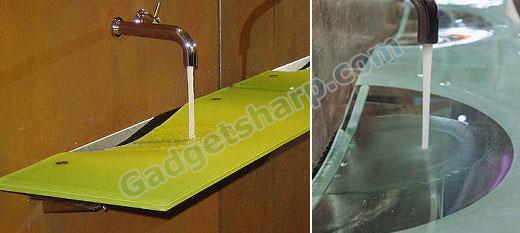 13. The Erosion Sink [link]
The Erosion Sink by Gore Design Co. is topographic and high tech. The Arizona brand uses glass fiber-reinforced concrete as the primary material in its Erosion Sink, which looks like layers of earth peeled away by eons of flowing water.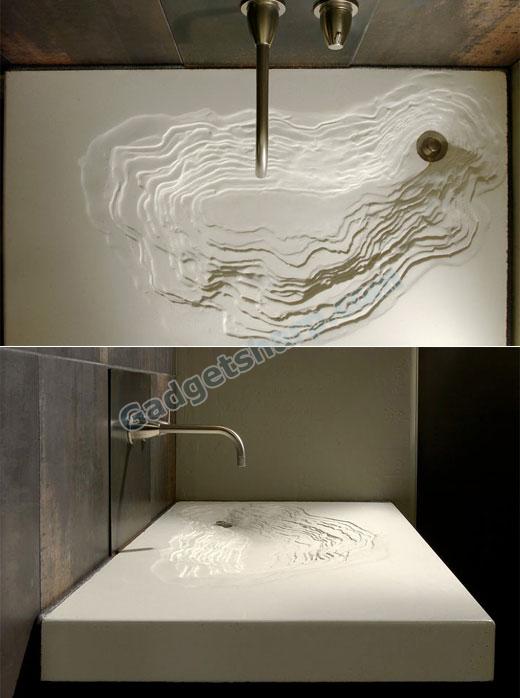 14. Zen Garden Sink [link]
Gau Design?s Zen Garden Sink is beautifully sustainable. Runoff wastewater from the polished concrete sink flows down a notched groove and feeds a small plant nestled near the basin. Users open the drain to let out soapy water and plug it to let cleaner rinse water flow to the plants.