Due to the expanding population and increasing living expense, generally, we live in smaller and smaller place. To make full use of all the limited space we get, wall mounted designs are one of those potential options. There are lots of wall mounted designs on the market, such as shelf, storage unit, utility rack, kitchenware holder…… In this post, we will present you with 13 Useful Wall Mounted Designs help Organize your Life and Free your Space. Hope you enjoy it.
1. Wall Mount Pot Rack [amazon]
* Fast, easy installation with exclusive "Toggler" drywall anchors, install toggles directly in drywall; Hold hundreds of pounds. No more studs needed
* Quality steel pot rack; store pots and utensils on the wall for easy access; free up counter top and cabinet space
* Strong steel construction yet light weight (just 9 pounds); will hold over 100 pounds
* Add decorative style; attractive "hammered steel" powder coat finish; paintable to complement any decor
* Easy assembly; no handyman required; assemble in minutes; all hardware included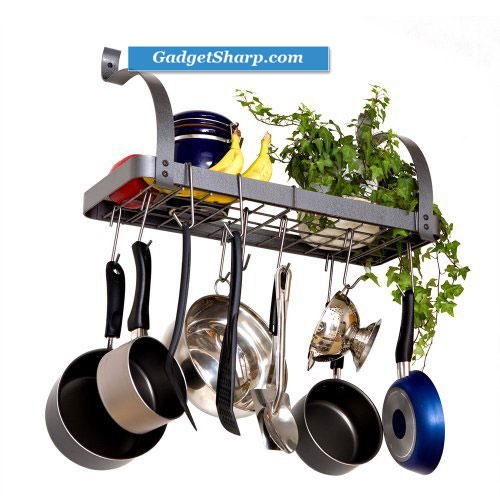 2. Evriholder Magic Holder 5-Position Wall Rack [amazon]
* 5-position wall organizer for handled tools
* Rolling balls automatically adjust to each handle's thickness and grips it securely
* Easy release by lifting the handle
* Each ball holds up to 7-1/2 pounds of weight
* Compact sizing and clean design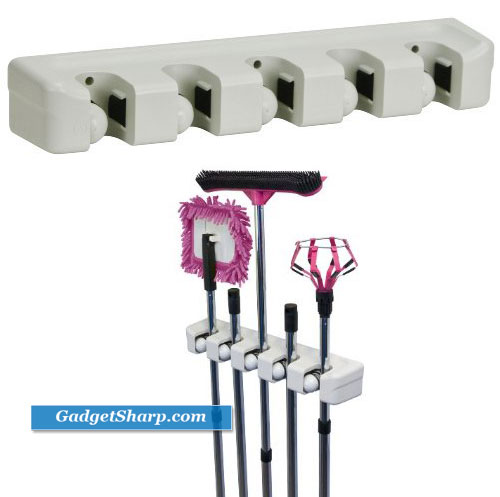 3. Wall Mount Bulldog Hardware Peg-A-System Ultimate Kit [amazon]
* 8 Square feet of peg board (4 Panels) and 43 peg accessories to get you started quickly
* Quick and easy installation with all the hardware included to hand on studs or drywall
* Built in spacers on panel back eliminate the need for additional spacers
* Durable plastic construction designed to last
* Easy slide together connections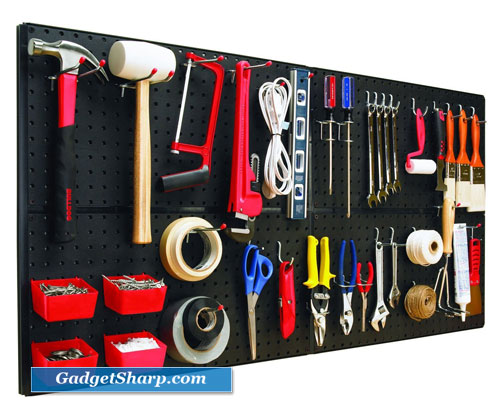 4. Storage Solutions 12-Piece Organizer [amazon]
12-piece organizer includes hanging wall rack, mesh pocket, small mesh pocket, 3 hanging trays, 3 cannisters with lids and 3 hanging hooks. Easy installation and multiple configurations. Great for kitchen, office, craft and workbench areas.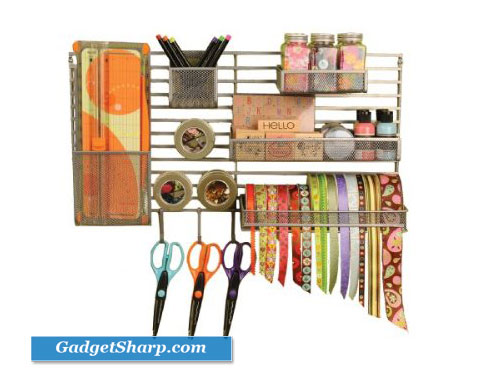 5. Topeak One Up Wall Mount Bike Hanger [amazon]
Elegant and functional, the OneUp is the perfect bicycle storage solution for apartments and other small spaces. A molded rubber bar keeps the front wheel stationary preventing the bike from twisting. Includes all mounting hardware plus a molded rear wheel pad to prevent tire marks on the wall. Size: 32 x 25 x 14cm (L x W x H)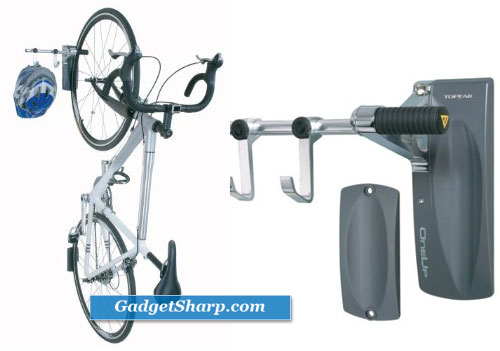 6. Arrow Hanger AH12/R Instahanger Clothes Hanging System [amazon]
The folding Arrowhanger extends from the wall to give you 12" of instant clothes storage space. Designed to be used in the laundry room for hang-drying clothes, this clothes dryer is also ideal for the guestroom, bathroom or even in the bedroom as a closet space-saver. Simply fold it out from the wall and hang tomorrow's outfit on it. When you are not using the Arrowhanger, it folds down instantly! Made of solid ABS plastic with chrome plated steel. Easy to install, includes instructions, mounting template and hardware for wood, hollow drywall or masonry installation. Holds up to 50 lbs.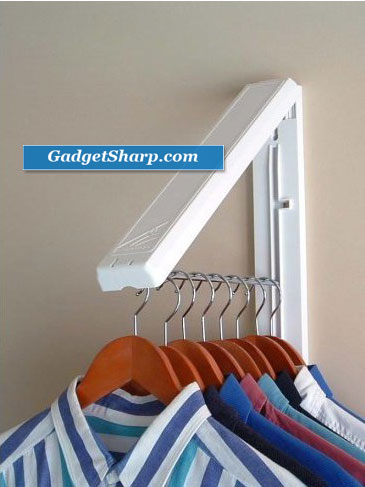 7. Better LifeStyle Wall-Mounted Ironing Board [amazon]
Unfold and iron with the Fold-Away Ironing Center! This ironing board mounts to a single wall stud, using normally unused wall space. Unfold, and you have a full size, sturdy, steel mesh ironing board. The wall mounted ironing board comes with padded cloth cover, convenient iron rest, and extendable clothes rack. Exclusive ironing board opens parallel to wall and rotates 180 degrees for use at any angle. Patented, space-saving design folds away when not in use to 25" X 23" with a mere 4.5" wall profile. .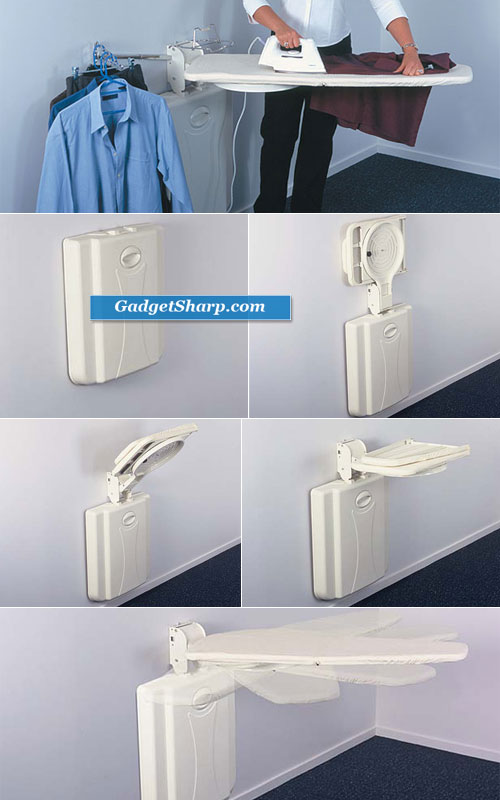 8. Umbra Cubby Wall Mount Organizer [amazon]
The Umbra Cubby is a stylish wall mounted organizer with two flip-down hooks. Metal hooks are perfect for coats and umbrellas. Mount with ease, with the included hardware. Espresso finish. Unit measures 10" x 4" x 3" Design: William Mark; patent pending. Umbra ? the worldwide leader in casual, contemporary and affordable design for the home.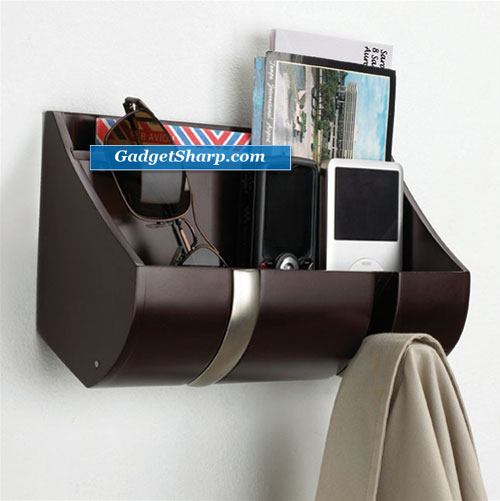 9. Fox Run Expanding Beechwood Coffee Mug Wall Rack [amazon]
* 13 hooks give you more storage space for your mugs
* Durable Beechwood construction for extra stability
* Expand to the size you like on your wall
* Not just for mugs- hang hats, jackets, etc on your wall
* Size: Extends to 3 1/2 feeet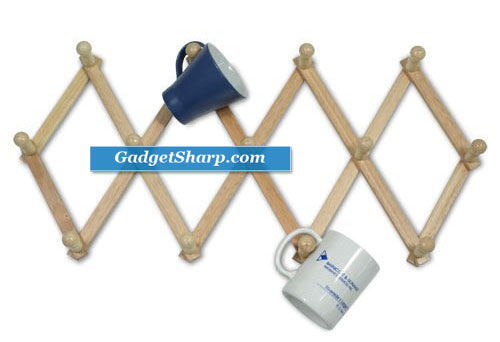 10. Indispensable SmartSpace Wall Mount Triple Dry-Food Dispenser [amazon]
* Wall-mounted dry-food dispenser with 3 13-ounce plastic canisters
* Portion-control turn knob dispenses about 1 ounce per twist
* As-needed dispensing helps keep food sanitary and germ-free
* Food stays fresh up to 45 days; 3 integrated measuring cups included
* Measures 5-3/4 by 15-1/4 by 16-3/8 inches; 90-day limited warranty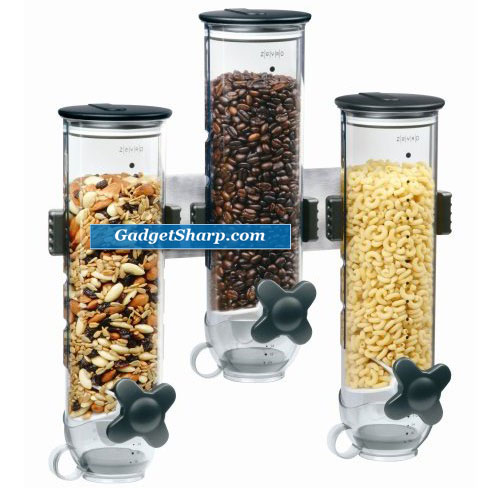 11. Zero Gravity 8-Piece Magnetic Spice Rack [amazon]
* Wall-mountable magnetic spice rack saves on counter space
* 6 plastic 1-3/4 ounce spice canisters with clear viewing windows
* Airtight seal to preserve freshness; lids adjust from closed to sprinkle or pour
* Spices sold separately; label stickers and mounting hardware included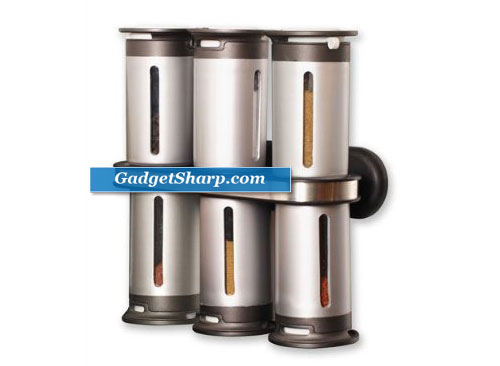 12. SEI Calabria Wall Mount Wine Rack [amazon]
Perfect for dining room or kitchen, this decorative wine rack has an abstract styling. Hand painted with a distressed rust color, the 8-bottle rack can mount on any wall. Crafted from Asian hardwoods, this wine rack is sure to enhance any wine collection. * The digital images on our website are as accurate as possible. However, different monitors may cause colors to vary slightly.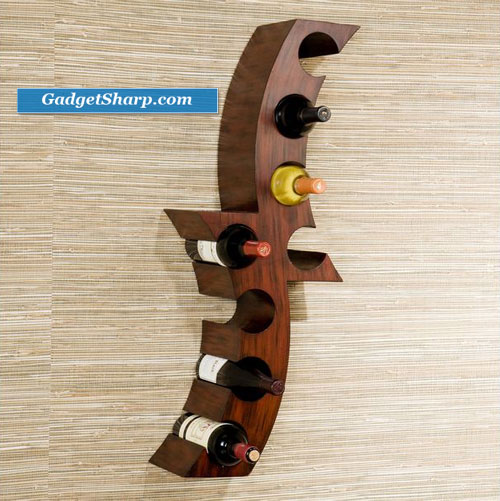 13. MIU 90009 France Knife Holder [amazon]
* Wall-mountable stainless steel knife holder
* 20-inch bar long enough to hold an entire collection of kitchen knives
* Made of attractive, durable 18/10 stainless steel; secure magnetic hold
* Measures 20 inches long, 3/4-inch wide, 2 inches thick