Decorative, fragrant oil warmers impart a fresh scent throughout your home. Oil warmers are available in a variety of colors and designs, and they are pleasant additions to a living room or bedroom, adding a subtle accent to home decor and diffusing a pleasant aroma in your home. In this post, we will present you with an unique selection of scented oil warmers, candle warmth or electric warmth. Just add a few drops of fragrant oil for a gently scented glow!
1. A Women Prayer Oil Warmer Burner Diffuser Fragrances [amazon]
A trio of women bows their heads in reverent reflection, offering up a heartfelt prayer of gratitude and joy. From within the heart of their circle, a glowing votive gently warms a pool of aromatic oil on the transparent plate above. An elegant decoration that inspires a feeling of serenity! Stone, resin and glass. Candle and oil not included. 5 1/4" diameter x 4 3/4" high.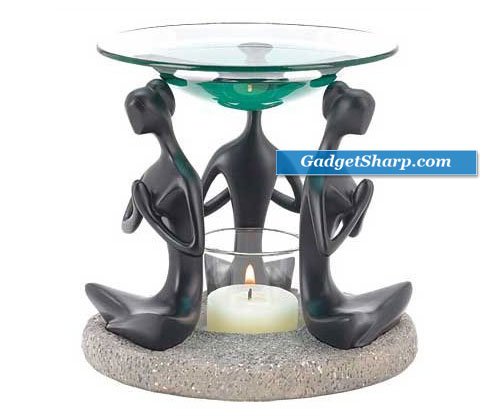 2. Folk Art Porcelain Tear Drop Oil Warmer Candle Holder [amazon]
Ceramic teardrop holds a generous dollop of scented oil
Features a long-lasting fragrance that fills the air
Made of porcelain with metal stand
Oil and tea light candle not included
Measures 4 inches diameter x 7.63 inches high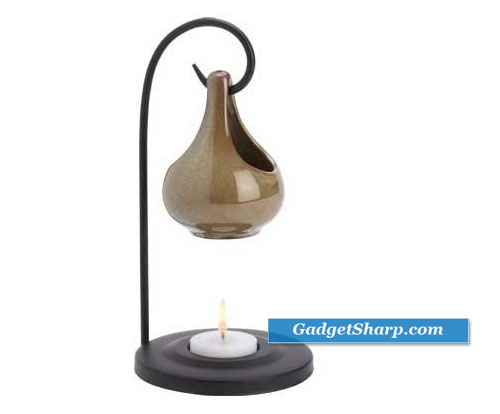 3. Purple Tie Dye Electric Oil Warmer with a Mirrored Base [amazon]
Purple luxury fragrance lamp with mirror base. Matching oil dish included. Dish is removable for easy clean up. Uses one 35 watt halogen bulb (included). Replacements offered through us (item HMM11). Gift boxed. Measures 5" x 4.5". Power cord measures approximately 5' in length. Dimmer switch allows you to control the intensity of the light to warm the oil to your desired fragrance level.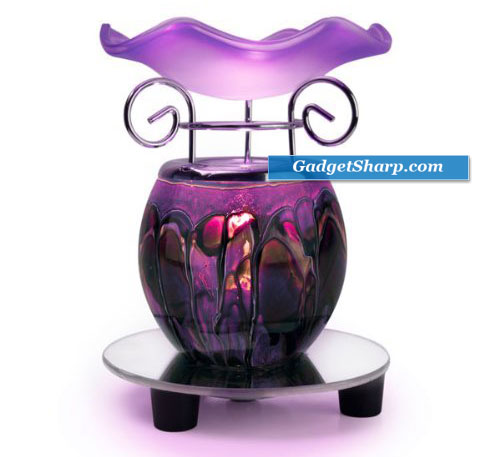 4. Soapstone Circle Oil or Tart Warmer [amazon]
This warmers uniqueness lies in it s simplicity. It has a very simple design which appeals to eyes instantly. The bowl rests on a circle, the burner measures 5 inches tall and the bowl is 3 inches for tarts or oil.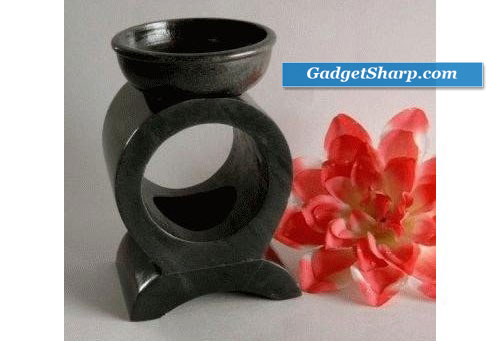 5. Green, Purple, and Blue Electric OIL Warmer [amazon]
This unique electric fragrance oil lamp is designed to fill the area with a refreshing aromatic scent. Unlike candle based oil warmers, you are in control. Use the dimmer to adjust the halogen light to warm the oil a little or a lot, depending on how much scent or light you want in the area. The fragrance oil lamp can serve as a nightlight, or create a relaxing mood with soft light and sweet smelling scents.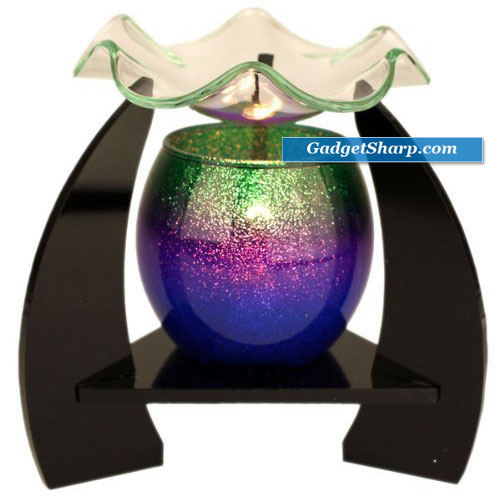 6. Spiral Oil Warmer [amazon]
A spiral base supports a beautiful clear glass oil dish
A warming tealight offers a romantic glow
Add a few drops of oil for fragrant scent
Candle and oil not included
Measures 4-3/4 diameter X 4-1/2 inches high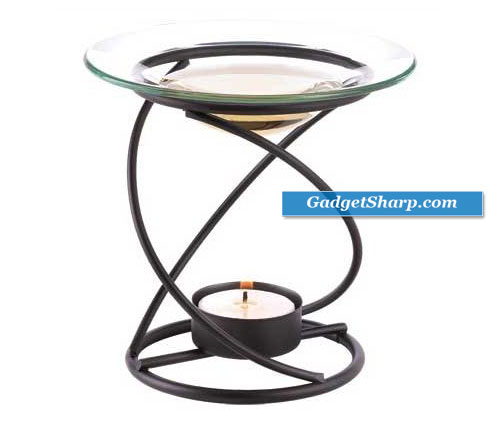 7. Alabastrite Dragon Oil Burner on Fire [amazon]
Warm fragrant oils accent this mystical piece, which has a dragon peering over a 4 3/4'' diameter glass dish, supported by acrylic flames. Alabastrite with glass dish and candle cup. Uses tealights (not included) 9'' x 6 3/4'' x 7 1/2'' high.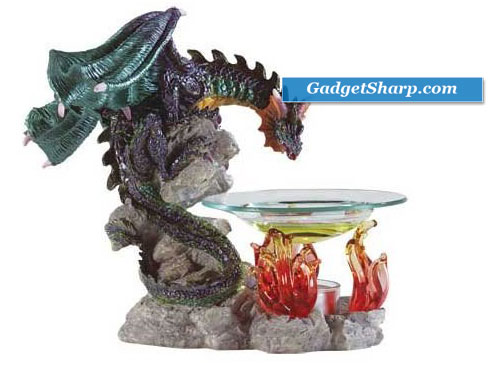 8. Lantern Style Orange Electric Oil Warmer [amazon]
Lantern style oil warmer measures 6.5" tall, 6.25" diameter. Orange cylinder with bronze tinted dish for the oil. Uses one 35 watt halogen bulb (included). Item Weight: 3 lbs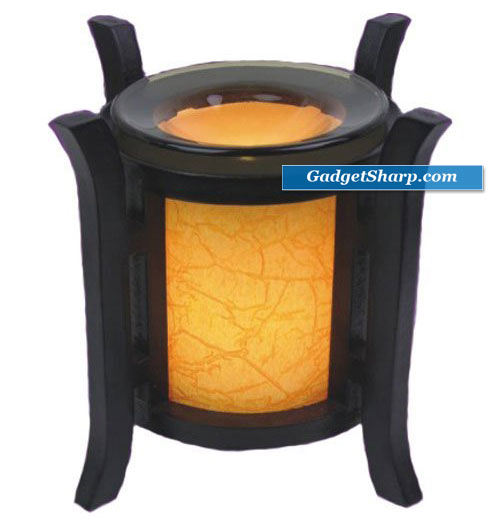 9. Midnight Moon Oil Warmer [amazon]
This midnight-blue moon sculpture sparkles with the mysteries of the night. Glazed porcelain. Uses tealights (not included). 5" x 2 5/8" x 6 1/2" high.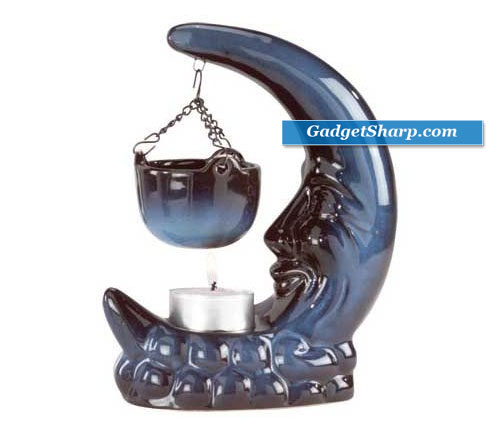 10. Black Metal Oil Warmer [amazon]
Sinuous curls of matte black wrought iron provide a striking counterpoint for a sparkling glass oil dish. A tealight gently warms your favorite scented oil for a delicately fragrant glow! Metal with glass cup. Tealight and oil not included. 5 3/4" x 4 5/8" x 5" high.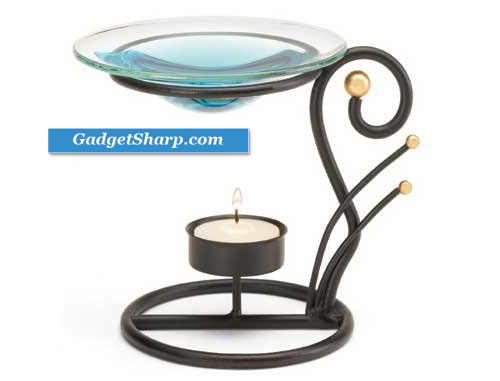 11. Stove Design Oil Warmer [amazon]
Stove-shaped oil warmer features a kettle oil well, skillet tealight holder inside the ''oven.'' Blue ceramic. Tealights only (not included). 4 1/2'' x 3 3/4'' x 5 3/4'' high.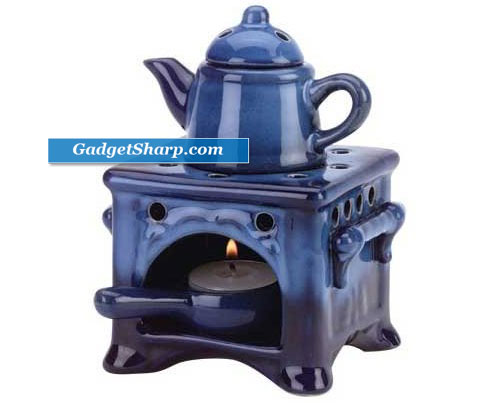 12. Asian Wooden Electric Oil Warmer and Tart Burner [amazon]
Beautiful Asian-style electric oil warmer brings a taste of the orient to any room.
Condition: Brand New
Dimension: 6" High X 6" Wide
Material: Wood and Glass & Glass Dish
Power: 48" Power Cord with Dimmer
Light and Heat Source: 35 Walt Light Bulb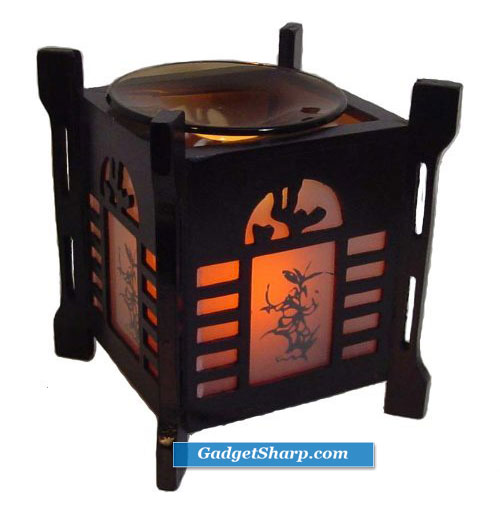 13. Midnight Dragon Oil Warmer [amazon]
The seething light of a candle becomes an eerie backdrop for a coal-black dragon as he covets his treasure: a gleaming glass vessel filled with scented oil. A daring decoration that delights the imagination! Polyresin and glass dish. Tealight and oil not included. 5 1/2 inches x 5 3/4 inches x 4 1/2 inches high.