Whatever our age, wherever we are - Santa Claus is a beloved sign of the holiday season. Santa Claus figurines help capture the spirit of Christmas and offer us a fun way to spread holiday cheer. Check the 11 Beautiful Santa Claus Figurines listed in this post, and hope these colorful and festive Santa can help to brighten up your holidays and add to the warmth of the home at the holiday season.
1. Santa Claus Tabletop Crystal Figurine [amazon]
This charming Thomas Kinkade Santa is handcrafted in shimmering crystal and features a fully sculpted and individually hand-painted Thomas Kinkade Christmas village with 3 buildings, a skating pond and more, all nestled within Santa's belly
Santa Claus carries a lantern - the trademark symbol of the Painter of Light
It lights up and moves! At the flip of a switch, the festive village illuminates as Santa's miniature sleigh and reindeer circle around the lively scene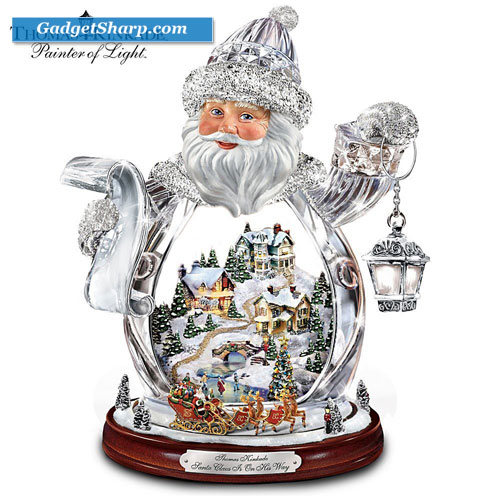 2. Welcoming Christmas Elaborate Victorian Santa Claus in Sleigh Figure [amazon]
Luxuriant Victorian Santa Claus figure is all decked out in his red suit and sits in his ornately decorated regal sleigh full of presents and holiday decor.
Accented with sugar plums and berries
Sleigh is adorned with sparkly holly leaves and faux red crystals
Dimensions: 15.5"L x 8"W x 16"H Material(s): fabric/resin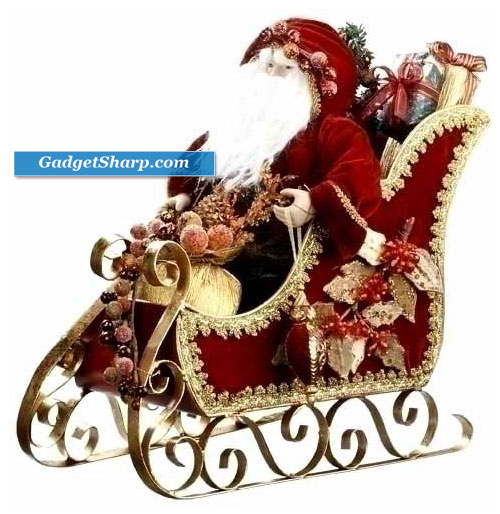 3. 18" Elegant Standing Santa Claus Christmas Table Top Figure with Pinecones [amazon]
Regal green and gold brocade robed Santa Claus holding glistening golden pine cones and pine needles
Dimensions: 18"H x 9.5"W x 5.5"D Material(s): fabric/resin/wood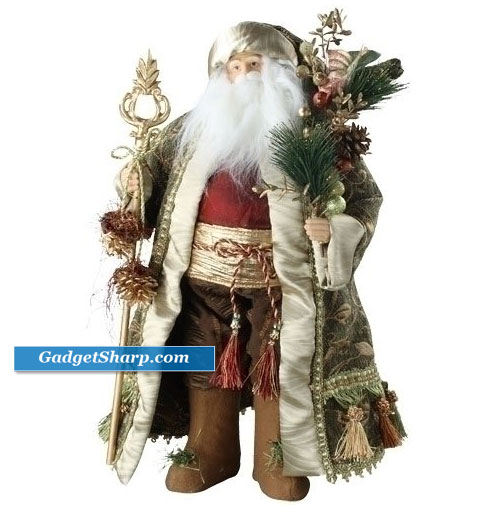 4. Jim Shore Heartwood Creek from Enesco Santa with Baby Jesus Figurine [amazon]
A Heartwood Creek favorite, Santa kneeling by Baby Jesus in reverence for the holiday. Hand crafted and Hand painted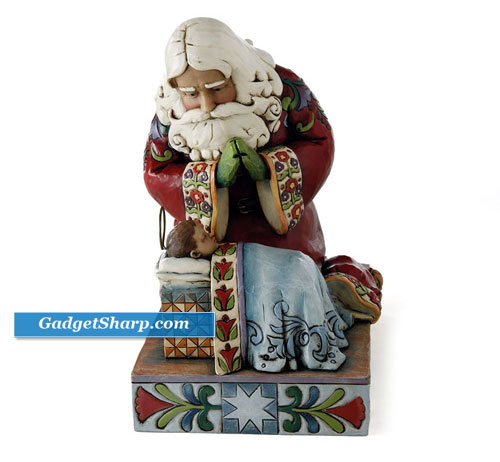 5. Moving Santa Claus Tabletop Figurine [amazon]
The Painter of Light 's much-loved holiday artwork graces Santa's majestic costume and the snow-sprinkled village scene at his feet
Meticulously handcrafted of artist's resin, this three-dimensional Thomas Kinkade tabletop Santa figurine depicts Santa Claus' enduring kindness and holiday spirit; masterfully hand-painted to exhibit Santa's winter white ensemble, rosy cheeks, his blue bag of silvery snowflakes, and the festive decorations on the village church and homes
Village features 8 quaint hand-painted buildings, a handsome horse-drawn carriage, busy villagers and much more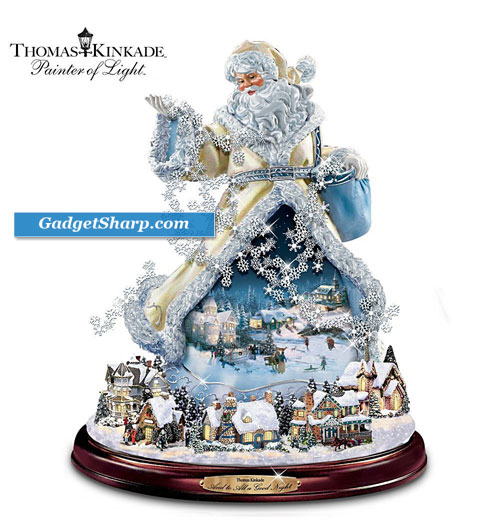 6. Disney Santa Claus Christmas Tabletop Figurine [amazon]
Celebrate Christmas in Disney style with this illuminated tabletop Christmas decoration showcasing over 25 Disney-inspired classic toys (Licensed by Disney)
Exquisitely handcrafted in artist's resin, this stunning Santa Claus figurine is fully-sculpted, expertly hand-painted in authentic vintage colors and enhanced with 1935 Disney Studio Christmas card artwork on Santa's overcoat
More than 25 handcrafted replicas of favorite Disney-inspired toys from the 1930s-1960s fill Santa's bag and surround this Christmas treasure, including Mickey, Minnie and Pluto "marionettes", Donald Duck "wind-up toy", Dumbo "drum bank", Chip 'n' Dale "figurines", Pinocchio "doll" and more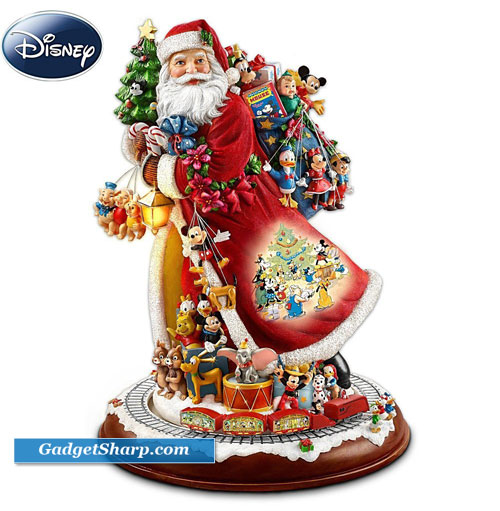 7. Father Christmas Santa Claus Figurine [amazon]
This sparkling treasure features Saint Nick in a striking overcoat lavished with first-ever plush faux fur
15 illuminated sculptural village scenes , including intricate hand-painted buildings, a skating pond, cheerful villagers and more, nestle within Santa's festive coat from head to toe Santa's big bag of toys, mittens, snowy-white beard, frosty Christmas tree and illuminated golden lantern and windows all add more holiday delight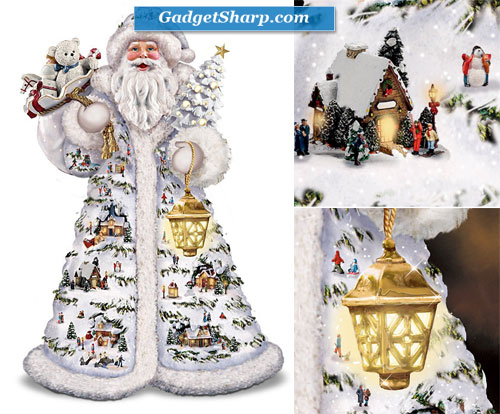 8. Storytelling Santa Tabletop Figurine [amazon]
Unique Santa decoration is handcrafted and hand-painted in Old-World style as he sits in his chair next to a table of milk and cookies, ready to tell the beloved poem
Thomas Kinkade's storytelling Santa features rich details, including luxurious fabrics and faux fur trim on his velvety red suit; plus, a snowy white beard that has been weathered for soft, lifelike qualities Look closely and see Thomas Kinkade's "Cobblestone Christmas" artwork in an illuminated frame behind Santa - the artwork lights up with just the flip of a switch!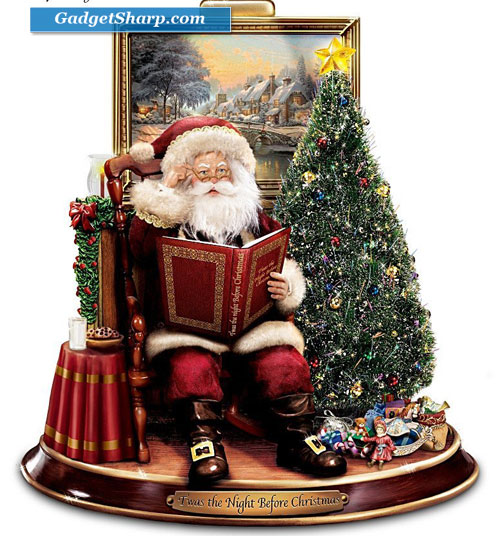 9. Amusements Animated Musical Santa Claus Christmas Train with Rotating Gears [amazon]
Delightful locomotive features Santa in the driver's seat while his toys playfully rotate behind him Train plays the tune "We Wish You A Merry Christmas" Wind up feature on bottom of train
Dimensions: 7.5"H x 11"W x 3"D Material(s): wood/resin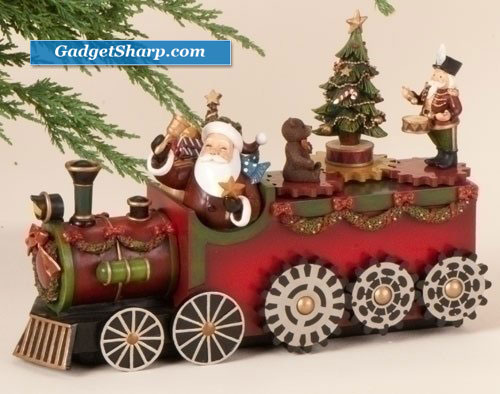 10. Heirloom Porcelain Santa Claus Figurine [amazon]
16 of Kinkade's most beloved holiday scenes are showcased in a captivating "quilted" design on Santa's flared cloak, including "Victorian Christmas," "Stonehearth Cottage" and "Home for the Holidays"
Santa's expressive face and overflowing pack as well as tassels, trims and "stitching" kissed with genuine silver add more holiday delight to this one-of-a-kind treasure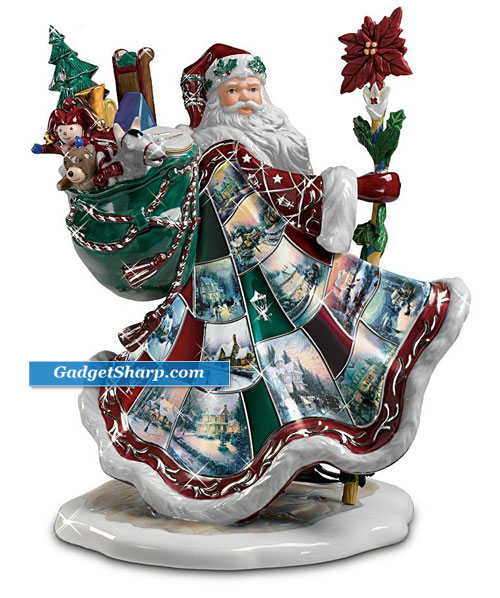 11. Santa's Sleigh Illuminated Figurine [amazon]
This dazzling collecting first showcases Thomas Kinkade's first ever illuminated sleigh - A Bradford Editions exclusive
Tabletop Christmas decor features nine Thomas Kinkade classic holiday scenes faithfully reproduced on Santa's sleigh and the reindeer's saddle blankets
Long-lasting LED lights provide up to 10,000 hours of soft illumination; for optimum enjoyment, recommend lighting for no more than 5 hours per day