Here on GadgetSharp we try to find things that will inspire you, give you ideas and make your home a better place to live. Today we decided to make a collection with the modern and creative bookshelves that we collected around world and here is 11 bookshelves we believe can spice your home.
1. Autumn Shelf [link]
Charming bookshelves in sheet metal of steel, hand -treated and lacquered to give a rust effect. They can be joined together showing a sort of x-ray of a leafless trees.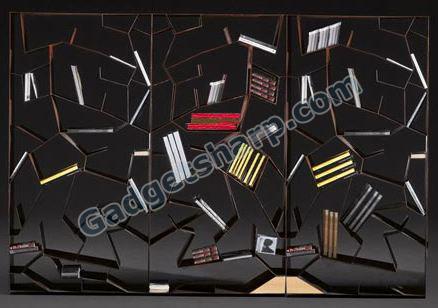 2. Bookworm Shelf [link]
Named as Bookworm Shelf, the new style is an interesting and attracting bookshelf that can be constructed in different shapes. Its curvy structure is durable, functional, and eye-catching. Approximately 20 pounds can be stored between each of the seven bookend supports. Mounting hardware included. Made by Kartell of batch-dyed fire-retardant PVC.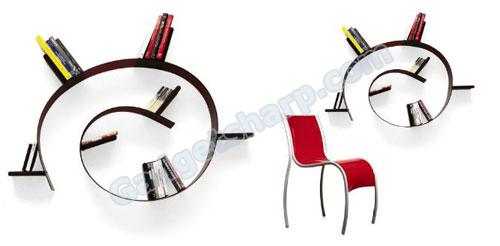 3. FlexiTube Modular Shelving [link]
FlexiTube is mobile and can be changed into a transparent room partitioner. This fantastic tube rolls and fits into any corner and changes into a sculpture of a shelf. The various elements get support through their velvety surface.
Inside each tube is a shelf for storage which serves as a visual horizontal line. FlexiTube is available in two different sizes and can be combined in any number either lying side by side or on top of each other. Chocks will support your FlexiTube sculpture in case that you want to set it up without the support of a wall.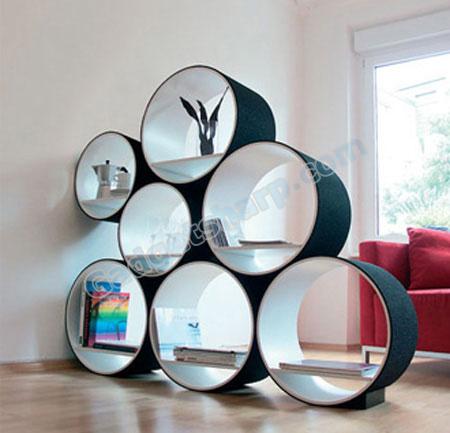 4. Catcher Shelf [link]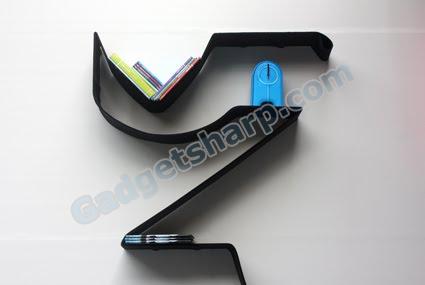 5. Bookshelf by Ron Arad shaped like the United States of America [link]
Yes, that is actually the name of this bookcase designed by Ron Arad, a designer based in the United Kingdom. I was browsing the content posted by people I follow on Tumblr, and I discovered this bookshelf that unites books in a very interesting way. It was apart of an exhibition held in London at the Timothy Taylor Gallery awhile back. Unfortunately, it isn?t buyable, but at least you can still imagine the many possibilities with it.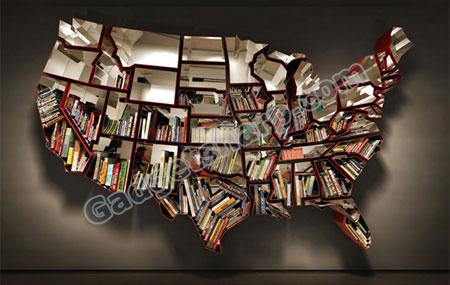 6. Storyline Bookshelf [link]
Sound finds a physical identity in the beautifully crafted Storyline bookshelf. By first processing a word into soundwaves, the physical shape is then mirrored in powder-coated steel, using an explicit folding technique. Appropriately enough, the word that inspired this lovely piece was "bliss".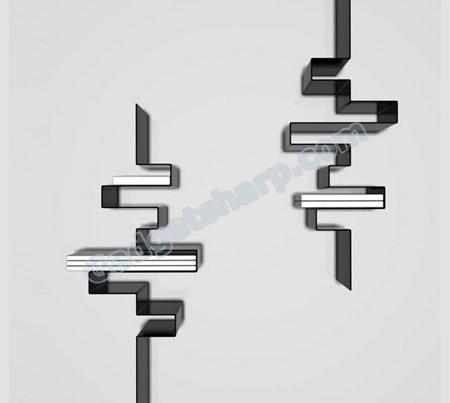 7. The more shelfing system [link]
More is an extremely versatile system of modular furniture for internal and external environments with multiple functions, enabling one to interpret their space freely and dynamically, changing the face of the home environment or public spaces. It offers an infinite variety of solutions to its users in the widest imaginable circumstances.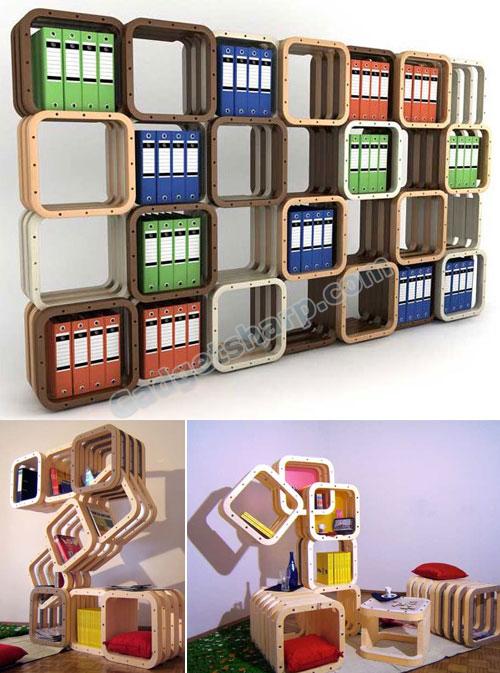 8. Artistic shelves for a natural expression [link]
The Matching Tree is a system furniture, utilizing the expansion and rotation of supporting pillars to match the furniture with the surrounding interior of all heights and shapes, without any drilling or destructing the buildings. The Matching Tree also consists of ladder, which is required when reaching for the upper bookshelves; normally the ladder is embedded into the bookshelf, and may be lowered when required.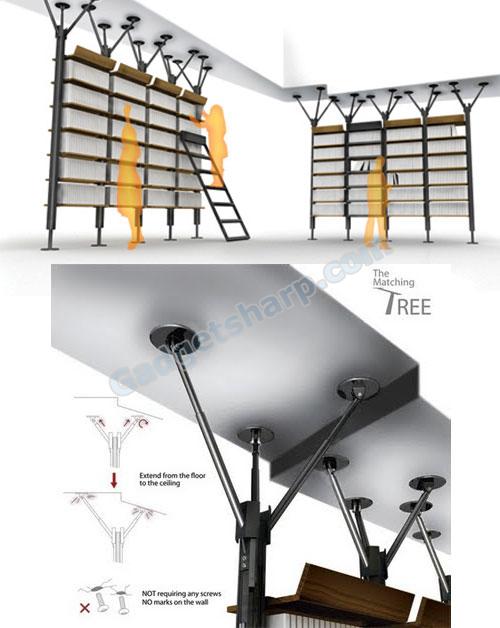 9. Artistic shelves for a natural expression [link]
?Unusually beautiful? is the only way to describe the designs of Maria Yasko, a Russian designer inspired by nature and the surroundings. Each of the designs seem to be a perfect fusion of art and design and the lovely modular shelving unit concept pictured here, is no exception.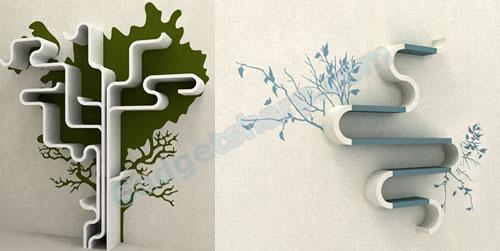 10. Branch Shelf [link]
A little bit of nature in your home d?cor never hurts, on the contrary, it has a soothing effect on the residents of the house as one can?t help but think of natural beauty as another name for relaxation. After the success of the branch bookshelf, this time a simple branch shelf is here to strike a chord with you. This very lovely solid wood shelf available in chocolate, white and gray shades is stylish and unconventional. Priced at $99, this branch shelf can be bought here. It can be installed in minutes with a simple assembling process and mounting hardware, that is included in the price. So take this precious piece of nature and add some natural charm to your home d?cor.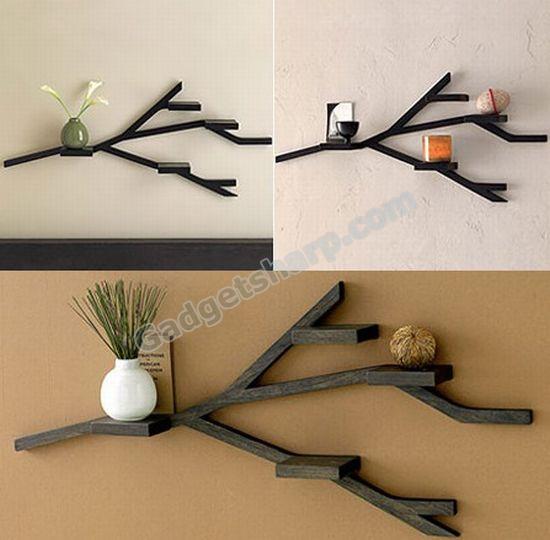 11. Tangram [link]
Called Tangram, the shelf system beautifully combines functionality and flexibility in its mission to create interaction between storage unit and items that are being stored.
By creating the illusion of weightlessness, the designers succeed in giving books as much prominence and appeal as the bookshelves, which come in a range of funky designs and shapes.