12 Modern and Stylish Fruit Bowls/Holders
The Fruit Bowls/Holders add both style and utility to you home and is moreover highly in showcasing the natural beauty of fruits. They can be made of different materials: glass, stainless steel, wood, plastic or bamboo. They come in different shapes and are used for various fruits. In this post, we rounded up 12 Modern and Stylish Fruit Bowls/Holders which will definitely help to bring elegance and style to your table as well as display your fruit in an appetizing and appealing manner.
1. Stelton Embrace Fruit Bowl [amazon]
Elegant designer fruit bowl. The embrace fruit bowl, which is made of stainless steel, has a tight, decorative expression, and it creates a nice contrast when it is full of fresh fruit. In addition to being a beautiful stand alone fruit bowl, this item can also be used with the Stelton bread bag, which fits perfectly into the bowl changing the look and adding the color of your choice to your decorative bowl.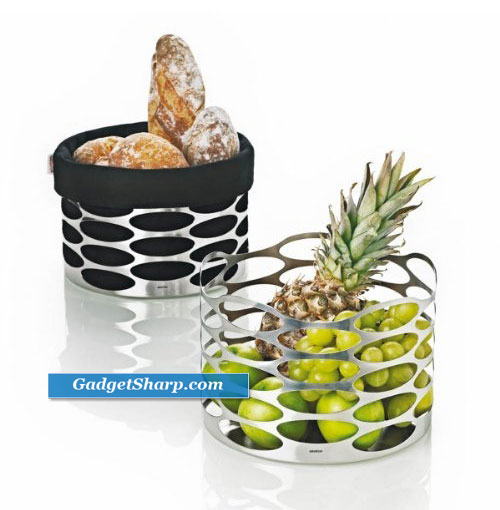 2. Universal Housewares Wave Fruit Bowl [amazon]
Round Stainless Steel Bowl
super fine wave style upper edge
wall surfaces has patterned holes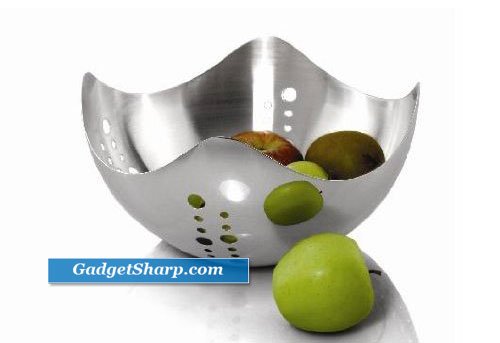 3. InterDesign Twillo Fruit Bowl, Bronze/Sand [amazon]
Woven wire in bronze or metallico makes the Twillo collection unique and stylish. Steel wire holds these space-saving pieces to give your home added appeal. This fruit bowl looks great on any counter, with a woven metal wrap. Resipreme plastic is durable, and will stand up to years of wear and tear.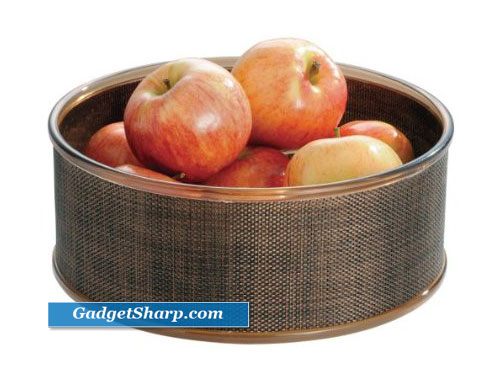 4. Fruit Bowl, Chrome Steel [amazon]
Fruit loop is an avant-garde fruit bowl which is handmade from a single piece of free flowing chromed steel wire. It will add a piece of sculpture to any table and is ideal for holding fruit. We want to show that designed products can be made affordable without compromising their quality. The aim is to create innovative products that will charm and entertain.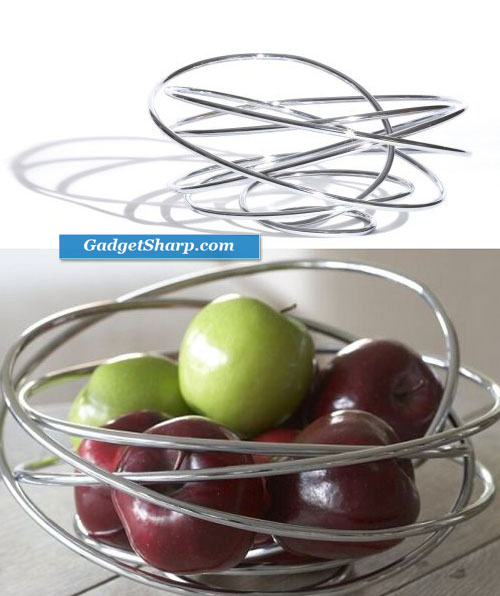 5. Arthur Court Monkey Banana Holder with Bowl [amazon]
Whimsical banana holder with accompanying bowl; measures 9-1/2 by 17 inches
Elegantly crafted with the designer¿s premium signature aluminum alloy
Two charming monkeys adorn the top; ideal as a housewarming or shower gift
Easy to assemble; simply insert and tighten the two included screws
Hand washing recommended for best long-term results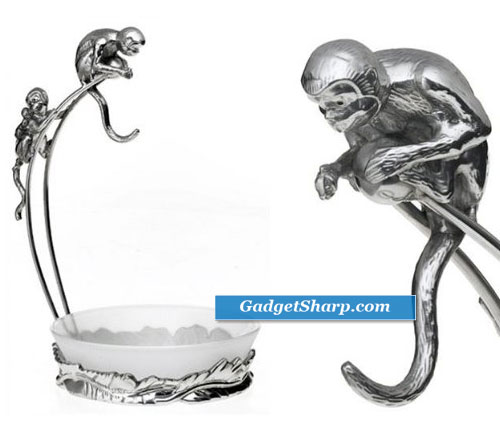 6. Menu Dropp! Fruit Bowl [amazon]
Fantastic fruit bowl. Like a large, soft drop of paint, frozen at the precise moment it hits the table and breaks into a spectacular, colorful spray.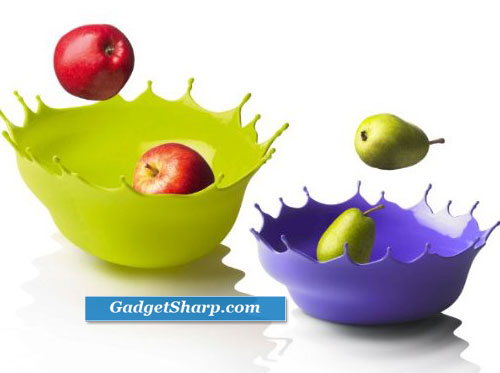 7. Tag Winter Bouquet Wire Berry Bowl [amazon]
Intricate berry design with an elegant look. Antique gold colored iron with clear powder coated finish.
Antique gold colored iron
Clear powder coated finish
Intricate berry design
11.25″ diameter
3.5″ tall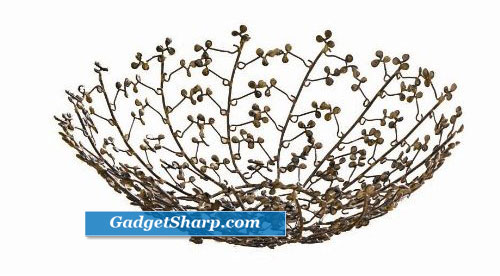 8. Chilewich RayTray Green [amazon]
When it was first introduced in 1997, the Chilewich RayTray was an inventive and retro-modern take on everyday household storage, a true meeting of design and function. Retired in 2000, and now back by popular demand, New York designer Sandy Chilewich's award-winning RayTray carries modern storage into the 21st century. Covering each frame is a stretch netting fabric which, thanks to Chilewich's patented mechanism, creates a concave plane, the mesh material is breathable, removable, and machine-washable, making RayTray ideal for storing vegetables and fruits. Available in green and off-white. Design: Sandy Chilewich Year: 1997 Material: mesh fabric and metal Dimensions: H 19″ x W 18″at base x W 9″ at top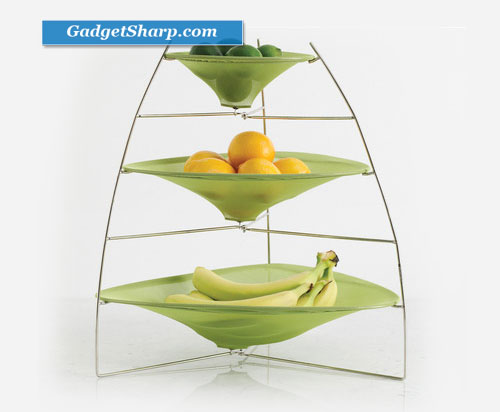 9. Nifty 5806 Fruit Combo Rack [amazon]
Gravity fed fruit dispenser holds 10-piece of fruit
Chrome finish and sleek design
Limited contact points for even ripening
Contains banana hook
Dimensions 16-inch length by 4-inch width by 18-inch height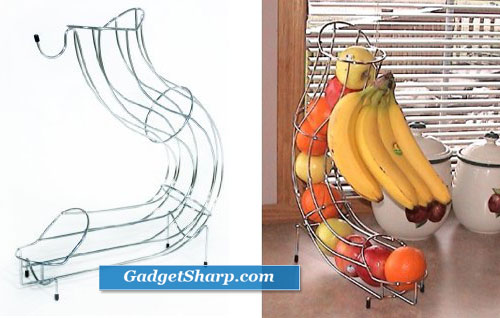 10. Alessi "Stanza Dello Scirocco" Fruit Holder [amazon]
Designed by Mario Trimarchi in 2009
18/10 stainless steel with black epoxy resin
"La Stanza dello Scirocco" is a range of items born out of the abstract and motionless atmosphere of a magic place: the room in large Sicilian country homes where one is forced to seek shelter from the sultriness while waiting for the sirocco to die down
Handwash recommended; Do not expose to wetness for prolonged periods
Design is inspired by the shadow created by cards blowing and scattering in the wind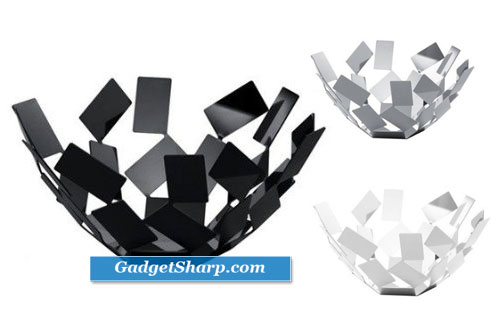 11. Natural Living Bamboo Apple Collapsible Fruit Basket [amazon]
Collapsible Fruit Basket, 10.1 by 11.6 by 8-inch / 25.7 by 29-1/2 by 20-1/2cm (opened)
Apple shaped, spiral-cut fruit basket designed with a unique folding feature
Collapses flat to be used as a handy trivet on table or countertop
Ideal to display fruit, breads, potpourri and more
Made of bamboo sourced from sustainable forests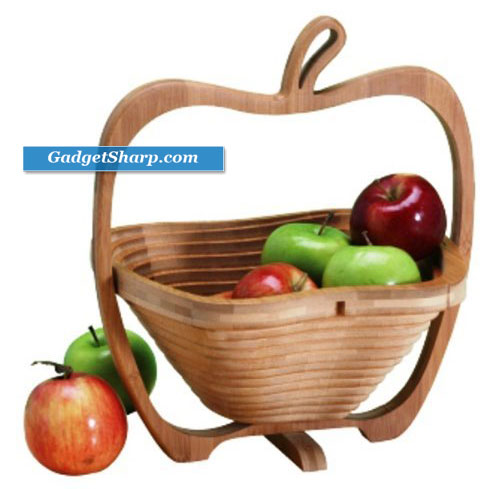 12. Euro Starburst Fruit Bowl [amazon]
Open design lets fruit breathe
Great for fruit, vegetable or bread
Open design cradles the fruit, keeping it fresh longer
Eye-catching powder coat finish
Size 5-1/2-Inch H by 12-3/8-Inch Diameter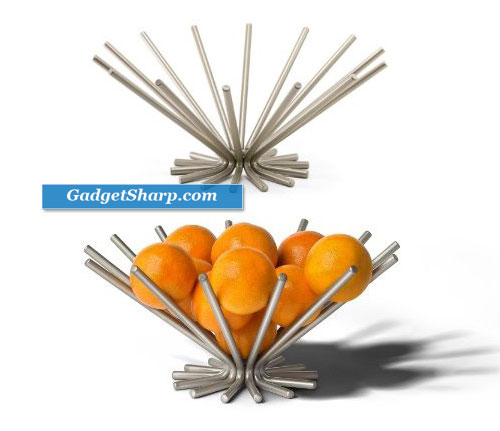 Got anything to say? Go ahead and leave a comment!