Want to share the music but not the headphone? Don't worry, with the cool Headphone Splitter, everyone can listen to the same tone from the same device with different headphone. Here we have "Jack Rabbit" - a two-way headphone spillter specifically designed by lovebirds and "RockStar" - a five-way headphone spillter which you can not only share but also mix your music with friends.
Read More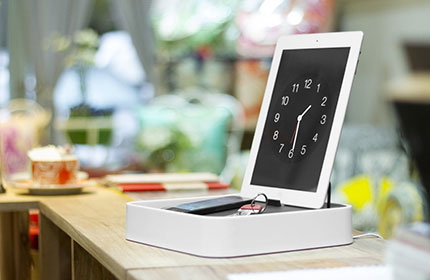 Smart phone, tablet, iPod, there are so many devices around but they just don't share the same port always. Moreover, leave your device here and there doesn't seem like a good habit. Hence, we need a place to rest our devices and power up them - charging station is invented under such background. There are many options on the market and the Bluelounge Sanctuary4 is one of our favorites.
Read More

If you are one of people who like to show fresh cut flowers in vase, then you probably will love this florida vase which help you to create a magical display where flowers will appear to be standing on their own. The vase includes four brass stakes which can be inserted into the acrylic vase. When you place flowers on those stakes, they hide inside the flower stem and become completely invisible. Those stakes also help draw water from the ceramic base into the stem to keep flower freshness. Having something like that on your table will be extremely lovely during this winter time.
Read More

More than a Pet Cam, PetChatz is an innovative communication system designed for people who want to interact and connect with their pets anywhere and anytime. Equipped with microphone, display screen, camera, sound / motion sensor, speaker, and a treat dispenser, PetChatz is able to provide you and your pet a joyful sensory experience. On one hand, you can check them through your computer, tablet and smart phone. And one the other hand, they see you, hear you, and feel your love with the tasty treats and soothing scents you provide. Another bonus of this device video recording and sharing. If you find your pets are doing something interesting in front of camera, you can just record and save them to share with friends or family later. Check the video at the bottom to find out how it works.
Read More

Take a look at this charming silicone hat-shaped cupcake molds with adorable rabbit-ear forks. Now you can really pull a rabbit out of a hat or no cake in your next next cupcake batch. You'll get two sets in each full-color gift box. Are you ready to say the magic word and get your cake?
Read More

Feel tired every morning? How about starting your day with a fried side of fun! Take a look at the 4 egg molds presented in this post. With the help of those cool mold, you can easily turn egg into attractive egg art. Skull, owl, gun or sun, which shape you want?
Read More

Designed by Tae-Ryung Byun and Hye-Rim Lee, S.I.A.M. is a space-saving concept induction cooktop that can be mounted on the […]
Read More

Chocolate makes people happy. While sharing it in the chocolate fondue with your friends and family in this holiday season will make you even happier. Berries, fruits, cookies, icecream, looking at those yummy food be covered in chocolate just bring you double enjoyment. Cocoa, the elegant chocolate fondue set with a large glass bowl on a bamboo stand and 4 bamboo skewers, is a real eye-catcher. Now, you can enjoy the delicious chocolate treats with your friends or after a romantic dinner in front of this beautiful glass fondue.
Read More