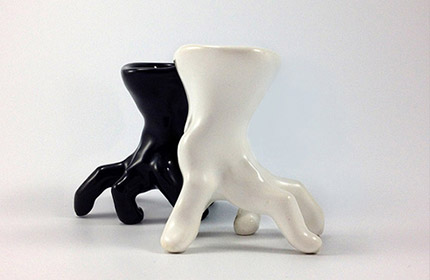 If you are bored with your current old shot glasses? Designed by Christopher Cordingley, this cool new Shot Glass Crawlers is there for you. These strange ceramic shot glasses are shaped like the human hand with solid fingers holding up […]
Read More
Find a little dull at home? Want to add some life to the space? Maybe, it is time to have a little aquarium at home. Coming with three sizes (4 gallons, 8 gallons and 16 gallons), the biOrb Aquarium combines the looks of a traditional fish bowl with the performance of a 'hi-tech' aquarium. Its self-filtering system uses 5-stage method combining biological, mechanical, and chemical filtration, keeping water healthy and clear for months at a time. Made from crystal clear acrylic that is 10 times stronger than glass, the stylish, globe-shaped design will prove an eye-catching feature and silver trim looks great in home or office.
Read More

Hanaga Tap, the unusual nose-shape outlet is another crazy design from Japan-based design studio called ekoD Works. ekoD are known for their tongue-in-cheek approach to product design and this "nose" will transform your outlets into a body part you never expected to see sticking out of the wall! This funny nose plugs into a standard two-pronged outlet and things can then be plugged into its nostrils. What else it does? Humm, nothing. So why we need that? Just in case you want to add some fun to your electrical outlets. But anyhow, this is a fun, eye-catching and a bit creepy design. Available in three colors: pink, black, or white.
Read More

With the help of designers from Mathy by Bols, kids might have more fun when spend the night on the bed. Right now, they have three types of beds: a tent, caravan, and cabin, which are a perfect combination of sleeping quarters and playhouse that demonstrate Mathy by Bols' key words of "creativity, versatility, and flexibility."
Read More

Just when you think ice trays have reached the pinnacle of design, along comes these cool new designs. From the super cute frozen peas to a bit scary ice shark, now you can enjoy your cold beverage with some new adds-on. Let's take a look at these cool new designs.
Read More

Designed by Georgia-based industrial design student Nicholas Baker, the Prism Nightlight is a minimalist, battery-powered nightlight that inspired by the […]
Read More

If your child dreams of being a brave firefighter, an smart astronaut or a beautiful princess, then they'd love to sleep in below duvet cover sets, which can make their dream come very soon. High quality photograph is printed on duvet and cover to make the beddings look like a real suit/dress for firefighter, astronaut or princess.
Read More
Designed by Sam Brown, this unusual hat stand valet allows to undress and put your pocket goods into a specific spot. But all those functions are the reason for its insane price tag £2,886.00. The valet is crafted completely from walnut wood and topped with a small bronzed skull, which makes this piece so unique and prefect to any bachelor pad. The rest of the valet remains traditional, with a place to rest your items, hang your coat and place your shoes for good measure.
Read More