11 Modern and Stylish Napkin Ring Designs
The napkin ring, sometimes called serviette ring, was originally used to identify the napkins of a household between weekly wash days. The standard napkin ring is a simple ring made from skewers. But in these days, we can see more and more exquisite and luxurious napkin rings designs. Some of them are even studded with Swarovski crystals (pretty! pretty!) Here are 11 Modern and Stylish Napkin Ring Designs we collected from the world which will be sure to spice up your dinner table.
1. Ant Napkin Rings Set [link]
So much better than ants taking away your picnic….these ant napkin rings are sure to bring charm and conversation to your dinner table.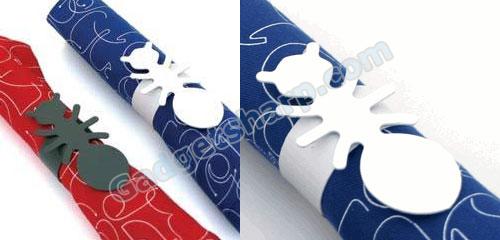 2. Starfish Napkin Rings [link]
These fanciful starfish napkin rings are available plated with 14 kt gold and studded with yellow Swarovski crystals. Perfect as a gift or for your own table. Beautifully delivered in a L'Objet presentation box.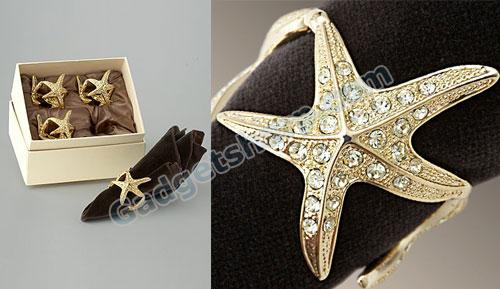 4. Chirp! Napkin Rings [link]
These adorable napkin rings will look great on almost any table setting with its vibrant colors and wire frame detail. Watch your guests dine in delight with this new decorative on your dining table. Also a great idea as a housewarming gift or for any occasion.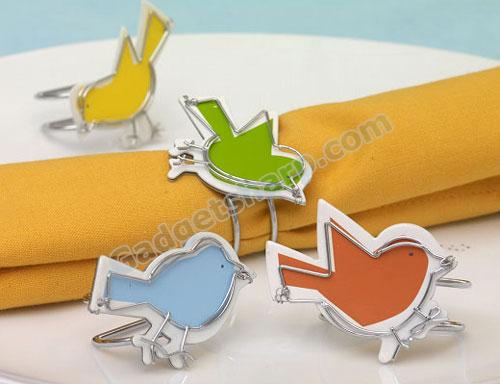 5. Coral Napkin Rings [link]
This set of four quality napkin rings features exotic enamel coral accents that bring a splash of vibrant color to each place setting. Also available with platinum plating, the rings are adorned with Swarovski crystals and come presented in a luxury gift box.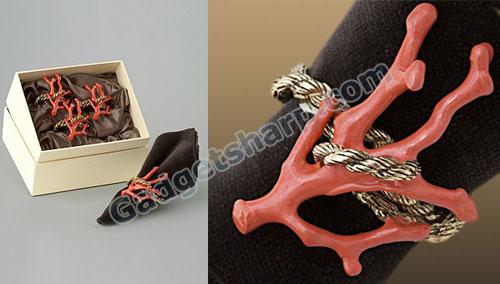 6. Mustache Napkin Rings [link]
Each ring is laser cut from acrylic, and the mustaches are made of chalkboard so the rings can double as placecards!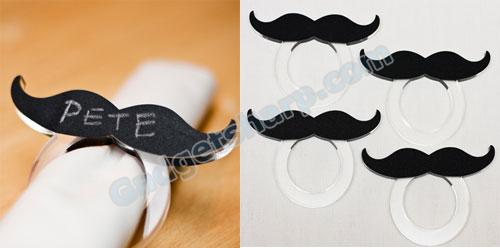 7. Swan inspired napkin holder [link]
This napkin holder holds the napkin the way a lover holds their mate, becoming one with the napkin, embracing it. Made of pure beautiful silver, perfect and graceful. The design of this sculpturistic object is partly inspired by the natural beauty of a swan. The aesthetics compliment the napkin as well as hold it.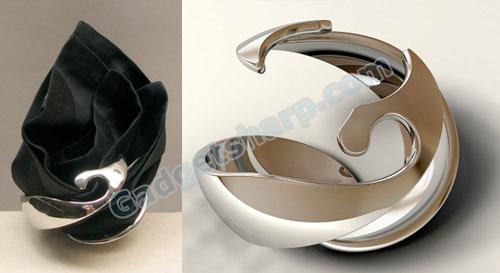 9. Leaf Napkin Rings [link]
Leaf Napkin Rings. Extra thick felt gives these leaf-shaped napkin rings a fun fall look. Use them for Thanksgiving or all season long to accent your table and make any autumn dinner more festive.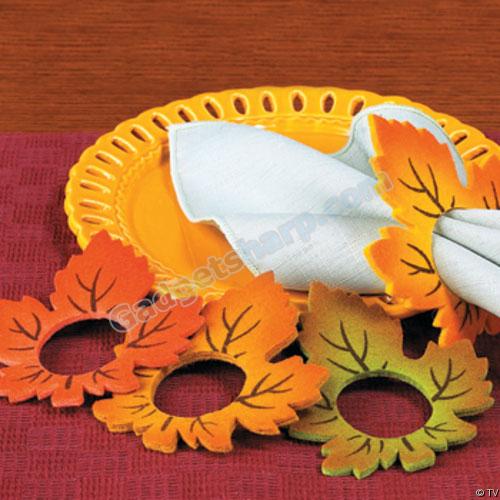 10. Montana Silversmiths spur napkin rings [link]
Charming character won't just be coming from the host or hostess when you have these Montana Silversmiths spur napkin rings on the dining table! A wonderful conversation starter.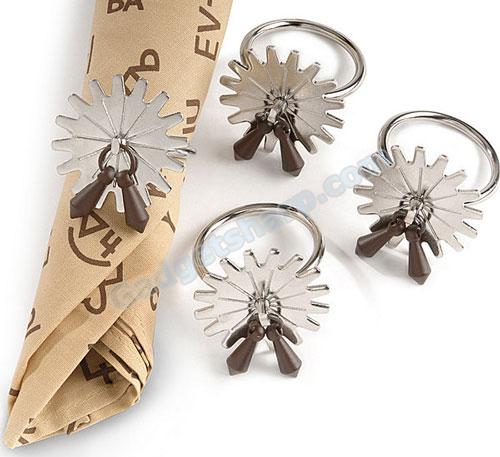 11. Herb Napkin Rings [link]
Parsley, sage, rosemary, and thyme napkin rings are hand cast using a very special technique which preserves even the smallest details of the original herbs. They are made of solid bronze, then gold plated in an antiqued finish. Ring is approximately 1 5/8″ in diameter.