12 Cool Music Inspired Kitchen Accessories
It has been said that music is the universal language that transcends boundaries and brings people together all over the world. Because of the impact and inspiration from music, there are a lot of products dedicated entirely to the theme or concept of music. Here we have 12 Cool Music Inspired Kitchen Accessories. Now, you can listen as well as play the music during your cooking or enjoy your meal with those cool musical instrument shaped designs. Enjoy!
1. Cool Jazz Ice Cube Tray [amazon]
Guitar-inspired ice cube maker offers loads of fun and laughs
From Fred, the renowned novelty shop that produces super fun kitchen gadgets and gizmos
Made from pure food-grade silicone, the ice maker features stir sticks resembling the arm of a guitar
Once frozen, the stir sticks complete the look and give users a way to stir beverages and cocktails
Jazz up your next party with a set of these ice cubes and be sure to pick up a set as a gift for your next gift-giving occasion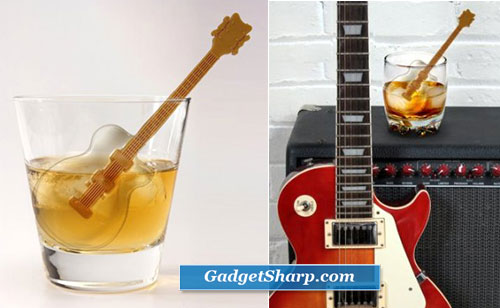 2. Catskill Craftsmen Guitar Shaped Cutting Board [amazon]
Dimensions: 14-1/2 Inches Wide by 22 Inches Deep by 3/4 Inches Thick
Flat Grain with Oiled Finish
Reversible – Rock out on both sides.
Juice groove on one side, plain on the other
Made in the USA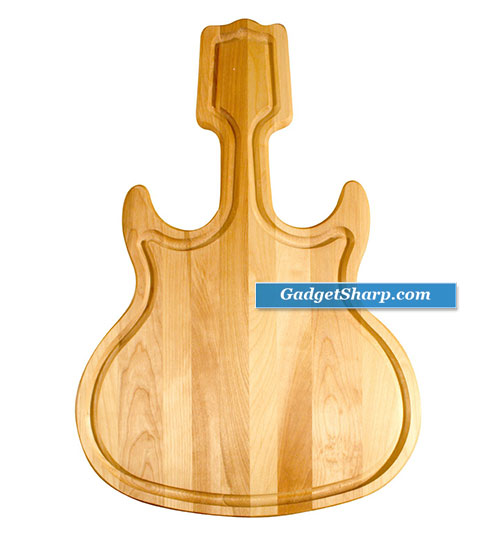 3. Gama-Go 45 Coasters, Set of 4 [amazon]
Enjoy this set of four silicone record coasters every time you're drinking your favorite hit beverage. Washable and dishwasher safe, these coasters will put a new spin on protecting your furniture.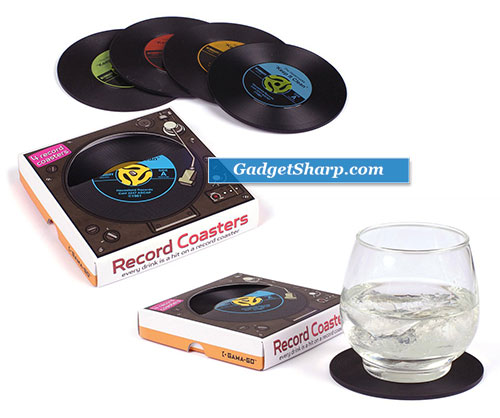 4. The Flipper Silicone Guitar Spatula [amazon]
Guitar-shaped spatula in black turns heads as well as toasty sandwiches
Made of 100 percent silicone with engraved detailing of frets, knobs, and more
Great gift for rock'n'roll chefs
Safe for temperatures up to 446 degrees F
Dishwasher safe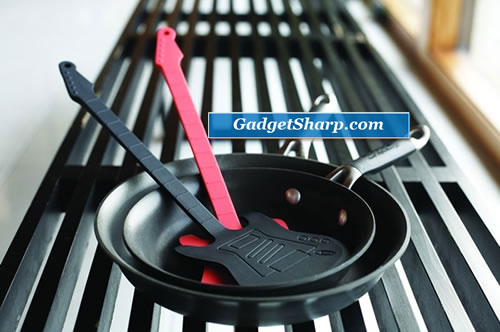 5. Mix Stix spoons [amazon]
You can rock out when you're not stirring
Solid wood
Reusable and washable
Unique slotted spoon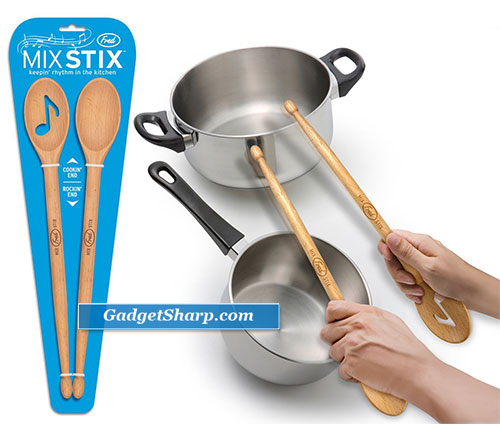 6. Gama-Go The Shredder [amazon]
"A shredder for your cheddar" Rocking the air guitar is totally cheesy, so why not get out what you put in? The Shredder Cheese Grater lets you file down that block of cheddar like a real rock and roller would. Keep up your heavy metal image in the kitchen with this stainless steel, dishwasher safe guitar grater.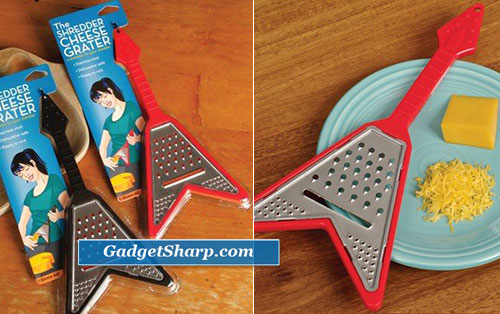 7. PIANO keys keyboard serving tray [amazon]
Made of hand painted ceramic
Flat surface with raised musical note shaped accents
Safe for food use
Jazz it up with this unique keyboard shaped tray !
Measures approx. 16.5 " L x 6″ W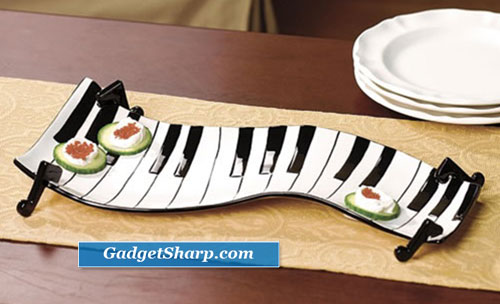 8. Appletree Violin Salt and Pepper [amazon]
Enjoy this unique Violin Salt and Pepper Shaker, perfect in your kitchen or as a gift for someone special.
2 piece set salt and pepper
Dolomite material
Hand wash to insure longevity
9. Grip-Easy Tea Infuser in Music Note Style [amazon]
Enjoy fresh, loose-leaf teas any time with BDS mess-free infuser
non-slip handle with music note design (White Color)
Easy to use and clean
Fun and great gift idea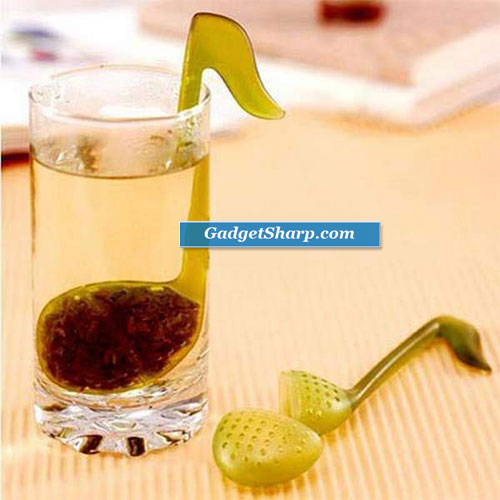 10. Violin Handmade Coffee Mug [amazon]
Handmade & Hand Painted With Love.
Dishwasher save and microwave friendly
Gift Boxed includes a certificate from Blue Witch
Product Dimensions : 10cm x 8cm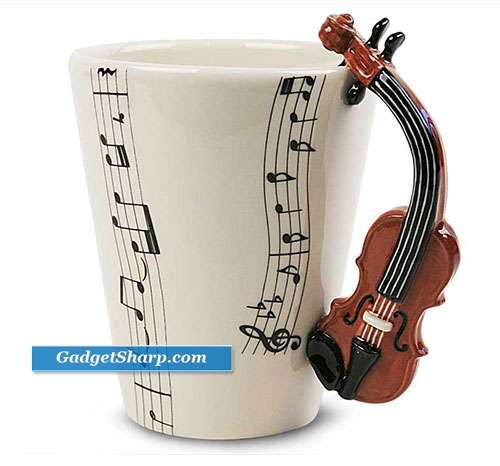 11. Violin Player Metal Wine Bottle Holder [amazon]
Contemporary decorative metal wine holder simple but elegent.
Highest quality Iron and Metal with plated black Nikel on surface.
Decotative piece is perfect gift to persent a bottle of wine.
Each piece is uniqulized and reflects personality for a better gift experience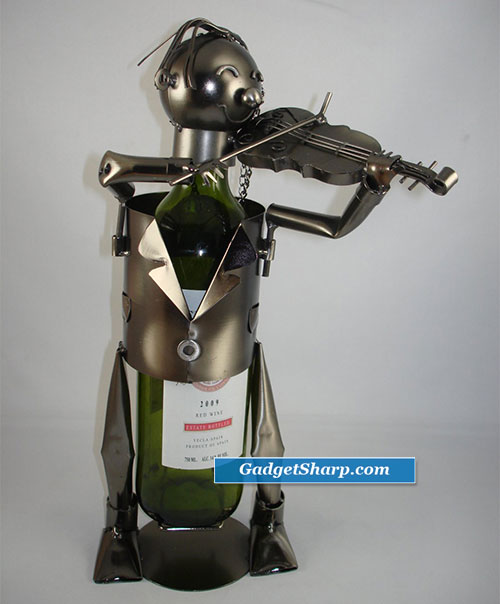 12. Pair of Saxophones Salt and Pepper Set [amazon]
Functional and decorative salt and pepper set
Ceramic and dolamite material. constructed with quality and durability in mind.
Hand wash only, do not put in dishwasher
Comes gift boxed, will make a great gift for yourself or someone special
Unique musical design, add color and whimsy to your kitchen décor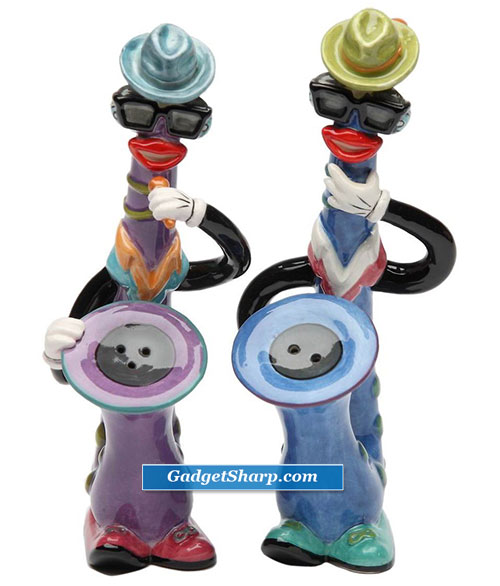 Got anything to say? Go ahead and leave a comment!