6 Creative and Playful Heat Sensitive Mug
There are so many mug designs on the market, different shape, color and materials. Today, we are going to present you with a specific type of mug – Heat Sensitive Mug, which will change its color or pattern based on the temperature of its inside beverage. Take a look at these interesting mug and hope you can find one you like.
1. Morning Mug [amazon]
The cold mug displays the sleeping face white on black. When you pour in the hot coffee, the mug's appearance quickly changes. Within a minute, the black mug has become completely white and the face will have awoken to greet you. What a way to start the day!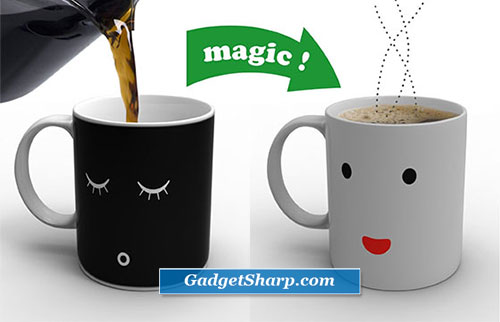 2. Fred & Friends Tank Up [amazon]
Fred & Friends Tank Up is a Coffee Mug Packaged individually in an attractive gift box. The unique feature is a printed heat sensitive guage which is designed to resemble an automobile gas guage. As hot liquid is pored into the mug the guage turns red and gradually rises from the bottom to indicate how hot the liquid is.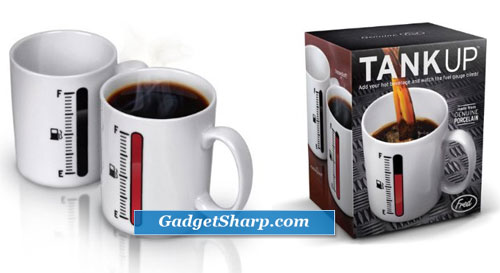 3. Kikkerland Pixel Heart Morphing Mug [amazon]
Add your favorite hot beverage to see red pixel heart appear
Image made of thermo graphic inks, mug reacts to heat, reveling artwork
As beverage cools, graphics change back to original state
Hand wash only, do not microwave
Made of porcelain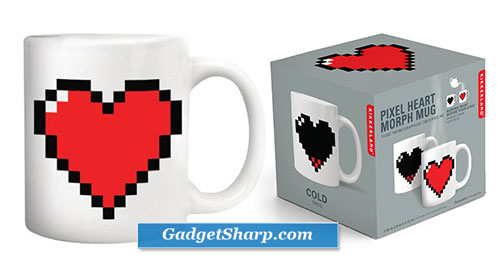 4. Sexy Color Changing Coffee Cup-The Backs [amazon]
Color changing mug
Changes color when adding hot liquid
The clothes will disappear and reveals the underwear when hot liquid is added
It is hot and sexy
Perfect for any coffee or tea fan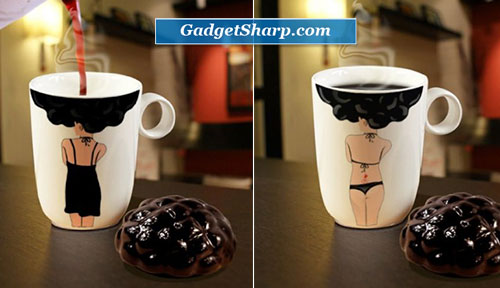 5. Tetris Heat Change Mug [amazon]
Based on the super-addictive worldwide favorite
Graphic of the familiar Tetris game screen appears when hot liquid is added
Mug comes in black color with Tetris artwork
Full color-design
Screen includes Hold, Next, Level, and Lines displays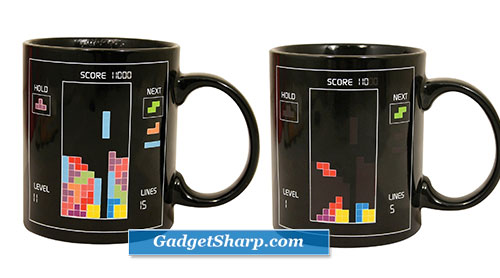 6. WAKE UP! Heat Sensitive Mug [amazon]
Fill Wake-Up Cup up with a robust caffeinated (or non-caffinated works too) beverage of your choice and watch how it perks right up. Yep, watch as those eyes pop right open! Heat-sensitive inks respond to hot, steaming coffee – just like you do! Genuine porcelain mugs in full-color giftbox packaging. WAKE UP is crafted in high-quality porcelain and individually gift-boxed. Food Safe Hand Wash Only Microwave Safe Holds approx. 10 fluid ounces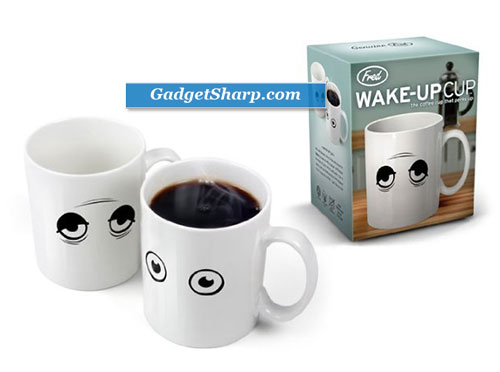 Got anything to say? Go ahead and leave a comment!