11 Modern and Elegant Butter Dishes
If you love butter but find it hard to keep at a spreadable temperature, Butter Dish is what you need. A butter dish is a specialized dish in which butter is served. It would normally have a base with a separate fitting lid with its own handle. Take a look at 11 Modern and Elegant Butter Dishes featured in this post, which will be Perfect for everyday use or elegant entertaining.
1. Hawaiian Butter Dish Garden Dawn [amazon]
Enjoy exotic style and sophistication with our Island Garden Dawn Butter Dish. This Hawaiian design features the vibrant colors of our island flowers complemented by an ivory background. Perfect for everyday use or elegant entertaining, coordinate this butter dish with our other Island Garden ceramic pieces for an impressive collection! Embossed and hand painted as well as dishwasher safe. Dish measures 9.5 by 3.75 by .5 inch.

2. Gama-Go Buddah Butter Dish [amazon]
The enlightened way to keep butter fresh.It's impossible to be in perfect harmony with all living things if you're worried about keeping a stick of butter fresh. Hop on the delicious path to enlightenment with the ceramic Buddha Butter Dish. This tubby, ceramic butter shrine will bring luck to the table morning, noon and night while helping to grow a Buddha belly of your own. Clean regularly with gentle soap and water.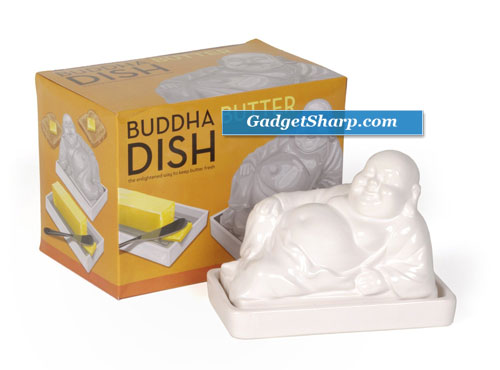 3. Stoneware Pottery Kiwi Green Cow Butter Dish [amazon]
Microwave Safe
Food Safe – Dishwasher and Oven Safe
Available in other Products and colors. See our Storefront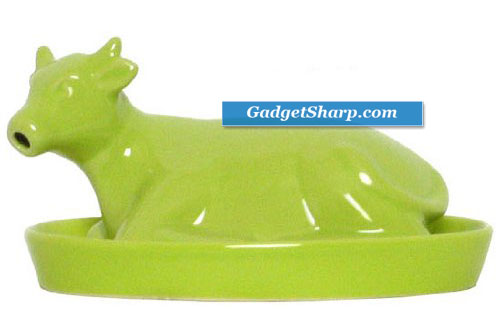 4. Pfaltzgraff Pistoulet Covered Butter Dish [amazon]
Our favorite book "The Secrets of Pistoulet" has inspired this versatile butter dome
Complete your Pistoulet table setting with this butter dome and saucer
Dishwasher and microwave safe
Available 1/15/04
Includes butter dome and saucer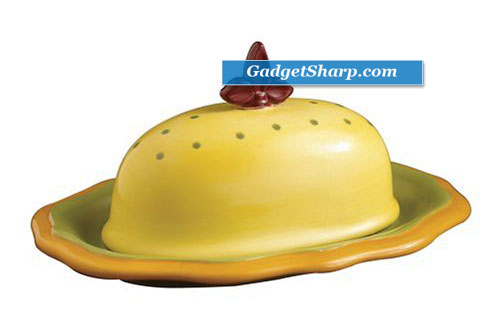 5. Kissing Fish Handle Blue Polk a Dot Butter Dish [amazon]
Gift box, plate and handled lid
Ceramic with high gloss finish
Microwave/dishwasher safe
Kissing fish handle
Polk a dot pattern in butter tray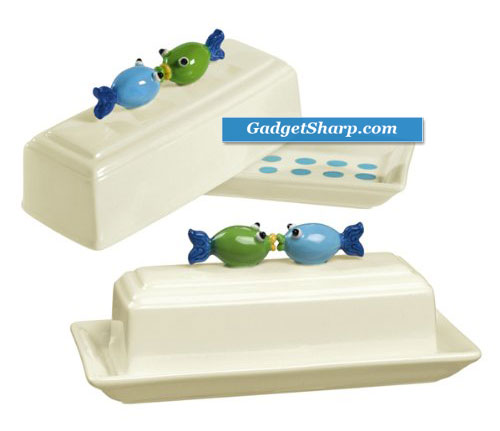 6. Boston Warehouse Zooology Rhino Butter Dish [amazon]
Butter dish with fun rhinoceros design
Made of beautiful and durable porcelain
Whiteware; goes with all decors; fun zoo animal motif
Includes base and top rhino cover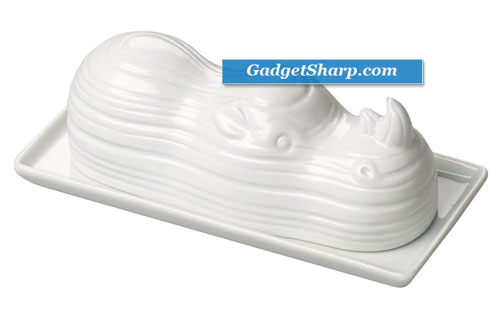 7. Grasslands Road Home Again Ceramic Butter Dish [amazon]
High gloss ceramic
Dishwasher safe, 2-piece
Embossed leaf veins in butter tray
Acorn handle lid
See our matching grasslands road home again and fall tabletop items
8. Alessi Butter Dish by Michael Graves [amazon]
Elegant butter dish
Designed by Michael Graves
The perfect addition to any table setting
Mirror polish finish
Constructed of stainless steel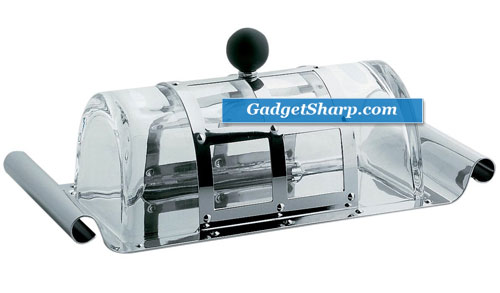 9. Polish Pottery Ceramika Boleslawiec Butter Dish Deep [amazon]
Unikat signature polish pottery; limited production; model 0352 pattern 280
Boleslawiec white clay molded and painted by hand according to traditional methods; style, design and color influenced by contemporary shapes and dyes
Scratch and chip resistant; lead free; oven; microwave; dishwasher; freezer safe without losing the beautiful colors and textures
Unique original design and formation of the mold; Drying and pre-baking at 1562-Degree Fahrenheit; Glazed and fired at 2282-Degree Fahrenheit
Measures 3-1/2 high by 6 long by 4-7/8-inch wide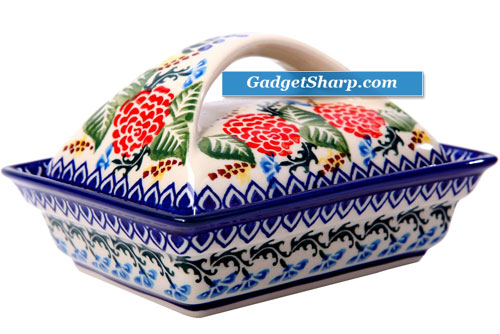 10. WMF/Hepp Hotel 2-Piece Butter Dish [amazon]
WMF/hepp hotel porcelain butter dish with stainless steel domed cover
High quality 18/10 stainless steel and white porcelain
Elegant European dual-material design in stainless steel and porcelain
Dishwasher safe
1-Year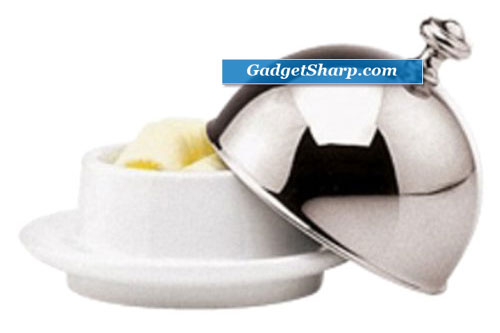 11. A di Alessi Ship Shape Butter Dish [amazon]
Applying new, fun designs to everyday household items, Alessi has done it again with this butter dish
Crafted from PMMA, PP, and PA resins, with an 18/10 stainless-steel spreader; dishwasher safe
Smoke stack lifts out and reveals itself as a spreader; dish seals completely; great for butter, jam, or creamy spreads
Available in a choice of colors; peruse all A di Alessi household items to find like-minded, whimsical pieces
Designed by Stefano Giovannoni in 1998; measures 3 inches wide by 6 inches long by 6 inches high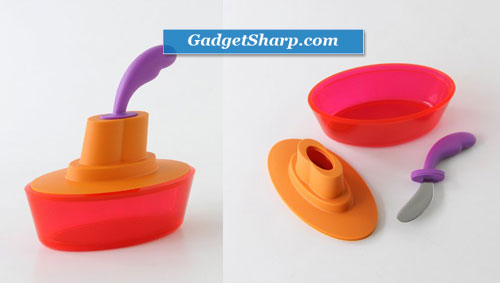 Got anything to say? Go ahead and leave a comment!