13 Cool Keyboards for your Computer and Mobile Device
For most of people, the first time they used computer is also the first time they used keyboard. It just like these two cannot be separated. Even in these days when touch screen becomes more and more popular, keyboard still is considered as most convenient inputting device, especially, when you have a lot to input. Since it is so important, Keyboard makers have been doing some brilliant work in recent years, not only are they feature packed, they also look cool. Here, we have 13 Cool keyboard designs, from tablet keyboard, to smart phone keyboard, from rolling keyboard to solar-powered wireless keyboard. Hope you enjoy this collection.
1. Flexible Mini Wireless Keyboard [amazon]
Technologically advanced: Silent Typing
Ultra Slim Design: provides "easy typing" avoiding stress on your wrists
High quality keyboard runs off a wireless adapter and 2 x AAA batteries (not included); device is plug and play.
Size: 16″ x 5″
Color: Black and Gray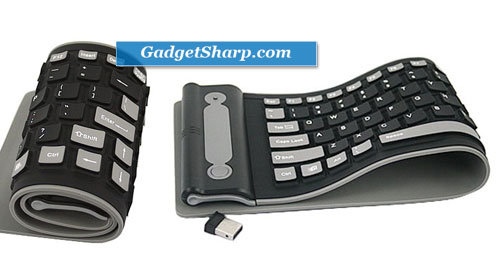 2. Celluon Magic Cube Laser Projection Keyboard and Touchpad [amazon]
Projects a virtual laser keyboard onto any table and detects keystrokes
Acts as a standard keyboard via Bluetooth (wireless) or USB (wired)–no drivers needed
Great companion wireless keyboard for tablets and touch phones. Small. Light. Charges via USB
Compatible with Win XP SP2+, Mac 10.4+, iOS 4.3.5+ (iPhone/iPod/iPad), etc
Mouse mode projects a standard two-finger multi-touch pad (Windows 7 only. Not iOS capable)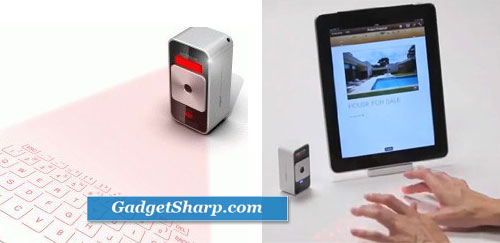 3. Bamboo Handcrafted Keyboard [amazon]
Revolutionary New Green Product.
Biodegradable and Environmental Friendly.
Hand-Carved Out Of 100% Natural Bamboo.
Unique, Elegant, and Trendy.
Keyboard and Mouse Connect via USB Ports.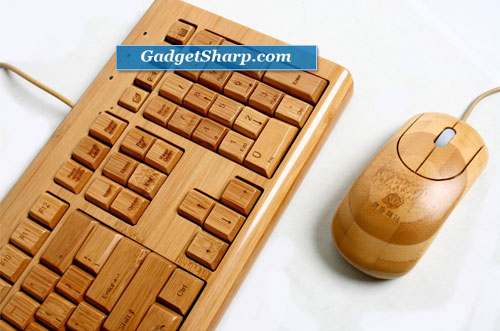 4. Wireless Bluetooth Sliding Keyboard + Rubberized hard shell case for iphone 4 [amazon]
It pairs over Bluetooth using wireless connectivity and features a slide-out keyboard that includes Home and Search buttons.
It's powered by a lithium rechargable battery and is charged via its USB mini port.
It's on/off switch lets you conserve its battery life, too!
Simply snap in your iPhone 4 (AT&T or Verizon), pair your devices, and you've got a fully functional keyboard ready to slide out whenever you need it!
5. TRAVEL KEYBOARD-GRAPHITE COLOR [amazon]
Adjustability: 0°-30° adjustment for ulnar deviation (wrist splay) in the horizontal plan, combined with 0°-30° adjustment for wrist pronation (vertical tenting)
Soft key touch, low activation force and full key travel distance provides keying comfort and reduces risk from "bottoming out" when keying.
Compact size allows for use in limited space environments, and reduces shoulder abduction when reaching for mice and other peripherals.
Ease of use and intuitive design allow new users to adjust the keyboard to a comfortable typing position without additional accessories or attachments.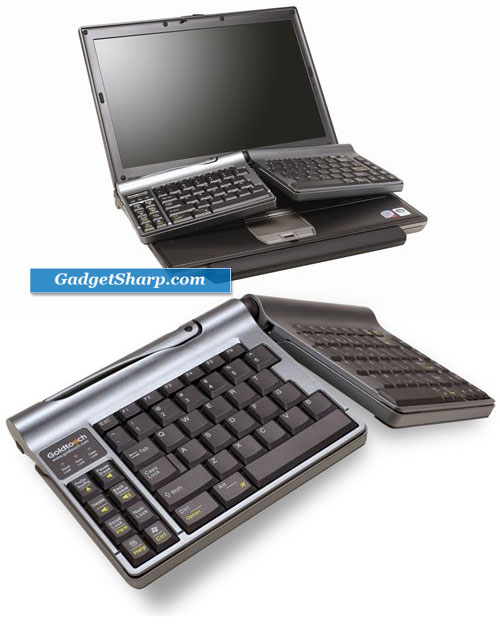 6. FAVI Entertainment Wireless Keyboard [amazon]
3-in-1 multimedia wireless keyboard (Keyboard, TouchPad, LED light)
Built-in rechargeable more staying power lithium-ion battery
2.4GHz USB wireless receiver; works within 30M
This is a handheld keyboard with back lit – With 26 PCS dazzling bright LED lights to help when using in poor lighting environments.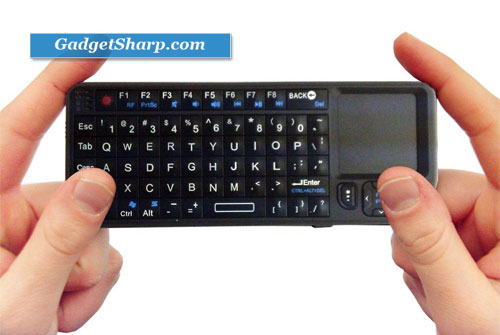 7. Kensington KeyFolio Pro 2 Removable Keyboard, Case and Stand for iPad 2 [amazon]
Tactile keyboard with high-performance keys optimized for touch typist
Removable Bluetooth keyboard delivers wireless operation
Secured Velcro fastener ensures tablet vertical stability
View angle range from 70 to 20 degrees
Compact and functional 3-in-1 design
Cut outs for I/O ports, speakers, front and back cameras
Easy port access to all iPad 2 controls and 30-pin connector
Folds flat and secures with elastic band for in case use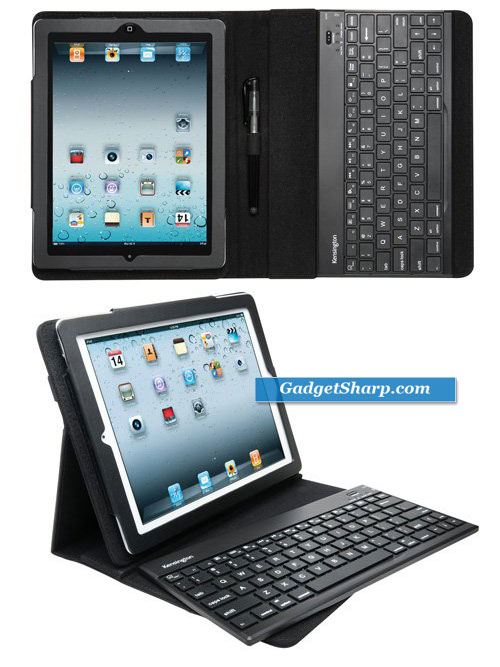 8. Wireless Bluetooth Keyboard Case for Blackberry Playbook 7-Inch Tablet [amazon]
2-in-1: Bluetooth Keyboard + Folding Leather Protective Case
Built-in wireless bluetooth 2.0 silicone keyboard
Stylish protective PU leather case designed for BlackBerry display with stand for easy viewing
Light weight, quiet keystrokes and dust and spill proof
Rechargeable lithium battery lasts for approximately 45 hours per charge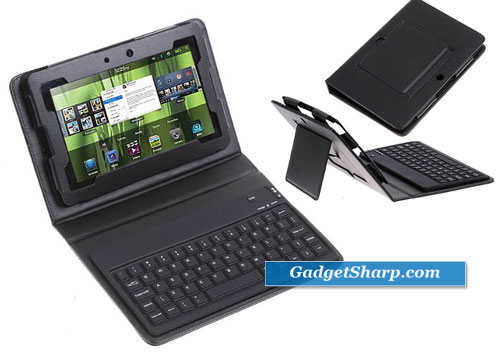 9. Logitech Fold-Up Keyboard for iPad 2 [amazon]
Fold-up keyboard and stand for iPad 2: Compact fold-and-go design holds your iPad 2 at the ideal angle for typing and taking notes
Full-sized Bluetooth keyboard: More comfortable and easier than typing on small, folio-style wireless keyboards
USB charging: You never need to replace batteries
Auto on and off: Power-conserving keyboard automatically wakes up when unfolded and turns off when closed
Works with your Smart Cover: Fits your iPad and cover-on the go when your keyboard is folded and at your desk when it's unfolded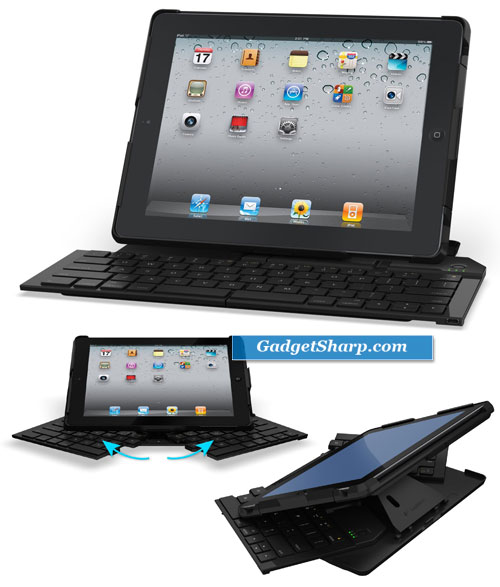 10. Lenovo Multimedia Remote with Keyboard [amazon]
2.4GHz wireless keyboard and mouse combo
Palm-sized dimensions USB nano dongle
As far as 10 meters control distance
Windows multimedia control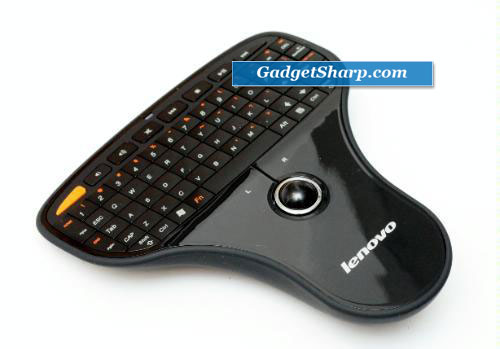 11. Logitech Keyboard Case for iPad 2 with Built-In Keyboard and Stand [amazon]
Made for iPad 2: All-in-one protective case and embedded keyboard for your iPad 2
Flexible tablet stand: Holds your iPad 2 at the perfect viewing angle in either portrait or landscape position
Built-in Bluetooth wireless keyboard: Type-and-go connection plus convenient USB charging – no battery hassles
Sleek award-winning design: Precision-cut aircraft-grade aluminum fits, feels and looks great with your iPad 2
On-the-go protection: Lined with high-density padding to help cushion and protect your tablet wherever you go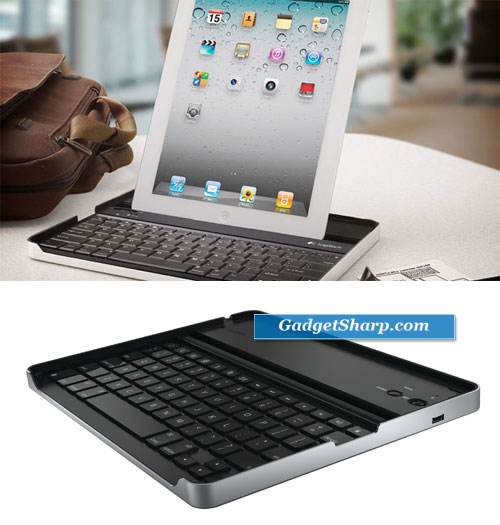 12. Logitech Wireless Solar Keyboard [amazon]
Solar-powered keyboard: No battery hassles – any light source keeps your keyboard charged for at least three months in total darkness
Only 1/3-inch thick: Ultra-thin design adds sleek style to your workspace
Feel-good typing: Logitech-only concave key cap design for faster, quieter, more comfortable typing
Powerful 2.4 GHz wireless: Enjoy a reliable connection using a tiny Logitech Unifying receiver that stays in your computer
Works with Windows-based laptop and desktop PCs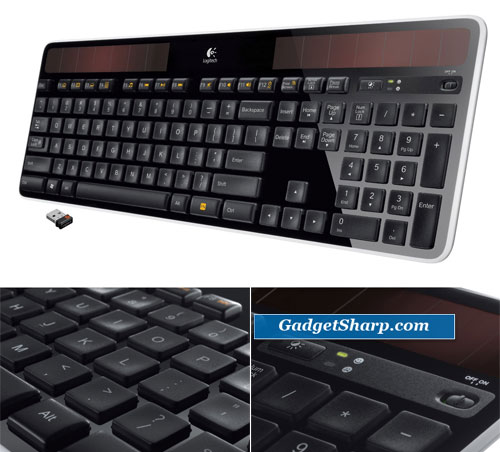 13. Keyboard for iPhone [amazon]
Easy keyboard text input into an iPhone and PC simultaneously
Intuitive buttons and 12 hotkeys for iPhone
Button for direct switching between PC and iPhone mode
USB charging and iTunes synchronization by keyboard's USB cable
Utilize various iPhone applications on the PC (not included)
Laptop style soft keys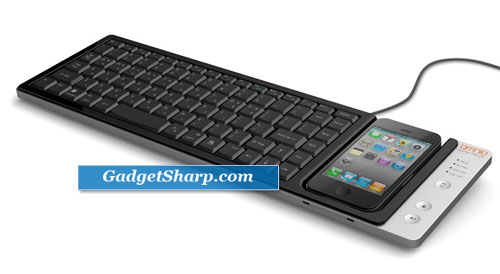 Got anything to say? Go ahead and leave a comment!