12 Cool and Stylish Wine Chiller Designs
Chill on Demand during Parties, entertaining, when unexpected guests arrive, or when you desire a cold bottle at a moments notice. In this post, we will present you with 12 Cool and Stylish Wine Chillers, which not only chill your wine properly, but also provide an attractive display on your table. Some high-tech chiller also provides with temperature and timer control, which give your more flexibility during chilling. So, hope you can enjoy this post as same as enjoy a well chilled wine.
1. Kapoosh WC100 Electric Single-Bottle Wine Chiller [amazon]
* Electric single-bottle wine chiller designed in modern clear globe
* Circulates cold water to quickly chill to the desired temperature
* Simple-inchon/off-inch button; timer;-inchstart/stop-inch button; digital display
* Includes rechargeable batteries, charger, DC plug, and temperature guide
* Measures 9 by 9 by 12-1/2-inch; 1-year limited warranty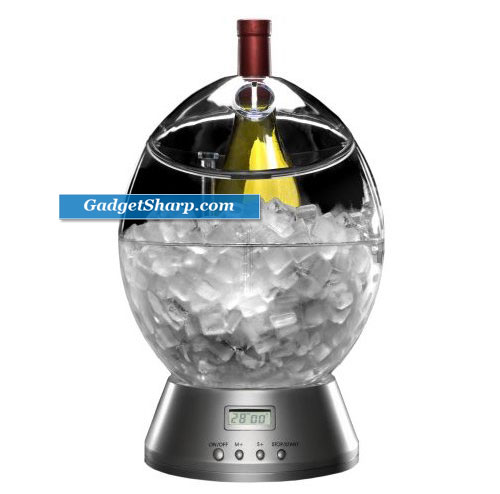 2. Cooper Cooler HC04.A VinPodium Rapid Wine Chiller [amazon]
* 5 Times faster then a freezer and 10 times faster then a refrigerator
* Digital automatic timer setting from 1 to 30 minutes
* Will fit up to 1.5L bottles
* Flexibility to chill to various temperatures as required for different wine types
* Does not alter any drink properties such as taste, composition, or carbonation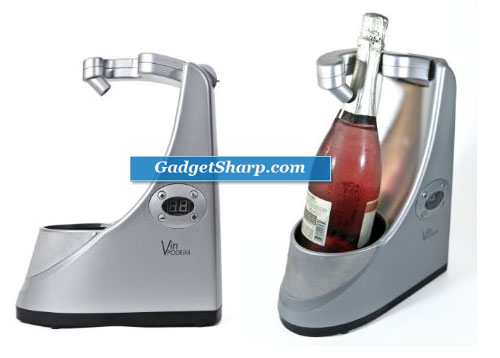 3. Trudeau Blink Wine Chiller [amazon]
* Wine chiller by Trudeau
* Stylish titanium & chrome finish
* Auto open / closure system to seal in temperature to enjoy your wine to the last drop
* Features 2 freeze packs for max temp retention
* Five year warranty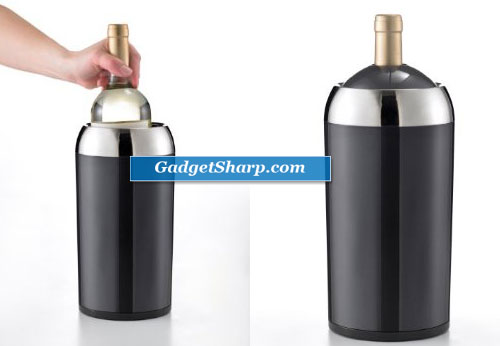 4. Nambe Coquille Wine Chiller [amazon]
* Coquille Wine Chiller
* Glass and Nambe Metal Alloy
* Designed by Lisa Smith
* Hand wash with warm soap and water, dry immediately with soft cloth
* 8-inch by 4-inch by 4-inch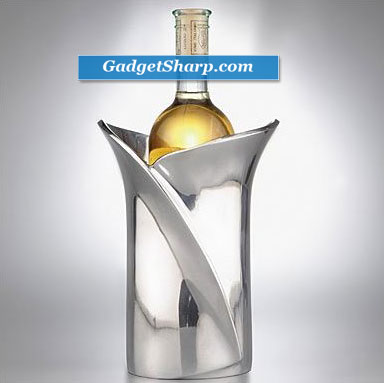 5. Vacu Vin Rapid Ice Wine Chiller [amazon]
* Chills wine in 5 minutes and keeps it chilled for hours
* Six pockets contain special liquid that freezes solid
* Frozen sleeve slips over standard 750-milliliter bottle
* Flexible and virtually unbreakable
* Chrome-colored; looks good at the table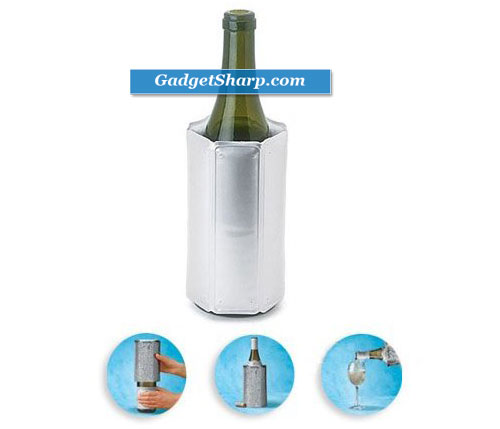 6. Cooper Cooler Rapid Beverage & Wine Chiller [amazon]
Portable with countertop convenience, this chiller takes your room-temperature bottle of wine to 43°F in less than 6 minutes! Soda and beer cans are ice cold in only 1 minute. Simply add ice and water to the Cooper's chilling chamber. Then choose the appropriate container setting and insert your beverage. Set the spin mode and wait just minutes for a deliciously cold drink. Watch the video demo and see how easy it is! Instructions included. UL approved. Plugs into standard household outlet. Silver/black. Also available with a 12 volt adapter, which can be used to plug into your vehicle.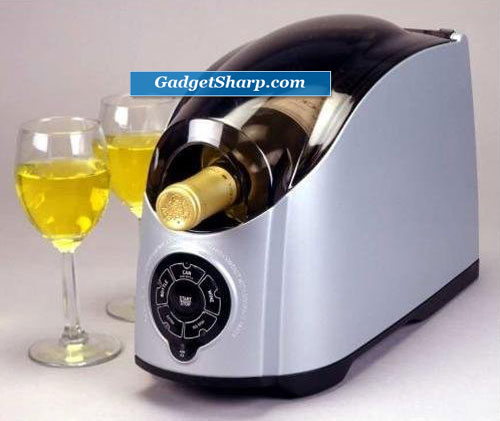 7. Waring Pro PC50 Cordless Wine Chiller, Brushed Chrome [amazon]
* Tabletop appliance chills red, white, or champagne wine in minutes
* Automatically turns bottle for faster cooling; blue backlit display and timer
* Accommodates bottles up to 3-1/2 inches in diameter
* Use with a cord or go cordless; charger and battery pack included
* Measures 8-1/4 by 8-1/4 by 11-3/4 inches; 1-year limited warranty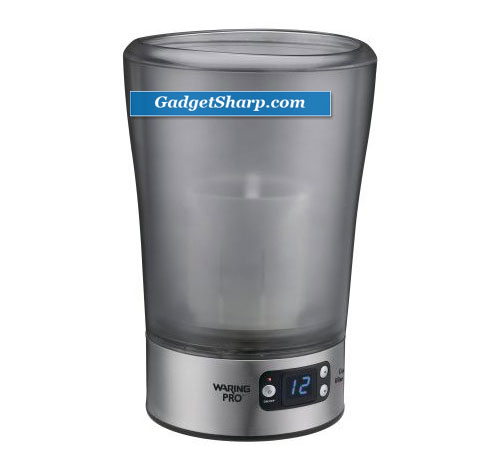 8. Rapid Ice cooler Vineyard [amazon]
* Chills wine bottles in 5 minutes and keeps them cold for 3 hours without ice
* Active chiller without ice
* Features super cold flexible ice jackets
* Measures 7-1/2-Inch tall;Reusable and unbreakable
* FDA approved non-toxic gel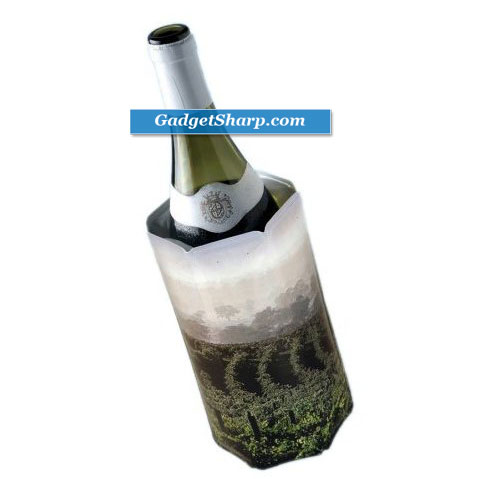 9. Old Dutch International Antique Copper 4 Bottle Wine Chiller [amazon]
Old Dutch International 11½ Inch x 11½ Inch x 10 Inch Antique Copper 4 Bottle Wine Chiller, RM
* Fill center section with ice to keep libations cool and dry
* Lacquered to resist tarnishing
* Elegant display piece even when it's not in use
* 11½ x 11½ x 10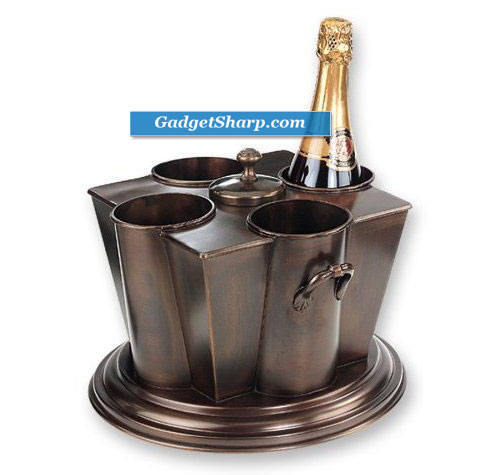 10. Urban Trend Waterfall Wine Chiller [amazon]
* Chill and serve your favorite wines
* Ice cold waterfall gently bathes and chills your wine
* Computer controlled to achieve the perfect drinking temperature
* Maintain an ideal temperature as a decorative ice bucket
* Conventional rapid chilling can shock the wine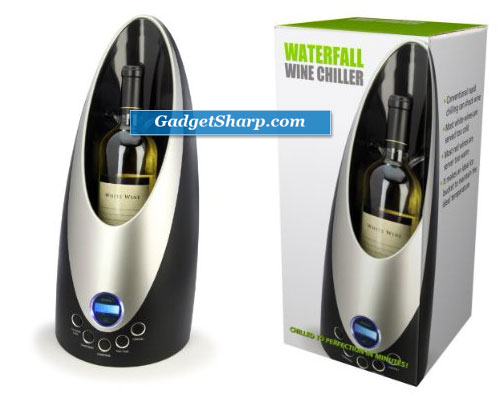 11. Oster 4208 Inspire Electric Wine Opener with Wine Chiller [amazon]
* Electric bottle opener removes corks at the touch of a button
* Opens up to 30 bottles on a single charge; works with all traditional wine bottles
* Foil cutter; soft-grip handle; cordless operation; recharging base included
* Also includes thermal stainless-steel wine chiller that keeps wine cold for hours
* Opener measures approximately 4 by 4 by 12 inches; chiller measures approximately 5 by 5 by 9 inches; 1-year limited warranty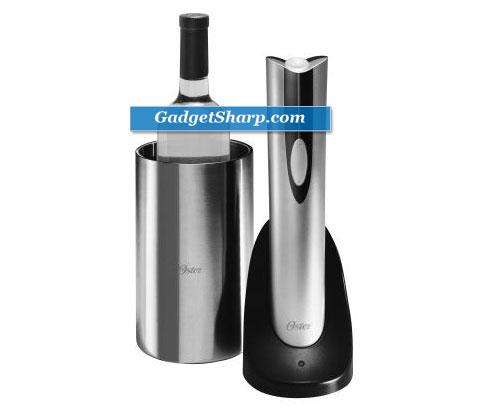 12. The Sharper Image Double Wine Chiller [amazon]
* Chills two bottles simultaneously – red and white wines plus champagne – each to their own perfect temperatures for optimal flavor, aroma and drinking pleasure
* Extensive wine library contains the perfect temperature presets for over 70 grape types from all over the world
* Large LED display panel shows you both wines' current temperatures, the preset temperatures the chiller will bring each of them to, and the time remaining until they are ready
* Also includes the ability to program your own custom preferred wine temperatures
* Great for entertaining – don't hide this beauty! It's high quality brushed metal and chrome finish looks fantastic on the counter or table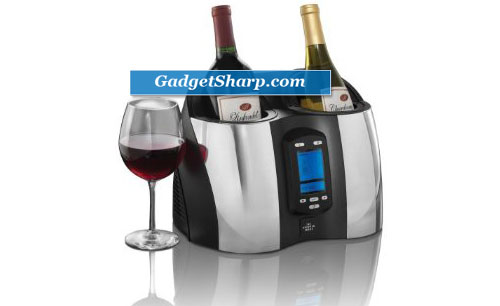 Got anything to say? Go ahead and leave a comment!